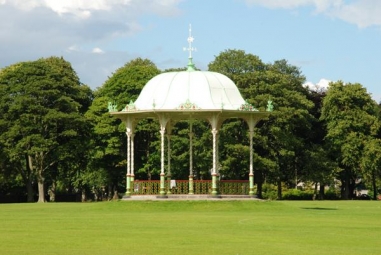 With thanks to Dave Macdermid.
The third Open Day organised by the Friends of Duthie Park, and the first since completion of the park's major restoration work, takes place on Sunday 18 August, from noon until 4 pm.
It will be an afternoon of chock-full of family-friendly entertainment, explains chairman Tony Dawson.
"The Bon Accord Silver Band will be performing at the Bandstand between noon and 2 pm, whilst there will be various acts on the temporary stage in front of the Winter Garden including Uniform, Spindrift and The Royal Scottish Country Dance Society.
"In the sunken area, we'll have bokwa, zumba and power-hoops demonstrations and there will magicians and face-painters as well.
"At our own stall, we'll be encouraging people to join the Friends and purchase our 2014 calendar, produced in association with the Craig Group. And, of course Spike and McPuddick will both be there too.
"Last year more than 3000 attended and with the interest in the park following the completion of the restoration, we will be disappointed if we don't top that number this weekend."
Other attractions will include children's rides, paddle boats, vintage vehicles and demonstrations of woodturning and military fitness. The Dons Community Department will be there and Wrestlezone Scotland will be performing at 2 pm.
Tours to show off the park's restoration work will run at 1 pm and 3 pm.
The full timetable for the day is at www.friendsofduthiepark.co.uk