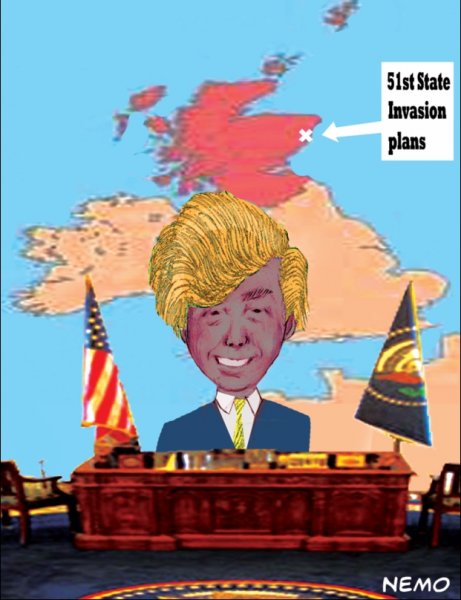 Aberdeenshire Green councillor Martin Ford has expressed doubts about the latest claims by developer Donald Trump.
Donald Trump has now suggested that he will build a second golf course in Aberdeenshire and run for President of the United States.
Mr Trump has been talking about running for President for more than thirty years and about building two golf courses and a massive resort at Menie since 2006.
Cllr Martin Ford said:
"Mr Trump has previously stated his intention of building all sorts of things at Menie. Most of what he has announced at various times remains unbuilt. Planning applications have been made and withdrawn, permissions not implemented – or the promised planning application never materialises.
"What Mr Trump says he will do is not a good indication of what he will actually do.
"If Mr Trump takes as long to decide on his golf plans as he has about standing for president, he'll be getting on for 100 before work starts on his second Menie course, and he'll be over 100 before he'll be able to play it.
"In any case, the package being talked about now is a tiny fraction of the development Mr Trump was claiming he would build a few years ago. His latest proposal is for far less than is included in his outline planning consent.
"The protected dunes at Menie – part of a Site of Special Scientific Interest – have been lost. The promised benefits are clearly not going to materialise.
"The absurdly exaggerated claims Mr Trump made in 2007 should never have been believed by the Scottish Government. Now even Mr Trump is confirming he isn't going to build the resort for which he got planning permission."
Comments enabled – see comments box below. Note, all comments will be moderated.
[Aberdeen Voice accepts and welcomes contributions from all sides/angles pertaining to any issue. Views and opinions expressed in any article are entirely those of the writer/contributor, and inclusion in our publication does not constitute support or endorsement of these by Aberdeen Voice as an organisation or any of its team members.]