In yet another of the controversial 52 part series Duncan Harley and Janice Catto take cognisance of the political comments on a wall near you. Yawn …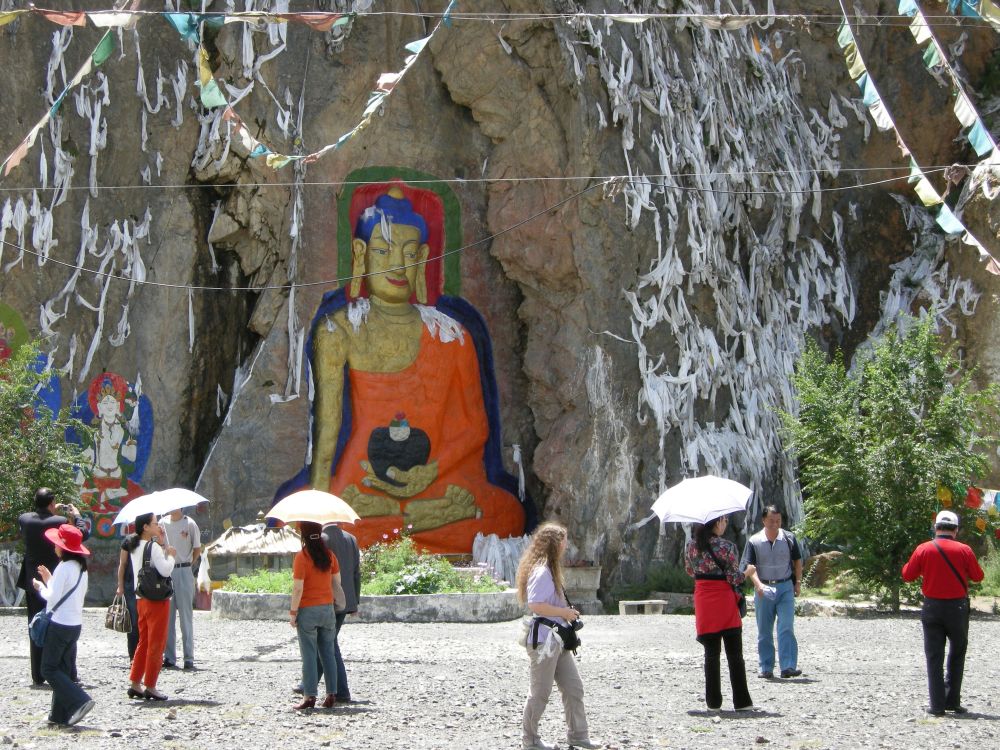 Gonggar airport serves the Tibetan city of Lhasa and at almost 12,000 ft above sea level it presents a significant challenge to those travellers flying in from lower altitudes. Vomiting and muscle cramps are common. Occasionally incomers die before acclimatisation kicks in.
The advice for those suffering from altitude sickness is quite simple, proceed to a lower altitude.
However since the entire Tibetan Plateau is at 12,000 ft and over this presents a serious problem.
Not that the flight out of Khatmandu is without challenges. The perimeter of the airstrip at Nepal's showcase Tribhuvan International Airport is lined with the wrecks of aircraft which failed to take account of the up and down drafts of the bowl-shaped Kathmandu Valley. Mind you, at a mere 4,600 ft it's a breeze when compared to the lung shattering Tibetan plateau.
After a brain stunning flight over Everest replete with Air China's version of on board snacks – some sticky grey bits of meat in brown sauce enclosed in a re-cycled box made from last years China Daily – the landing at Gonggar is a mixed blessing.
There are forms to fill in. Something about bubonic plague and hard drug usage in the past 6 months. The questions might well have read "Do you have sex with ghosts" for all I cared. The answers were randomly yes/no/yes/no and no-one bothered to check the forms in any case.
Tibet is of course a country under occupation and it shows. There is some graffiti but most of it is state sponsored.
I looked hard, but apart from a portrait or three of a smiling Chairman Mao, all I could come up with was a 60ft high orange Buddha at the 11km mark on the Gonggar to Lhasa Highway.
We parked on a busy bend before crossing the highway. The Orange Buddha looks down benevolently from a rock face onto a flat tarmac amphitheatre full of mainly Chinese tourists bearing umbrellas. It is not raining and in any case precipitation is low in the area. Possibly a fear of cataracts due to the rarefied atmosphere has led to this fearful response.
The Chinese of course love big flat squares. Look at Tianamen if you doubt this. Even the area below the Potala Palace has been converted into a square fit for an army of terracotta figures to stand in.
For what it's worth, I suspect that the Red Guards destroyed this thousand year old piece of guerrilla art in 1950 something only to have a local cadre committee re-instate it for the benefit of tourists such as me.
If you look hard however, very hard that is, you can just make out the original comment:
"Holding on to anger is like grasping a hot coal with the intent of throwing it at someone else; you are the one who gets burned."
The occupiers of Tibet may have missed this.
Our graffiti Flikr page is at https://www.flickr.com/photos/duncanharley/sets/72157648822962775/ and we will add to it from time to time.
Yours creatively, Duncan and Janice.
Next time we will be looking at a wall in Leith.
Comments enabled – see comments box below. Note, all comments will be moderated.