Forget cabers and stones – local Aboyne strongman James is practicing his weightlifting with some real, live Highland dancers. With thanks to Eoin Smith.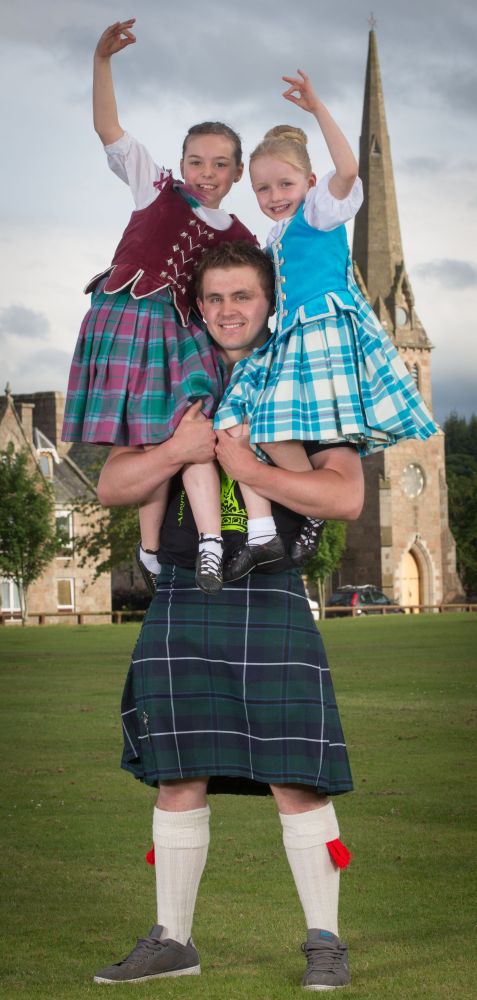 To celebrate the launch of this year's Aboyne Highland Games official programme, local Aboyne weightlifter, James Dawkins, 21, put his super-human strength to the test by lifting a pair of highland dancers, Amy Lawson –Anderson, 6, and Kirsty Dundas, 9.
The girls, also from Aboyne, used the opportunity to demonstrate their impressive balancing skills by holding their dance poses perfectly on the palms of James's hands.
The young strongman made balancing the girls look like a walk in the park and as if he could in fact toss them like a caber. They are all hoping to perform just as well at this year's Games, on Saturday August 2nd on Royal Deeside.
The programme celebrates the activities and stories surrounding the Games as well as listing the attractions to enjoy on the day.
There will be 96 arena events, including the famous 'heavies' tossing the cabers, highland dancing, a fiddle competition and rousing pipe bands.
The Games will also host 70 trade stands and a fun fair for the kids to enjoy.
As well as the traditional events, there will also be some sporting events to participate in. Some are more competitive than others – from the high jump and junior sack race to the extra gruelling Fungle Hill Race.
As part of 2014's Homecoming celebrations, the Games have marked this extra special year by finding a strongman to take on the Dinnie Stones challenge. UK strongman, Mark Felix, a competitor at the World's Strongest Man, is taking on the challenge to lift and carry the original stones, which weight over 773lbs over a distance of 4 metres.
Mark is attempting to recreate the feat set by the legendary Donald Dinnie, celebrated as 'The World's Greatest Athlete of the 19th Century', who famously carried the 'Dinnie Stanes' across the Potarch Bridge in Aberdeenshire in 1867.
Ian Scott, Aboyne Highland Games chairman, says:
"More than 9000 visitors from all over the world are expected to visit us on the village green on August 2nd. People of all ages will be able to enjoy the events whether they are competing or spectating. There really is something for all the family to enjoy – from the famous 'Dinnie Stanes' attempt to the highland dancing."
Further information on the games and all of the activities can be found by visiting www.aboynegames.com