With thanks to Richard Bunting.
With concerns over the state of many Scottish woodlands, and fears for the long-term survival of iconic species including red squirrel, pine marten and capercaillie, the  conservation charity Trees for Life is marking its 25th anniversary this year with a significant expansion of its forest restoration work across the Highlands, and with new projects focusing on the recovery of endangered species.
Trees for Life is now extending the geographical range of its forest restoration activity, from its previous project area of 1,000 square miles west of Inverness and Loch Ness, and is exploring opportunities to restore neglected and derelict Caledonian pinewoods in other parts of Scotland.
At the same time, the charity is developing a wider range of ecological initiatives to conserve forest species.
New projects will deliver practical field research, habitat assessments and species relocations to aid the conservation of key species such as pine marten, red squirrel and wood ants.
Trees for Life's Executive Director Alan Watson Featherstone commented.
"Without urgent action, key parts of Scotland's ancient Caledonian Forest could be lost forever, and forest-dependent wildlife such as the Scottish wildcat and capercaillie could become extinct in the UK,"
 "As we celebrate 25 years of pioneering conservation action, including the planting of more than a million trees by our volunteers, and the creation of 10,000 acres of new Caledonian Forest, we aim to increase the impact and scale of our work. We want to ensure that our children and grandchildren also have the opportunity to enjoy Scotland's wild landscapes and its rare and spectacular wildlife."
Less than half, 46 percent, of Scotland's native woodlands are in "satisfactory condition for biodiversity" and much must be done to reverse centuries of damage, according to Scotland's first complete survey of these important habitats, published by Forestry Commission Scotland last month. The report found that natural regeneration of native pinewoods is scarce.
Following a long history of deforestation, the Caledonian Forest reached a critical point some 200 years ago, with too few remaining trees and too many deer eating seedlings – leaving 'geriatric' forests of old trees. Today, only a fraction of the former forest survives, with 35 isolated remnants of native pinewoods.
The need for concerted conservation action, and the lack of young trees to replace mature specimens when lost, is also being exacerbated by the threats posed by climate change and extreme weather, and the risk of disease affecting the Scots pine, which forms the forest ecosystem's 'backbone' and on which many species depend.
"We want people to get involved through volunteering or financial support, to help restore Scotland's threatened habitats and species. Wildlife tourism generates millions of pounds every year, so bringing new life to impoverished woodlands and barren glens can bring economic as well as environmental benefits," said Alan Watson Featherstone.
The charity's plans for 2014 include an ambitious project at Trees for Life's flagship Dundreggan Conservation Estate, a biodiversity hotspot in Glenmoriston near Loch Ness. They paln to convert a 300-hectare commercial plantation of non-native trees planted by a previous owner back to native woodland. This will involve the felling of the alien conifers and a pioneering mire restoration scheme, funded by a grant from Scottish Natural Heritage. The whole project will take over 10 years to complete.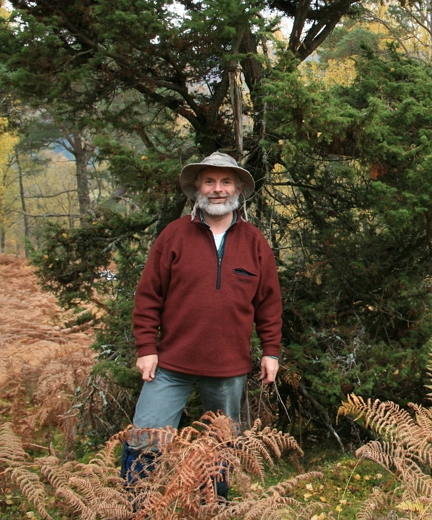 Dundreggan is also home to one of Scotland's greatest concentrations of the nationally scarce dwarf birch, Betula nana.
An area will be fenced off for restoration of these 'wee trees', as part of a broader plan to create a woodland link between Glen Affric and Glenmoriston, and to expand this habitat for species including black grouse, ptarmigan and golden plover.
A programme of research on forest ecology will also be carried out at Dundreggan, and the estate will host a 25th anniversary open weekend on 24th – 25th May.
Meanwhile, a new tree planting project will begin in a Caledonian pinewood remnant at Culligran in Glen Strathfarrar in the autumn.
Trees for Life has pledged to establish one million more trees by planting and natural regeneration by 2018, creating expanded habitats for wildlife including strawberry spider, wood ants, red squirrels, rare sawflies and ospreys. Over the past year, the charity has expanded its volunteer Conservation Weeks and Conservation Days, offering more opportunities for people to gain conservation experience.
Trees for Life's story began in 1986 when Alan Watson Featherstone made a commitment to an environmental conference at Findhorn to launch a Caledonian Forest restoration project. Practical activity began in June 1989, with tree guards used to protect Scots pine seedlings in Glen Cannich from being eaten by deer. In 1991, volunteers began planting some of the first new trees to grow in the forest for 200 years.
Trees for Life has grown into an award-winning, leading conservation volunteering charity, with a dedicated staff team and thousands of supporters and volunteers. Wildlife film maker Gordon Buchanan planted the charity's millionth tree at Dundreggan in 2012, and Trees for Life played a key role in the successful campaign for the Scottish Parliament to name the Scots pine as the country's national tree.
People can support Trees for Life by becoming a member, carrying out conservation action, sponsoring trees for special occasions or sponsoring an acre of native forest. See www.treesforlife.org.uk.
Trees for Life's awards include UK Conservation Project of the Year, Millennium Marque, Top 10 Conservation Holidays worldwide, Glenfiddich Spirit of Scotland Environment Award (2012) and RSPB Nature of Scotland – Outstanding Contribution to Nature Award (2013).
Comments enabled – see comments box below. Note, all comments will be moderated.