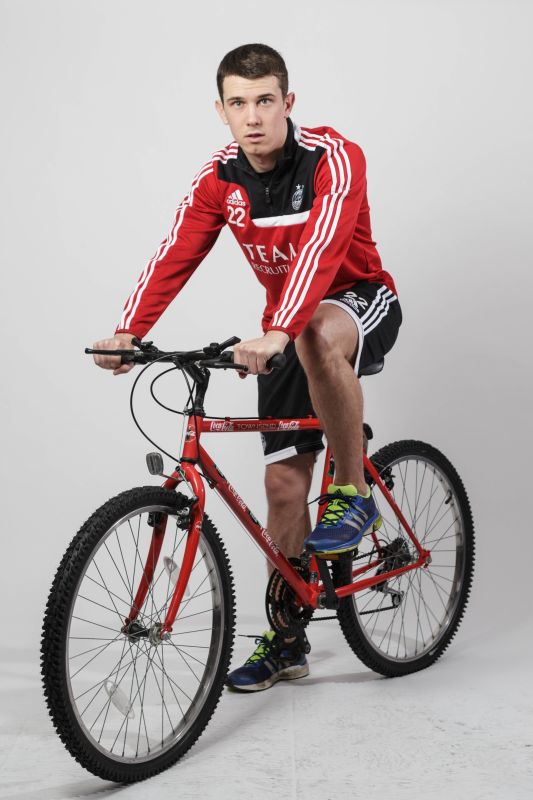 With thanks to Dave Macdermid.
There is still time to have the chance of winning the iconic Coca-Cola branded bicycle won by Stephen Glass the last time the Dons won the Scottish League Cup and seen here modelled by midfielder Ryan Jack.
The raffle for the unique piece of AFC history, is being undertaken in conjunction with the AFC Heritage Trust, with tickets costing £5 which can be purchased via www.afcheritage.org  by clicking 'donate' on the home page, after which a unique number is allocated to each 'ticket' purchased.
Alternatively, numbers can be purchased at Aberdeen Football Club, ensuring that those buying leave their contact details, including telephone and e-mail.
AFC Head of Youth Development Neil Simpson is confident that supporters will be eager to get their hands on such an iconic vehicle.
"It's a fantastic gesture by Stephen and really appreciated. The picture of Stephen being given the bike in the soaking rain at Hampden is one of the most memorable images of that day and it's a real opportunity for someone to own something that was very much part of that occasion. Everyone who buys a ticket will also be helping to invest in the future of AFC and that can only be a positive."
Tickets for the raffle can be purchased up until 23.59 on Thursday 13th March 2014 with the draw taking place at Pittodrie Stadium at 12 noon on Friday 14th March 2014 with details of the winner published on the Club website that afternoon.