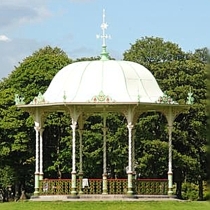 With thanks to Dave Macdermid.
This year's Friends of Duthie Park Annual General Meeting will be held within the sunken area of the David Welch Winter Gardens on Tuesday evening (4th March) at 7 pm.
On the same day, the organisation will unveil its brand new website which has been donated by media and communications agency AVC Media.
The AGM is open to members and non-members and those present will be treated to a presentation updating activity within the Park over the past twelve months in addition to sponsorship opportunities available for local businesses.
FODP Chairman Tony Dawson is delighted to add AVC Media to the list of well known local organisations that are supporting one of the north east's most loved attractions.
"All of the monies raised by the Friends are reinvested within the Park and the fantastic support we receive from business means we can undertake more projects to benefit visitors to what is such a lovely place.
"Spencer Buchan and the team at AVC Media have been a pleasure to work with and the website they have designed for us is fabulous. We want the Friends website to be the first port of call for anyone to find out what is happening within Duthie Park so it a hugely important communication tool for us."
AVC Media managing director Spencer Buchan said the firm was only too delighted to help out. He said:
"Friends of Duthie Park is a great local organisation dedicated to helping look after one of Aberdeen's best public parks and we were only too happy to design and build its website.
"Our talented team wanted to reflect the fantastic work carried out by FODP and let people know about it through a great website."
The Duthie Park is one of the most popular parks in Scotland, with over half a million visitors every year. It was bequeathed to the city by Miss Elizabeth Crombie Duthie in remembrance of her brother and uncle and was opened in 1883 by Princess Beatrix. Its historical significance as one of the finest examples of a late Victorian public park has led to its inclusion in Historic Scotland's Inventory of Designed Landscapes and Gardens.
The recent restoration and reconstruction of some of the lost features was inspired by old written and photographic sources and was funded by the Heritage Lottery Fund and Aberdeen City Council. The official reopening of Duthie Park took place on 30th June last year.
Among the other companies to assist the Friends are BP, Ocean Installer, Craig Group, and Ben Reid.
Comments enabled – see comments box below. Note, all comments will be moderated.