In a fit of pique Duncan Harley rages against the machine for what its worth.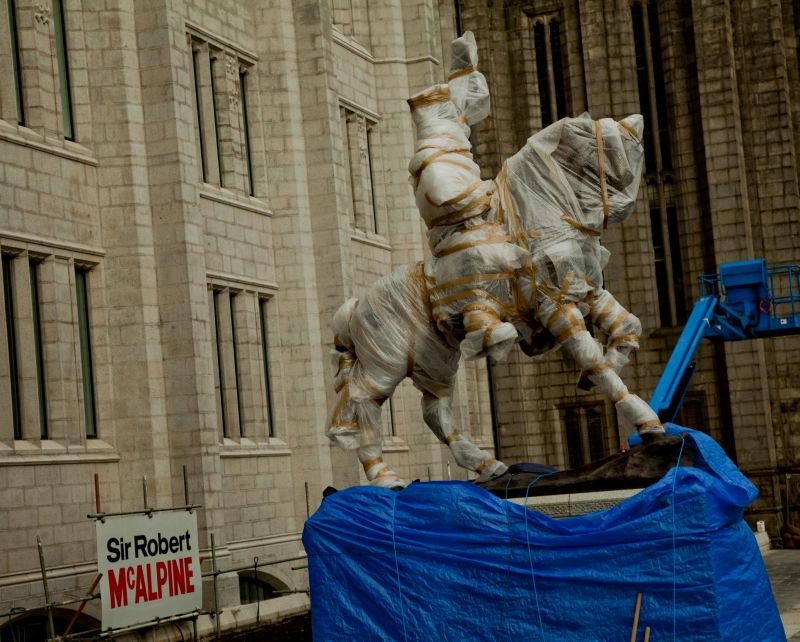 Big Brother, Corrie and now Benefits Street are at odds with much of normality in the UK.
Following the revelations about Saville using Auntie Beeb's dressing rooms to groom over one thousand vulnerable children for sexual purposes it's really quite surprising that anyone even watches terrestrial TV in the land of Logie Baird.
With the advent of Roku and Netflix, who really wants to be confronted with folk at the front door demanding money with menace.
–          Hello sir or madam, I am a licensing authority enforcer. How are you tonight?
–          Mainly fine, why do you ask?
–          It's just a courtesy really.
–          Good. I have corns due to my age and a problem with my eyes.
–          Yes, we have the power to destroy your credit rating.
–          Oh, is that good? I don't watch TV much.
–          Why is that?
–          I am blind and deaf.
–          Can I come in to your house please to discus this delicate matter?
–          Actually, under the terms of my moral obligation to be disgusted by the BBC's failure to safeguard my childhood fantasies regarding Top of the Pops, veteran broadcaster Stuart Hall and those Daleks who turned out to be just plastic studio props with toilet plunger's sticking out the front, I think not.
– OK, that's all right then. Good day sir or madam. We have the power to destroy your credit rating.
You pays your money and you get what you pay for though and at €170.28 a pop, the licence fee raises some £3.6bn per year for those such as Mark Byford, the former deputy director general of the BBC, who defended a controversial pay-off package that saw him leave the BBC with £949,000 in his bank account.
Byford left the BBC in 2011 after being made redundant as part of a drive to cut the number of highly-paid senior executives at the BBC. He told BBC Radio 5 live's Victoria Derbyshire:
"I absolutely don't think it was greed on my part at all".
He said the pay-off was "properly approved" and added:
"I absolutely think I've done no wrong."
A report by the National Audit Office released in July 2013 criticised the BBC for paying out £25m in severance pay to 150 outgoing senior BBC managers which was some £2m more than their contracts stipulated.
Mr Byford's payment was revealed to be the highest at £949,000, after 32 years of service at the BBC. That's around 65 thousand licence fees. Good money indeed!
In contrast the Albanian licence fee is 800 Lekë (€5.81) per year and in Bosnia and Herzegovina where the civil war and the associated collapse of infrastructure caused very high evasion rates it is around €46 per year. Seemingly the somewhat desperate Bosnian authorities collect the fee via telephone bills. BT with a vengeance perhaps?
Mind you Albanian State TV was until quite recently mainly showing Norman Wisdom movies from the 1960's and Bosnia has yet to recover from the effects of the international outrage following the ethnic cleansing of the country during the Balkan genocide.
As for Coronation Strasse, lips may well be sealed until the result of an upcoming court case involving street TV star Bill Roach is settled.
According to the Guardian:
"a woman alleges she was led to men's toilets and made to perform sex act during studio visit at the age of 14."
"The court were told by two women that Coronation Street actor Bill Roach sexually assaulted them in the toilets at the programme's television studios when they were teenagers. The now 63 year old complainant told Preston crown court that Mr Roach "pulled her into the men's toilets and forced her to masturbate him.""
If indeed true, this is disturbing testimony.
Then there's that case unfolding against Mr Rolf Harris of Tie Me Kangaroo down fame plus something about It's a Knockout host Stuart Hall who is currently in jail after finally admitting 14 counts of indecent assault on girls as young as nine between 1967 and 1987
With Lord McAlpines untimely death the national press may wonder whether to publish and be damned or to stay silent and appear uncertain.
Somewhat famously, Lord McAlpine was completely and wrongly accused of sexual misconduct. Various bodies such as the BBC wrongly implied that the now dead peer was a paedophile. Some of his friends attribute his demise entirely to the completely unfounded allegations. Many will feel sorry for the peers sad last days.
The BBC will be plunged into a major crisis with the publication of a damning review, expected next month, that will reveal its staff turned a blind eye to the rape and sexual assault of up to 1,000 girls and boys by long time disc jockey Jimmy Savile in the corporation's changing rooms and studios.
Dame Janet Smith, a former court of appeal judge, who previously led the inquiry into the mass murders by local GP Dr Harold Shipman will seemingly say in her final report that the true number of victims of Savile's sexual proclivities may never be known but that his behaviour had been recognised by BBC executives who took no action.
Many in the UK currently wonder why they are paying a licence fee to fund a shameful publicly funded system which appears to ignore not only the law but also morality.
The UK requirement for a dog licence was abolished in 1987. Prior to this dog licences were mandatory but the requirement was widely ignored with only about fifty percent of owners having one. The final rate for a dog licence was a meagre 37 pence.
The TV licence should perhaps follow suit very soon.
A YouGov poll for The Telegraph recently found that almost two thirds of those surveyed agreed that the licence fee should be abolished because so many households had satellite or cable television.
The "Stop BBC Bias" campaign is encouraging "refuseniks" to register with it by phoning 09012 702 414 or by visiting its website – www.bbcbias.org although as of the time of writing the site is unavailable due to "technical problems." It's on error 404 seemingly.
A BBC spokesman recently said:
"Our policy is and always has been clear. If you don't have a licence and are using televisual equipment, you're breaking the law."
There perhaps lies self interest.
Comments enabled – see comments box below. Note, all comments will be moderated.