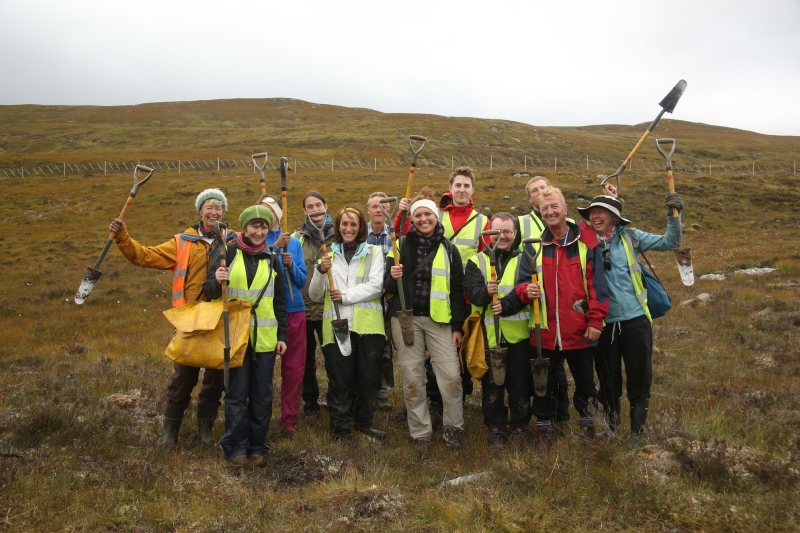 With thanks to Richard Bunting.
On 29th November, the conservation charity Trees for Life celebrated the announcement that it has won £50,000 of Lottery funding for a pioneering project to help restore Scotland's ancient Caledonian Forest and protect its rare wildlife from extinction.
The conservation charity's plan to create a new volunteer training programme at its Dundreggan Conservation Estate near Loch Ness, which will benefit hundreds of disadvantaged people from the Inverness region, was successful in the recent finals of the People's Millions public vote.
Speaking after the announcement last Friday Alan Watson Featherstone, Trees for Life's Executive Director, said:
"This is fantastic news for our work to save the Caledonian Forest and its unique wildlife and for the hundreds of people every year who will be able to join our training programme – transforming their own lives as they help to restore the forest.
"I would like to thank every single person who voted for us in the People's Millions yesterday."
The Trees for Life training project is about people and places.  In particular, it will benefit people from diverse backgrounds and those with limited access to healthy outdoor activities and training opportunities.
Disadvantaged people – including those on low incomes or who are unemployed from the rural region around Inverness and from deprived urban areas in Inverness – will be able to learn about threatened habitats and species and gain health benefits from volunteering in green places.
Activities will include planting trees and wild flowers, collecting seeds for propagating rare species, and growing trees and plants in a tree nursery.  The project will be accessible for older people and those with limited mobility, or affected by mental health issues, and accredited training for leading volunteer groups will also be on offer.
The People's Millions, in which the public decide which local community projects will receive Lottery funding, is a partnership between the Big Lottery Fund and ITV and voting took place all day on 29th November with the results being broadcast by STV North in the evening.
Dundreggan, which is in Glen Moriston, Inverness-shire, has been described as a Highlands 'lost world' and, so far, almost 70 priority species for conservation, including several species never recorded in the UK before, have been discovered there.
The award-winning Trees for Life charity has planted more than one million trees at dozens of sites in the Highlands and has pledged to establish one million more trees by planting and natural regeneration by 2018.
For further details, please visit www.treesforlife.org.uk or call 0845 458 3505.
Comments enabled – see comments box below. Note, all comments will be moderated.