By Bob Smith.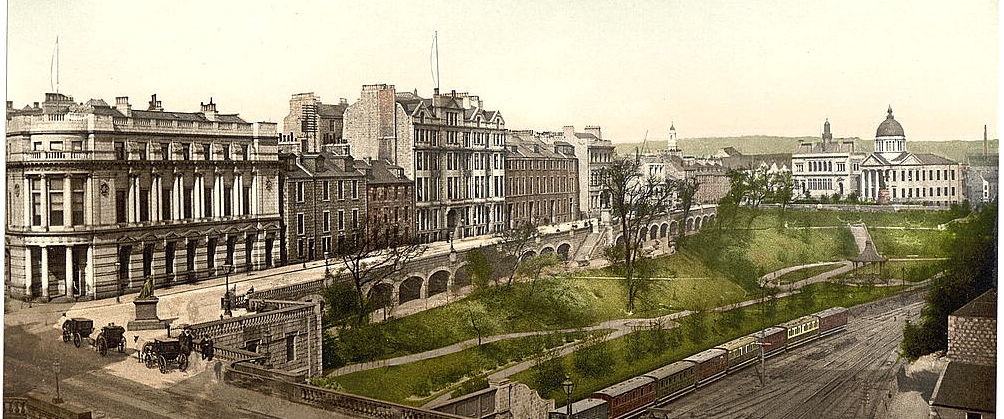 In een o Scotia's bonniest cities
Live fowk fae fair git on yer titties
Wintin the toon tae chynge it's wyes
Wi ugly biggins tae be the prize


.


Leuk at oor glorious granite face
Fou o character an fou o grace
Fin the sun shines on the steen
Ye ken yer bidin in Aiberdeen


.


Union Street biggins they jist micht
Be in great need o a gweed dicht
Tae reveal the silvery granite glint
Aat generations o fowk hiv kent


.


Bonnie parks an gairdens are aa aroon
There's een in the cinter o the toon
Bit a local mannie fa his lots o cash
Wid Union Terrace Gairdens like tae trash
The toon it staans twixt Don an Dee
Twa rivers fa flow tae the sea
Throwe kwintraside they pass first
Syne feed the grey north sea's thirst


.


A toon full o majestic spires
A city aat his some deniers
An wint the toon mair tae be
Like Houston or New York maybe


.


Bit Aiberdeen needs tae be Aiberdeen
Wi the couthiest fowk ye've ivver seen
Faa in their toonie tak great pride
An winna be takken fer a ride


.


So Widdie, Muse an Stewartie Milne
Tho' fowk micht nae wish ye ill
Jist bugger aff an leave things be
In the bonnie toon twixt Don an Dee
© Bob Smith "The Poetry Mannie" 2013
Comments enabled – see comments box below. Note, all comments will be moderated.