The Scottish SPCA's Aberdeenshire Animal Rescue and Rehoming Centre is seeking a loving home for a young dog who has known nothing but rejection in her life.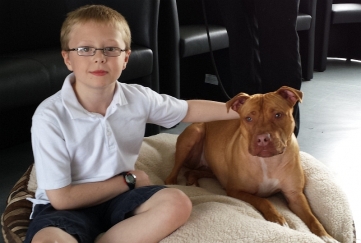 Lucy, an adorable four year old female staffie crossbreed, came into the charity's care in February when she was sadly abandoned by her previous owner.
She was rehomed but unfortunately this didn't work out and Lucy was returned to the Scottish SPCA through no fault of her own.
Staff at the Drumoak-based centre fear Lucy is becoming increasingly stressed in the kennel environment and her desperate attempts to attract a new owner are putting people off.
Assistant Manager Debbie Innes said,
"Lucy just craves love and attention and her only real pleasure in life comes from being part of a family.
"Without this she is completely lost and just doesn't know how to cope. Her natural zest for life is restricted in the kennel environment and it's heartbreaking to see her in a situation which is upsetting to her.
"She becomes ecstatic when anyone walks past her kennel and will jump up and down like a jack in the box to try and attract their attention.
"However, most people find this very off-putting and assume she's just a daft dog, while we know this couldn't be further from the truth.
"Lucy is much happier outside of her kennel and this is when she really comes into her own. She is a very active, energetic dog who will require lots of exercise and stimulation but she's also a very intelligent girl with a great sense of humour and a natural affinity with children.
"In fact, Lucy has always shown herself to be very calm and gentle around children and we think she would do very well in a family environment.
"With the right owners Lucy has the potential to be a superstar dog who will love her family with unequalled devotion, if only someone would give her the chance."
Anyone interested in offering Lucy a home can call the Scottish SPCA Animal Helpline on 03000 999 999 and ask to be connected to the Aberdeenshire Centre.