There's some world class music and comedy coming to Woodend Barn and Braemar over the next week. With thanks to David Officer.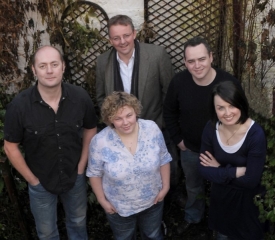 On Friday 17 May Woodend Barn  welcomes back one of Scotland's finest folk groups,
Blazin' Fiddles.
What began as a project for the Highland Festival almost 15 years ago, continues as one of Scotland's top traditional bands. From remote village halls to the BBC Proms, Blazin' Fiddles have delighted audiences with their highlands and islands tunes and tales.
The audience has a rare opportunity to hear pieces featuring the regional styles of each fiddler followed by all hands jumping in for a wonderful explosion of music.
£15.00 full, £13.00 conc. £5.00 U16 in advance + bf
£17.00 full, £15.00 conc. £7.00 U16 on the door + bf
Then on Saturday 18 May in Braemar, we're putting on Vamm – a brilliant young trio that weave melody and harmony together, creating a rich sound, bursting with texture and groove. Expect to be wrapped in a full sound that is contrasted by dynamic subtleties and moments of intimate quietness that will take your breath away.
Inflecting the sound with their own musical traditions, fiddlers Catriona Macdonald (Shetland), Patsy Reid (Perth) and Mandola player Marit Fält (Norway) relish the unlimited possibilities that great melodies possess, and play them in a fun and exuberant fashion.
£12.00, £10.00, £5.00 u16 in advance + bf
£14.00, £12.00, £7.00 u16 on the door + bf
Then, back at the barn on Sunday 19th May at 6.30pm we've got Berliner Philharmoniker conducted by Claudio Abbado as part of our live screening series.  They'll be performing a wonderful programme of Mendehlsohnn and Berlioz.
£12.50, £10.50 conc, U16 £5 in advance + bf
£14.50, £12.50 conc and U16 £7 on the door + bf
Finally, we're really excited about the return of Jo Caulfield on Wednesday 24th May.  Not only is she Graham Norton's main writer but she's a fab stand-up in her own right and had us all in stitches on her last visit.  This is going to be another busy night full of laughs!
Friends will save £1 on advance tickets but these must be bought by phoning or calling into the box office.
£10.00, £8.00 in advance + bf
£12.00, £10.00 on the door + bf