Last week, Voice offered two copies of Richard Gordon's marvellous Glory In Gothenburg as prizes for answering the question, "Who tripped as he dashed from the dugout at the final whistle in the Ullevi Stadium and was trampled all over by his fellow occupants of the dug-out?". By David Innes.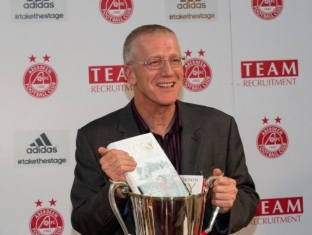 It was, of course, the man who couldn't be kept out of the news last week as he announced his retirement, Sir Alex Ferguson.
Hang your heads Bryan Gunn, Stuart Kennedy, Doug Bell, Ian Angus, Eric Black, Archie Knox, Teddy Scott and Roland Arnott. You have no respect, but I bet you laughed like overflowing Ullevi drains at the time! The gaffer probably did too.
Our lucky winners are:
Richard Simpson of Aberdeen whose book I posted through his letterbox personally on Tuesday night and Richie Bisset of Queensferry, whose copy was put in the post the day after. Both Richards are probably devouring their namesake's mellifluous prose at a single sitting as we go to press.
Enjoy the prizes, fellas, and thanks again to Black and White Publishing for their donation. Commiserations to the others who entered but were unsuccessful.
Further good news from Black and White.
"Hidden Aberdeen, a fascinating look at the history of the Granite City. From Dr Fiona-Jane Brown, folklorist, educator, storyteller and founder of Hidden Aberdeen Tours, comes a book that will open your eyes to the hidden, the forgotten and the abandoned remnants of the past which lie under your feet as you walk round the city today".
This is being published very soon and the author will be signing copies in WH Smiths on 8 June and Waterstones (we'll find out which one) on 18 June. A review copy is on its way and we'll do the honours, of course. With a bit of luck we'll have a word with the author and run that in Voice too.