Voice's Old Susannah takes a look over the past week's events in the 'Deen and beyond. By Suzanne Kelly.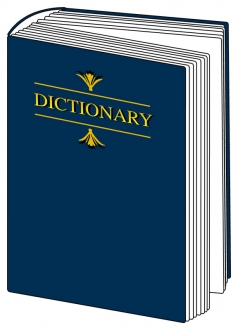 Apologies for the late arrival of this service; it's been a busy week.
John Aberdein, author of works including Strip the Willow, was in town, and I am pleased to have been able to spend some time with him.
We met at the May Day March, where a surprisingly large number of people attended.
You almost got a sense that people weren't all that happy with the way central government is bringing us economic prosperity.
There were some interesting speeches on issues such as the bedroom tax, health assessments, inflation, loss of workers' rights, forced employment, austerity, exploiting young workers, service cuts and closures, and other trivialities. 
For some reason I could only see Labour councillors around.
I'd hoped some of our Conservative and LibDem councillors would be on hand to dispel the Labour propaganda; they could have for instance given back-up for the Department of Work & Pensions' claim that one in four people on sickness benefit is fit for work.  I'd have also appreciated their reassurances that everything is fine and that 'we're all in it together'.
I keep meaning to ask a ConDem councillor exactly what 'it' is that we're all in together?  Economic prosperity?  Fair taxes and a fair society?  A bed of roses?  I'd love to ask for instance Councillor Gillian Owen what 'it' is, but alas!  She's not going to be communicating with me.
I could conceivably have done or written something upsetting, but I now have the anxiety of waiting until Christmas time to see whether or not she'll be sending me a card.
Rather than only offering definitions this week, I thought a portrait of Councillor Owen might make a refreshing and pleasant change, together with some related timely terms.
Councillor Gillian Owen: (Proper noun; name of an elected official in Aberdeenshire)
Conservative Party Councillor for Ellon & District, Aberdeenshire Council. Chair of the Council's Chair of Aberdeenshire Council's Scrutiny and Audit Committee
Councillor Gillian Owen is a multitalented woman, serving her ward and its constituents, overseeing the Scrutiny and Audit Committee, and, er. working at Snappy Snaps now and then.
Alas!  I seem to have offended the lady; I've no idea how that could be.  Some weeks ago, a number of Aberdeenshire residents gave me permission to write to their councillors on their behalf.  Oddly enough, some residents don't think their elected officials are taking them and their views seriously enough.
clearly she wanted me to call instead, as she sent her mobile number
When I wrote to councillors, some were slightly hostile; some were slightly helpful, and some simply didn't write back to me or their constituents (they probably get so much fan mail that they don't really have time to answer it all).
But Cllr Owen's modest replies warmed my heart and the hearts of those voters who'd asked me to write to her in the first place.
When first contacted about her friend Donald Trump's development and its slight tendency to occasionally deviate from the plan, she wrote:-
"As previously requested remove this email. I do not wish to receive emails from you."
I did try to remove the email, but I didn't have much luck.  She said she didn't want to receive emails from me; clearly she wanted me to call instead, as she sent her mobile number.
I thought I'd clarify why I was writing, and sent this:-
"Reminder Councillor:  I am writing at the behest of your constituents – shall I tell them you do not want to hear from them?  Thank you for clarifying//END"
To which Gillian Owing-Trump-A-Favour replied:-
'NO I JUST WANT TO HEAR FROM THEM NOT YOU.'-
Which was rather thoughtful; full caps are so much easier for Old Susannah to read.  Her constituents who'd asked me to write were touched by this warm exchange; no doubt these words deserve a wider audience.
Scrutiny and Audit Committee: (compound proper noun) A group within Aberdeenshire Council looking into issues including:-
"Residents and Employee Surveys;
"Internal and external audit reports;
" Issues raised by residents, local community groups and external organisations…"
Residents of course already know how deeply their councillors care about their concerns.  It is reassuring Cllr Owen is at the helm, helping to decide what issues raised by residents will be scrutinised and audited.
As David Milne's petition going before Holyrood on 14 May has nearly 19,000 signatories demanding a public inquiry into the handling of the post-approval developments at Trump Scotland, Gillian will doubtless prioritise this issue for her constituents.  I'd ask her to confirm this myself, but she's not going to answer.
If any readers living in the Shire would like her committee to look at issues of policing, security, environment, rights of access, adherence to the Outdoor Access Code and so on at the Menie Estate, she can be contacted at Cllr.G.Owen@aberdeenshire.gov.uk  – just tell her Old Susannah sent you.
'And what are the values of this committee?' I practically hear people asking.  They are:-
"Open, Transparent, Investigative, Deliberative, Evidence-based, Accountable, Responsive, Inclusive, Influencing, Flexible, Proactive, Non-partisan and Outward Looking."
How important indeed it is to be open, transparent, accountable and responsive is reflected in so many things councillors do.  As an aide to that transparency and openness, electors have the right to know more about their councillors.  One way this noble aim is accomplished is via the Register of Interests.
Register of Interests: (compound noun) A detailed record, legally required, showing the outside interests (paid and unpaid), hospitality received and other activities of councillors so that any potential conflicts of interest can be identified and compromising situations avoided.
Codes of ethics and standards are hardly necessary for our elected officials; I for one am happy to take it on good faith that they are all working without any thought of reward other than their salaries and that they would not compromise themselves by taking inappropriate hospitality.
For instance First Minister Alex Salmond is still feeling the heat for meeting with Donald Trump while planning issues were being discussed.  At least I guess he must have recorded the hospitality on his register of interests' entry.  Not doing so would be rather naughty indeed.  I do get the feeling that any future dinners are somewhat unlikely.
"The Register is accurate as at today's date [April 25 2013]"  – an Aberdeenshire council employee confirmed to me recently.  I had asked for clarification, as amazingly, Councillor Owen's record did not show any remuneration, shares, election expenses, or gifts and hospitality.
Many are impressed by this saintly abstention from gifts and hospitality; it contrasts greatly with the record of old City councillor Kate Dean [Who she?  Ed], who had managed to get to a heck of a lot of events indeed.  No, our Councillor Owen is too busy to write to me or for any socialising or gift-getting.  Canonisation cannot be far off.
Newsletter: (noun) A means, printed or electronic, of updating people on current events, news, etc.
One thing Councillor Owen does have time for is keeping us all updated on the latest news.  Her newsletter can normally be found here (I have randomly chosen a lovely story link from the site):-
http://gillianowen.yourcllr.com/2012/07/11/gillian-visits-the-trump-international-golf-links/.
But alas!  This newsletter website was down last night.  Happily it is back up and running now, for I foresee an increased interest in it.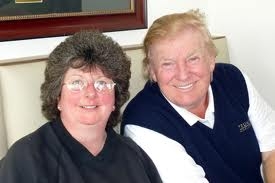 Just in case the site is not working when any Aberdeen Voice readers try to access it I'm certain that Cllr Owen-us-an-explanation will be more than happy for me to share this lovely photo, which I managed to save as a screenshot from her newsletter some time ago:-
It's amazing what can happen when two world-class celebrities get together; I don't know about you, but I simply adore this image.
This is text of the story in case it can't be accessed on line for some reason:-
"I had the pleasure today to see at first had the new Trump International Golf Links at Menie. I must say it was a marvellous sight and a fantastic golf course.  I have supported this development since it came before the Area committee five years ago and have always believed that it will provide the North East with a superb facility and a legacy which will grow and one day I hope will host The Open.  Enjoy a couple of the photos that I took today!"  
Thank you Gillian, we will enjoy the rest of those photos indeed. (I fear my odds of getting my copy of the Owen-Trump photograph signed are somewhat low; if any readers who are getting glossy prints made of this great picture autographed could ask for a spare signed copy one for me, I'd be most grateful.  I might however just run down to Snappy Snaps to get some blow-ups made.  I suppose Gillian got her copies made there; I wonder if there was an employee discount.)
Let's hope it was a very very quick visit or our Councillor would have been tempted to have a coffee, tea, or meal – and as we know, the prices for a bite at the temporary clubhouse are slightly more expensive than a Big Mac Meal.
Obviously, any hospitality taken in July at the world's greatest golf course would have shown up on the gifts register, particularly as Owen-Trump-A-Lunch seems likely to have voting power which could benefit her friend and ours, Donald.   Again if anyone wanted to bring any issues to the attention of Cllr Owen for scrutiny, please see her email address above.
While I am at it, another useful website address just happens to be at hand; this is for Standards Commission Scotland   http://www.standardscommissionscotland.org.uk/ .  If you have for any reason any issues of potential conflict of interests, incomplete register of interest entries and so on, the Standards Commission might be a good website to visit.
Next week:  A look at some recent Freedom of Information requests, and possibly some more on ethics, conflict of interest, gifts, hospitality and so on
PS:  All the best to David Milne tomorrow as he attends Holyrood trying to get a much-needed public inquiry into the catalogue of disasters that ensued following planning permission going to Trump at Menie.  At last count there were over 19,000 people wanting answers as to how the planners, councillors, police, environmental advisory group MEMAG, the countryside access officers and so on acted.   Holyrood has to agree to this inquiry.
Comments enabled – see comments box below. Note, all comments will be moderated.