Whilst the more senior levels in Scottish football argue interminably about structure and finance, life goes on in the Highland League, with a last-day title decider between the top two teams set to rouse passions and tribal rivalries, just as it should. That's this week. Last week, the Highland League Cup final was played. David Innes was in Banff supporting his hometown club Keith and doubled up by reporting for Voice.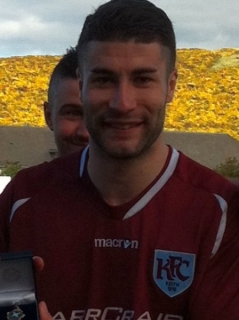 The venue, Princess Royal Park was controversial. Although it's a pleasant ground, there is no shelter for fans other than the impressive stand and the weather forecast was inconclusive.
It didn't rain, it was pleasantly warm in the Banffshire coast sun and the pitch was in lovely condition for the time of year, so the organisers got it right.
Locos dominated early on and after missing a couple of chances, former Maroon Jason Begg put them ahead in 18 minutes.
Harlaw midfielder Clark Bain was dominant and although Keith posed a threat via Andy McAskill playing wide right, they were fortunate to turn around only a goal down.
Darren Still's half time advice must have helped as the Maroons started the second half, playing uphill, in much more aggressive manner, yet it was Inverurie who looked more likely to add to their score. Then a crucial momentary lack of concentration by Stuart McKay allowed Sean Keith to cross for Andy McAskill to level at 1-1 after his first shot was blocked.
Locos came back and pressed hard. They almost went ahead again straight away, then a long free kick by Locos' 'keeper Andy Reid bounced off the Keith post with the defence assuming that the shot was going wide.
That bit of luck seemed to galvanise Keith and when defender Kieran Adams handled a shot on the ground, talisman and skipper Cammy Keith showed no mercy and buried the penalty behind Andy Reid. Suddenly the noise was coming from the Maroons fans.
Even Reid's foray forward for a late corner couldn't see Locos break down Keith's defence with Stuart Walker and Gary McNamee dominant, and when McAskill broke away in stoppage time, Steven Park's clumsy tackle earned the defender a red card and Keith a penalty. This time Cammy Keith's shot hit the post but there was no way back for Locos, heads down and with a player short.
The final whistle saw gleeful celebrations on and off the pitch as Keith salvaged something from a poor season and delivered long-serving Darren Still his first trophy as the Maroons' manager. It was a delight to see so many ex-players joining the young team as it soaked in the glory. Players are well taken care of at Kynoch Park, although the club does not pay the inflated wages offered by others. They repay that loyalty by continuing to offer their support.
The club chairman Sandy Stables, his board and committee put in incredible efforts to keep the club they love going, and even if they are never rewarded by big attendances, they put smiles on the faces of those who do attend on afternoons such as this.
Keith have an energetic squad of young players, with a few experienced hands around to guide them through the tough times. This victory will help instil belief in the squad where the traditional Keith team spirit is hugely in evidence. Rumours abound of a few experienced signing over the summer, which, allied to the abundant energy of the loons, might just see them cause a few upsets next season.
Locos manager Kenny Coull has admitted that his squad needs major restructuring and a few of the older players, who have served the club brilliantly since their days as a fledgling Highland League club, may have to move on.
Whatever the summer holds, it has been an exciting 2012-13 in the Highland League, with the Aberdeenshire Shield Final going ahead this week, before the title showdown at Pitmedden on the scheduled final day of the season. It's the best fitba going.
Comments enabled – see comments box below. Note, all comments will be moderated.