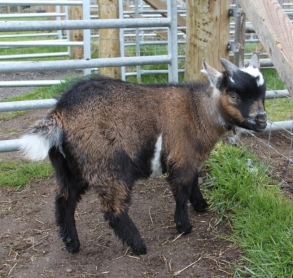 With thanks to
Claire McBain.
This weekend, social care charity VSA's Easter Anguston Farm will host its biggest event to date – a Spring Fair to mark the re-opening of the farm for summer.
Thanks to significant local donations, this event will be complete with new developments including the first public unveiling of a pair of adorable pygmy goats that can be seen on YouTube at http://ow.ly/kz3Nf
For the last six years, the charity has taken over Duthie Park for its family fun day, but this year the Peterculter based farm will incorporate the landmark event with its annual Spring Fair, raising awareness of VSA's local work in looking after thousands of people, and celebrating those who have supported the charity over the past year.
Fiona Davidson, farm operations manager, said:
"It's an ideal occasion for people in Aberdeen and the shire to have fun while supporting their local community.   
"Attractions include segway experiences, a bouncy castle, face painting, games, jewellery, craft and gift stalls and refreshments.   VSA services will host stalls too, spreading the word about the good they do. 
"There will singers, dancers and a childrens' talent show, urging budding singers, dancers and comedians to show their community their hidden abilities.   Of course, the farm's usual attractions – the coffee shop, education centre, farm shop and garden centre – will be in full swing too.
"The brand new pygmy goats are a story in themselves.  Donated by two local men who wanted to make a difference to the farm in a way other than the usual sponsored run or cycle.   They'll be joined by mini-donkeys in the next month.   And there are other developments since last year too.   The farm shop has been refitted and we have a revamped education room and new machinery workshop thanks to £50,000 from Aberdeen Airport's BAA Community Fund.
"But the most important thing about the day is the cause behind it.  Easter Anguston is a peaceful spot where adults with learning difficulties get valuable support and training.   
"For the service users, the farm's meaningful, vocational work can provide security of long-term employment or a stepping stone to the potentially intimidating mainstream job market.   And, for visitors, the playful, vibrant atmosphere created by the dedicated staff and service users keeps them coming back time and time again."
VSA's Spring Fair is being held at Easter Anguston Farm, Peterculter, between 10:00 a.m and 4:00 p.m. on Saturday 11th and Sunday 12th May, 2013.
Entry to the event, which is sponsored by CNR, is free but funds raised on the day will be used directly to support the local community.
For further details about the event e-mail debbie.fotheringham@vsa.org.uk or call her on 01224 358617.
For more information about VSA and other events visit www.vsa.org.uk or www.youtube.com/supportvsa