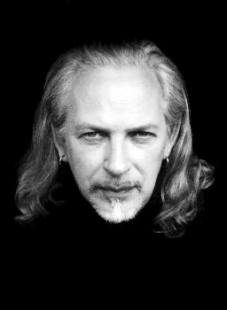 Steven Severin, a founder member of the legendary band Siouxsie and the Banshees, returns to Aberdeen for a rare LIVE performance at Peacock Visual Arts on Saturday, 1st June.
Following on from his 50 date Vampyr world tour throughout 2012, Steven Severin returns for 9 select UK shows, giving audiences a rare opportunity to hear his electronic score for The Cabinet of Dr. Caligari.
This score was first premiered in a series of performances at the Edinburgh Fringe in 2009 and is the fourth in his ongoing film accompaniment series – Music For Silents.
In live performance, this acclaimed solo artist and founder member of Siouxsie and the Banshees, presents a mesmerising synthesis of sound and image, heightening appreciation of the surreal and enigmatic nature of the original work.
During their reign, Siouxsie and the Banshees established themselves as one of the foremost groups of alternative artists and the only survivors of the London punk scene to evolve, innovate and succeed until their final demise in 2002.
Severin has since committed himself, almost exclusively, to scoring for film and TV and, since 2008, has been performing live electronic accompaniment to silent films.   In doing so, he has successfully startled audiences which have now come to expect the unexpected from a man who has crossed paths with such diverse luminaries as John Cale, Alan Moore, Lydia Lunch, Marc Almond, Merc Cunningham, Robert Smith and the Tiger Lillies.
The Cabinet of Dr. Caligari, Robert Weine's unsettling tale of fear and obsession, finds its aural counterpart in Severin's suitably textured score – a synthesised, highly atmospheric soundscape drawing the viewer rhythmically into the dreamlike imagery on screen.
In the film, which is often cited as one of the most influential films of the silent era, Werner Krauss plays the title character – a sinister hypnotist who travels the carnival circuit displaying a somnambulist named Cesare, played by Conrad Veidt.
In one tiny German town, a series of murders coincides with Caligari's visit and when the best friend of hero Francis (Friedrich Feher) is killed, the deed appears to be the conclusion of a romantic rivalry over the hand of the lovely Jane (Lil Dagover.)
Francis suspects Caligari but he is ignored by the police and, investigating on his own, he seemingly discovers that Caligari has been ordering the somnambulist to commit the murders.  But the story eventually takes a more surprising direction.
The Cabinet of Dr. Caligari, remains to this day an important part of the history of German cinema as it was one of the very first horror films and its expressionist style was essential to the development of film noir.
Severin is appearing at Peacock Visual at 7:00 p.m. on Saturday 1st June, 2013.
Tickets, which cost £10 each, are available from Peacock Visual Arts and can be booked by calling 01224 639539.
Comments enabled – see comments box below. Note, all comments will be moderated.