Local charity and support group Friends of Anchor came up with an ingenious way to raise funds and awareness:  they decided to hold a fashion show with models who survived a cancer diagnosis.  Suzanne Kelly covered this event for Aberdeen Voice and found it one of the most uplifting and inspirational events held in our area for quite some time.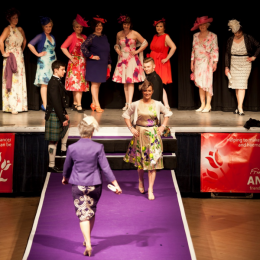 Friends of Anchor decided to put on a fashion show to raise funds – but not just any fashion show.
The women would be community members who had been diagnosed with cancer and overcame it with help from the Anchor Unit.
The call for models received an overwhelming response; it was only a pity that only 24 could be selected.
After months of fittings and rehearsals, these amazing women took to a catwalk erected in The Beach Ballroom.
The ticket demand was beyond organisers' dreams – all tables sold out quickly, and demand hadn't abated:  they had to open the balcony for seating without food service for both the afternoon tea and evening dinner shows.  All tickets were taken.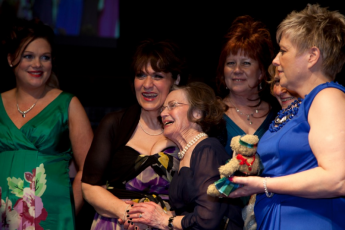 A raffle was held; and a tombola-style 'tree of indulgence' was hung with 500 tickets, some linking to fabulous prizes.  The organisers hoped to sell most of the tickets by the time the evening show concluded:  in the end, all these tickets were snapped up at the afternoon show.
The table was laid for afternoon tea in a beautiful style; the food was delicious.  The clothing on show had something to offer every size and age of woman.
Stalls around the room sold a variety of goods.  But all this paled in comparison to the models.
Each gave a brief description of their individual situation in the programme; several were featured in video vignettes showing how they dealt with their problems, how their friends and family were on hand to help, and how the Anchor Unit provided personal, state-of-the art health services geared to the needs of each individual.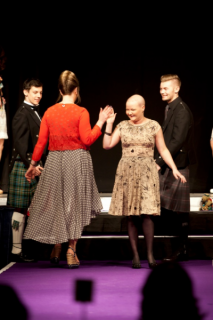 There were older women; younger women; a pregnant woman, and one particularly courageous woman, Laura, who was still being treated at the unit.  She first took to the catwalk without wearing a wig (like many if not most, her hair had fallen out during treatment).  She was radiant.
There were casual outfits, wedding and evening clothes.  The women were given the warmest of welcomes from the crowd, which seemed to clap nonstop.  Their attitudes to their medical problems marked them out as extraordinary people; it was really an honour to have been there.
Speeches were made by charity patron Jimmy Milne of Balmoral Group and the Lord Provost.  Sarah-Jane Milne and Sandra McIntosh of Total were also speakers; it was announced that the afternoon event had made £39,000+ – the target for afternoon and evening events, with all proceeds going directly to the charity with no overheads to pay.
The models were:  Ashlea Corvelle, Christina Farquhar, Dawn Laird, Erica Matthew, Fiona Vass, Gail Roberts, Joan Cordier, Joanna Strathdee, Judith Logan, Judy Alexander, Julia Riddoch, Kathleen Haw, Katrina Farquhar, Kay Sowerby, Laura Atkinson, Laura Brackenridge, Lesley Anne Yeates, Llynda Johnston, Mary McLean, Nikki Dunn, Norma Ben Tebr, Patricia Beckett, Rebecca Grant, and Tricia Howden.
For the finale, all the models came out and joined the audience. Moments later everyone was up and dancing and/or congratulating the models on a brilliant show.  This event was a huge and happy success story, and hopefully will become an annual event.
Comments enabled – see comments box below. Note, all comments will be moderated.