Who cares if the envious and small-minded accuse Aberdeen fans of 'living in the 1980s'? Not Richard Gordon, for whom his book Glory In Gothenburg is a labour of love, nor Voice reviewer David Innes, a terrace veteran of the great 70s and 80s campaigns.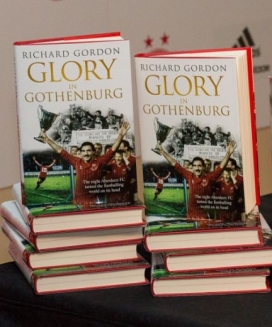 Who better, we opined when covering this book's launch, to document Aberdeen's greatest twin achievements than self-confessed Dons fanatic, yet fair-minded broadcaster Richard Gordon?
His own view is that whilst the story of triumph is well-known, there are many behind the scenes tales to be told, to paint an even more vibrant tapestry of what was the zenith of the Dons' sometimes not-too-glorious history.
The author has succeeded in this objective and Glory In Gothenburg is a fabulous read where the passion drips from the pages.
On more than one occasion I had to swallow something hard and jagged as the emotions of the two year period covered by the book welled up in me thirty years on. Fitba, eh?
What makes it even more special though are the stories never heard before as told by the players.
Gordon's dogged research has seen him hunt down everyone involved and get the inside line on what were the defining moments of his heroes' careers.
Cleverly, each of the players quoted are linked to a particular match on the memorable run from Fir Park to the parade, as my late friend Alan said at the time, of Gunther Netzer's P45 around the track at Pittodrie as the Super Cup plaque confirmed that the Reds were undisputedly the best club in Europe.
Among the surprises is Gordon Strachan's claim that he didn't really take in much of the detail and his admission that after watching the Gothenburg final on ESPN relatively recently, he phoned Alex McLeish to declare excitedly, 'We weren't a bad team, were we?'
Eric Black weighs in with a comment that beautifully encapsulates the confidence of youth, 'I had nothing to compare it with obviously, I just thought that was how it was – you turned up, played a game, got shouted at a bit and won a trophy every year!'
There are moving passages about, for example, John McMaster, whose injury problems limited what should have been a sparkling career and which should have seen him capped ahead of others not quite so outrageously-gifted. Stuart Kennedy, by dint of not playing in the Ullevi Stadium, does not merit his own chapter, but he is showered with affection by his team mates throughout Glory In Gothenburg.
They knew, even better than we devotees did, that this was an athlete who contributed incalculably to results and the unique team spirit of that squad.
Even the formidable and fearsome Fergie is shown to have a soft side. Stuart Kennedy, on the bench for the ECWC Final reveals, '…at one stage he sent me out to warm up. When I asked why he'd bothered to send me out, he told me, 'I gave you a run out in front of the fans and let them sing your name' and I really appreciated that'.
Gordon also tells of his sorrow at losing his friend Phil Goodbrand, who at only 22, died during the final in Gothenburg and how annual celebrations on 11 May are always tempered by the memory of this inexplicable loss.
There have been attempts before to capture the effervescent, ebullient spirit of those days when we swaggered across Europe contemptuously dismissing those who had the temerity to think they could compete with us, but it has taken a highly-articulate and unashamed fan who makes his living from words, to put together this, the best and most heartfelt account of a time we are unlikely ever to experience again.
Note: the publisher has kindly offered three copies to give away as prizes in a reader competition that Voice will arrange in the next week or two. Thanks to Paul at Black & White Publishing. 
Glory In Gothenburg. Richard Gordon. Black & White Publishing. 276 pages £14.99
ISBN 978 1 84502 470 3