Following the latest, ongoing outbreak of Israeli violence against the people of Gaza, citizens of Aberdeen demonstrate their solidarity and support for those under attack.  With thanks to Dave Black.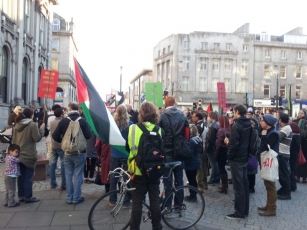 On Saturday 17 November, some 50 people gathered at short notice to show their support and solidarity for the people of Gaza, who are facing daily massacres at the hands of the Israeli Defence Force.
Meeting in Aberdeen's St Nicholas Square, many carried flags or banners stating
"Stand With Gaza"
and
"End Israeli War Crimes,"
while shouts of
"Free Palestine"
rang in the air.
Powerful speeches were delivered by Brian Carroll (Aberdeen TUC President) and Tommy Campbell (Unite Regional Officer).
Veteran pro-Palestinian activist and member of Scottish Jews for a Just Peace Hilda Meers gave the crowd a moving rendition of her poem Erasure – Death-Dance for a Palestinian Child.
Many passers-by stopped and took the time to sign a petition demanding Alec Salmond immediately halts any political and economic relationships with Israel until the oppression of Gaza has ended and the human rights of Palestinians are recognised.
Plans for taking forward solidarity with the people of Gaza will be progressed at a public meeting upstairs at the Belmont Cinema this Thursday 22 November at 7.30pm.
The agenda will include building towards an Aberdeen-Gaza Skype link-up at 2pm on 08 December at the University of Aberdeen's MacRobert Building (room 613). This event is aimed at hearing directly the experiences of people in Gaza, forging links between activists and interested groups/individuals in Aberdeen and Gaza and looking at how these can be taken forward in the future.
<<<<    >>>>
  ERASURE – Death-Dance For A Palestinian Child, As Seen On A Video From Gaza
(During the Israeli Cast Lead attack on Gaza, Israeli soldiers fired on Palestinian ambulances to prevent them carrying wounded civilians to hospital. Sixteen medics were killed, resulting in casualties being ferried in donkey carts).
See the donkey-cart driver
race along the road, fast, fast –
pulling up with a jerk, not a word,
now his journey's done.


.


See a mother leap out of the cart.
As she runs, runs, runs,
see her feet pound the ground,
the child in her arms so still, silent and still.


.


A man comes at a run, running quick, quick,
he runs towards the woman,
his arms reach for the child who lies silent,
unmoving and silent in sheltering arms.


.


Then turning, he runs, runs fast, quickly nears,
nearing the open door he surrenders the child
to other arms reaching, to bring help
for the child lying silent and still.
See the doctors bend over the hospital bed,
as they work for response from the child on the bed –
despairing at last, they must cover the head
of a child whose life has been stilled.


.


Whose life has been stilled,
has been stolen away,
the mother's heart broken –
what more can I say?


.


What more can I say
What more can I do
As I try to convince you
This is our heartbreak too.


.




.




.




.


© Hilda Meers