Fifty members of HM Royal Marine Band will be playing at the International School Aberdeen on Wednesday 5th  September to benefit the charity, Combat Stress. With thanks to Susie McKay.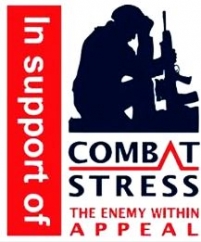 Combat Stress helps service veterans who live with the unseen scars of war.
Many veterans find it difficult to move on with their lives; for some, their lives change forever and due to Post Traumatic Stress Disorder (PTSD), they may lose their families and end up on the streets, homeless.
Too many end up in prison.
The concert will be a very intimate event with only 250 guests. There will also be a pre-concert reception at 6:45 pm.
Tickets are £30 and are available in advance from Catherine at 07879 854 927,
email cylross@btinternet.com
Combat Stress would like to hear from any potential volunteers, fundraisers, or from anyone who may benefit from its services.
http://www.combatstress.org.uk/pages/contact_us.html