An innovative and inspiring exhibition will open this weekend [Saturday 26 May] at Aberdeen Maritime Museum, Shiprow. WAVE/ING  by artist Jini Rawlings, is inspired by the journals of an Aberdeen trawler skipper written during World War II.  With thanks to Julie Aitken-Brown.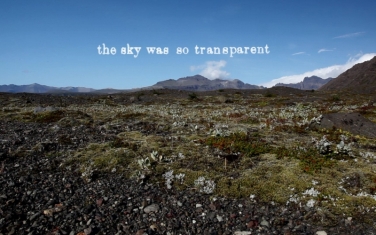 WAVE/ING is an exhibition of films created by artist Jini Rawlings around the Icelandic coast and countryside and inspired by a diary written by Aberdeen trawler skipper Alfred Craig onboard HMS Van Oost, who described his trips to Iceland as part of a convoy escort service from November 1940 to March 1941.
These journals are part of the museum's collections and will be on display alongside Jini's artistic interpretation.
This new video and mixed media art installation explores themes of journey and thresholds.  Shot on location in Iceland, the journeys are linked by location and personal witness but separated by time, class and gender.
Jini was also motivated by the journals of lone female traveller, Elizabeth Jane Oswald, who explored Iceland in the 19th century.
The exhibition features constantly changing images and text that explore the experience of a visitor to a location and the gesture of the wave; whether it is welcoming or bidding farewell.
Aberdeen Maritime Museum curator [maritime history] Meredith Greiling said:
"We are delighted to host this new work by Jini Rawlings, based in part on the museum's collections.  These installations are distributed throughout different spaces in the museum and create unexpected encounters for visitors.  It is an excellent way of interpreting the collections and using them to inspire visitors and encourage them to think in broader terms about the people and stories represented by objects."
Artist Jini Rawlings added:
"As well as providing the original inspiration for WAVE/ING the Maritime museum provides a powerful location for this exhibition. I am fascinated by the museum as a 'container' of memories.  Much of my work has been inspired by uncovering and re-interpreting often hidden texts and Alfred Craig's log provided an especially rich source."
The exhibition runs until Saturday 01 September 2012.  Admission free.
WAVE/ING is supported by Arts Council England.
Aberdeen Maritime Museum, Shiprow, Aberdeen, AB11 5BY
Tel: 01224 337700
Fax: 01224 213066
Opening Times:
Tuesday – Saturday 10am – 5pm
Sunday 12noon – 3pm
CLOSED Monday