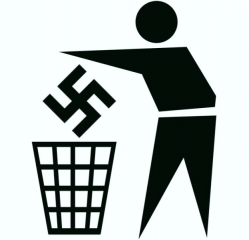 With thanks to
Cara de Pescado.
Earlier in the year the fascist Scottish National Front applied to march through Aberdeen on Hitler's birthday (20th of April) but did not get permission from the Local authority.
They may still hold a static demonstration somewhere in the city centre to preach their politics of intolerance and hatred.
Their racist views must not go unchallenged. In response Aberdeen Trade Union Council together with Aberdeen Against Austerity and the Black Sheep Collective have organised 'Hope Not Hate' – Equality and Diversity Night.
The night will feature live acoustic music, stalls, poetry and a World Music club night afterwards til late.
Please come and join in the celebrations. We'll make their chants of hatred inaudible above the music.
Friday 20th April
Aberdeen Trades Council Social Club, 13 Adelphi, Aberdeen
Doors 8pm
Admission free (donations will be accepted)
Music by Mark Ayling, Maze McPunklet and Los Rebeldes Acusticos and poetry by Tommy Campbell and Rapunzel Wizard.