Voice's Old Susannah comments on current events ducking under the radar as well as making the headlines,  and enlightens us with definitions of some tricky terms with a locally topical taste.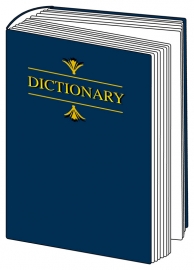 It seems the Ministry of Defence is in hot water again, although I don't see what the fuss is all about.  The Armed Forces had to make budget cuts (probably because of all those planes they bought can't actually fly), and are letting people go.
In keeping with their historically tight budget controls, people being made redundant were informed by email, thereby saving the expense of postage stamps and letters and avoiding the tedious exercise of telling people face-to-face they would soon be jobless.
What they probably should have done was to leave a portable computer on a train with the info in it – that seems to be how they usually prefer to release information.
I guess it might have been a bit inconvenient to the people on the front lines in Afghanistan getting these emails, but remember, these are professional soldiers.  No doubt they will read the email announcing their joblessness, and just get on with the war (or police action, or intervention, or whatever exactly we're calling this one at the moment).  It's not as if the thought of unemployment might prey on their minds when they are on the front lines trying to stay alive, and since the UK economy is in such rosy shape, no doubt these folks will have a choice of high-flying jobs at their fingertips when they get back home.
For those lucky unemployed ex-soldiers, if they're coming home to Aberdeen, we'll have a host of jobs related to the Community Arena.  Yes, Dr (of what I don't know) Margaret Bochel has delivered a report following the Loirston hearing:  the Community Arena Stadium will be an iconic building that will attract people from all over the world and make us all rich.  Pollution, greenbelt and animal habitats pale into insignificance when compared to the importance of a new home for the Dons.
In case you didn't know the people involved in this scheme include someone from the Cove Bay Rangers, who have a related scheme.
And yes, it is just a coincidence that Kate Dean's husband is connected to CBR (STOP PRESS:  I have just received the following advice about Mr Dean's connection to the CBR:  "…the information on the ACC website refers to Cove Rangers Supporters Club, which is very different from the Board of Cove Rangers.  As Mr Dean is also a referee, I was told that it is unlikely that the information on the website is correct as it would not be appropriate for him to be Chair of the Supporters Club".  Old Susannah must apologise for thinking there would be some kind of link between the supporters club and the football team itself. Silly mistake.
I don't think there can be much fun at Glencraft just now – it's one obstacle after another.
Manager Andy Laing – who has given years to keeping the dream of Glencraft alive – has been given a little rent increase by our beloved City Council.  In the old days the rent was just £1, reflecting the social importance of the business.  And what was the rent increase our Council came up with for this historic factory which does so much for people with sight impairment or who face other ability challenges?
While the new rent fee wouldn't even pay for a decent consultant, Glencraft now have to find £120,000. This isn't a great deal of money after all; it's only 1% of the £11 million the City wrote off the other year in bad debts.
it is plain to see that we've got the best trained councillors in the northern hemisphere solving our problems
Glencraft will manage no doubt; if not, then it is a dog-eat-dog economy after all.  But in case you want to show your support, get to Glencraft next time you need a piece of furniture however large or small (or even go and buy a scented candle).  Old Susannah bought a lovely wooden chest there recently, and will be back soon.  Glencraft is open evenings and Saturdays.
Finally a small complaint – the Post Office doesn't seem to be running very smoothly at the moment.  I keep checking my letterbox, but still the Valentines cards from Dean and Milne haven't arrived.  Posties – please check your bags; many thanks.
Words in the news this week…
Training
The sharpest City Council minds know they need to stay on top of the latest developments and trends, or they will be left behind, looking like old-fashioned throwbacks unaware of current best practice in a changing world.  Training is the answer.  To train (verb) is the 'act of imparting or receiving information or skills'.  Last financial year, Aberdeen City Councillors only had £10,000 or so spent on their training needs (just slightly over the figure Ms Dean claimed in expenses that year), but this was money well spent.  The City's web pages don't readily show who went on the courses, where they were held or how long they lasted, but it is plain to see that we've got the best trained councillors in the northern hemisphere solving our problems.
We do know what the courses were called, and you will be impressed to hear that they included 'Best Practice in Employment Services' which will explain the recent smooth handling of the Council's staffing / salary issues.  The employer/employee relationships at the Council don't just happen by accident – it is all a matter of tact and diplomacy, fostered by a great training programme.
Another training course you and I pay for, 'Equality is Essential for Elected Members' springs to mind; I guess Councillors are told not to discriminate, and that would explain why men and women at the Council are paid equally.  This would also explain why Glencraft, recipient of a rent rise from £1 to £120,000 this year, are being treated just like everyone else.  I suppose that in these cash-strapped times, any councillor or dignitary receiving a peppercorn rent will have been handed a similar rent rise.
The more intellectual councillor can attend courses such as "Hot Topic – Granite City Grit", "Access to Information", and "Safe and Stronger".    I can see the Grit being a hard issue to get a grip on, seeing as we can't afford any and the 'Access to Information' course is not an easy matter either, seeing as they now want to close a half dozen libraries, so information will be harder to come by.  'Safer and Stronger' might involve how to work out at the gym, but I suspect it refers to the safer and stronger economy we have because of the plans of our elected officials.
But the course that clearly has had the most impact?  The "Public Value Seminar" of course.
There also is something called a "Distributed Leadership Seminar"; perhaps this is where the Liberal Democrat / SNP 'coalition' learns how to share the leadership of the City in such a seamless fashion.  But the course that clearly has had the most impact?  The "Public Value Seminar" of course.
Association for Public Service Excellence (noun)
A federation set up to recognise outstanding performance throughout the UK by elected officials and local governments.
John Stewart will happily explain his role representing Aberdeen City Council on the Association for Public Service Excellence board to anyone who wants to know, but as he's a busy man just now, I'll give it a go.
The "Association for Public Service Excellence" or 'APSE' to its friends serves several useful functions in today's society, keeping the public in the luxurious style it is accustomed to.  Community Councillors from across the UK get together for an Awards Ceremony, no doubt the taxpayer funds the trip and hotel out of gratitude.  I am pretty sure that the BAFTA and Oscar/Academy Awards were started as a reaction to the publicity and glamour that APSE award ceremonies attract.
You will in no way be surprised to hear that Aberdeen has nearly won some awards.  Did you know that in the 2010 APES awards, Aberdeen was a runner up in the Best Employee and Equality Initiative category – sponsored by Unison?  It is a strange thing that we didn't win it.  After all, we have paid men and women equally for a few days now and Unison officials do work closely with the Council, even if it is in the context of Unison trying to save its members from job losses and salary cuts.
Other awards we nearly won were for our 'Best community & Neighbourhood Initiatives" –  who else has the foresight to close every community and neighbourhood local service they can and replace them with a giant stadium out of town?  How did we lose that one?
I could not find any photographs of Nicole Kidman or Brad Pitt at the last APSE award ceremony, but there are lovely shots of local councillors from across the UK in their finest evening attire; just visit the APSE website for all the glamour you would expect.  Better luck next year!  Keep your award acceptance speech handy, Mr. Stewart:  You'll be needing it one of these years.
Outsource (verb)
To outsource or privatise is to take an asset or service from the public sector (City Council for instance), and sell it off to a private company or invent a 'private' company to do what taxpayer money has paid local government to do in the first place.  The benefit is that the taxpayer is liberated from responsibility in future for the asset – this is also known as 'selling off the family silver'.  We have seen for instance how much more efficient and affordable our trains became after privatisation.
If I can't understand how this will save money in the long term, that's just my lack of education
Pensioners in retirement homes in Aberdeen rejoice!  No doubt following consultation with you and your families, the City are considering putting your care in the hands of the Private Sector.  You see, the Council needs to save money, and it costs money to care for you.  So if we take the money the taxpayers contribute to the city, give it to a private company that is in business to make money, your homes will magically cost less to run.
To ensure everything goes smoothly, some councillors are suggesting councillors be on the board of the company that will run your homes.  Since private companies need to turn profits unlike (obviously) the city, there may be a few changes and a few corners cut, but seeing as how this would never happen without your agreement, congratulations on this wise business move.  If I can't understand how this will save money in the long term, that's just my lack of education.  Still, when has the Council ever steered us wrong?
Marks & Spencer Dine in for Two for a Tenner follow up:
Some time back I wrote about the Marks & Spencer 'Dine in for 2 for £10' offers, and how they were destroying the fabric and morals of our otherwise genteel society, and how the SNP were working to save us by getting the Scottish Parliament to ban M&S from making these offers.
Well, I need to confess:  I've done a deal with M&S. There I was last weekend in M&S, looking for sensible socks and radishes, when I heard a crowd of excited people.  When I looked up, all became clear.  In giant red and pink signs, Marks & Sparks was offering yet another deal involving alcohol.  But no £10 deal this time – no, the price had been doubled.
A man offered me a box of candy if I took the deal (I think this is referred to as a 'sweetener'), and as a swarm of people of all ages around me fought over strawberries and mashed potato side dishes, I knew I had been sucked in.  So – I recklessly blew my entire food budget, and have nothing to show for it but two sirloin steaks, a bag of salad ('leaf' or 'herb' they call it), strawberries, scallops, chocolates – and of course booze – which is the real reason anyone buys into this scheme at all.  Yes, there are now two 'Irish Coffees' as they are known, sitting in my kitchen.   I  can think of nothing else – they came specially 'prepared' for me in glass containers which I can re-use – making it pretty certain I will be making more Irish Coffee in the future:  this is another insidious way M&S keep me coming back for more.
Will I keep both Irish Coffees for myself?  Share one?  Have one now and another another time?  Will I be able to handle it, or will I wake up days later in a police cell, holding an empty coffee glass and a half-eaten box of chocolates?  Don't let this happen to you – tell the SNP you fully support their plan to stop Marks & Spencer. It's too late for me – I'm used to eating decent pre-packaged food and nice steaks with wine. I hope you learn from my mistakes and save yourselves.
Coming soon:  statutory consultee, expert, 'green spaces new places' initiative; greed