By Patrick V Neville.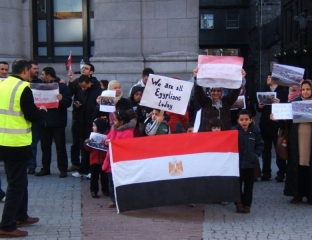 In Aberdeen on February 5th 2011, around 100 people participated in a peaceful demonstration against the over-stayed presidency of Egyptian President, Hosni Mubarak.
Amongst the flags and banners were images of the violence, which has left numerous people dead, and phrases such as –
"30 years of oppression is enough"
"We are all Egyptians today"
"We all need freedom and justice"
"British media: Stop calling a revolution a crisis" and
"No Mubarak any more"
Mubarak has stayed in power for 30 years against the wishes of the majority of the Egyptian population.
His regime has been described by many as corrupt and in the interest of maintaining power and money. This has been at the expense of the Egyptian people, who are extremely tired of the regime's favouritism towards corporate entities, whether they are local or foreign.
This discontent arose from Egypt's natural resources such as gas being sold abroad for less than the true value, jobs in Egypt moving to factories abroad and as a Mubarak cabinet member bought hazardous agricultural fertilizers from Israel without later charge, this names a few of the crimes committed by the Mubarak regime. Poverty in Egypt has also risen dramatically due to rising prices.
This type of leadership in combination with an ever-growing divide between the rich and poor was a time bomb waiting to go off.
I would like to say thank you to all the people in Aberdeen who attended the demonstration, which was held on St Nicholas Street, Aberdeen, for showing that we do not stand for exploitation of a nation's people.