By Alex Mitchell.
The poet and architectural conservationist John Betjeman (1906-84) visited Aberdeen in May 1947, staying at the Douglas Hotel.   This experience resulted in a talk – 'Aberdeen Granite' – given by Betjeman on the BBC Third Programme on 28th July the same year, from which the following is adapted.
From Waverley Station north, and north for hours, I had not realised there was so much of Scotland. The train ran on, over wide brown moors with blue distant inland mountains and then along the edges of cliffs whose grass was a deep Pre-Raphaelite green. And down steep crevices I saw rocks and fishermen's cottages above them, but still no Aberdeen.
Could there be such a thing as a great city with tramcars, electric lights, hotels and cathedrals so far away among empty fields, so near the North Pole as we were going? And then the line curved, and objects familiar to me from the illustrations in my guide-book came into view.
Away down the tramlines to the north, on a rise above the beech-bordered meadowland of a river, stands Old Aberdeen, which has a Cathedral, a University and some Georgian houses, built of huge blocks of granite, a strange-textured place with an atmosphere of medieval and Jacobite grandeur about it, a place which really makes you think you are in the Northernmost seat of learning, so remote, so windswept and of such a solid grey strangeness.
Here is the old King's College of Aberdeen University, and here its Chapel with a low tower from which spring ribs that support a renaissance style crown.  Inside, the Chapel is remarkable for its canopied stalls in dark oak, the only medieval church woodwork surviving complete in Scotland after the ravages of Knox. And to the solid architecture, designed for resisting storms and simply designed because of the hardness of the granite from which it is made, the elaboration of this woodwork is a perfect contrast.   Finally there are windows, like the rest of the Chapel which are early sixteenth century, of a style so curious and original as to be unlike any Gothic outside Scotland.  The buttresses run up through the middle of the tracery and the arches of all the windows are round.
Not far from King's Chapel is St. Machar's strange Cathedral. The west end is the thing to see; seven tall lancets of equal height flanked by square towers with no openings, and on top of each tower a dumpy spire in a style half Gothic, half Renaissance. The interior has been stripped of its plaster and ancient furnishings, except for a wooden roof of some richness, too high and dark to be visible, so that the effect of the building inside is merely one of size.
Let the stone speak for itself and then emphasise its scale and texture by a few strong mouldings and broad pilasters projecting only an inch or so from the face of the building.
You cannot walk back and down through the main streets of New Aberdeen without being aware of the noble planning of late Georgian times; wide streets, such as Union Street; stately groups of grey granite buildings in a Grecian style, crescents on hill-tops and squares behind them.
These are largely the work of two architects, friendly rivals, John Smith and Archibald Simpson.
John Smith built in correct Classical and fifteenth-century style and with granite, close-picked and single-axed so that it was tamed to carry almost as much carving of capitals and mouldings as a softer building stone. The lovely Screen of 1829 fronting St. Nicholas Kirkyard in Union Street is his, and many a handsome Classical and English Perpendicular style church or public building.
But the original genius was Archibald Simpson. My attention was seized by a huge wall of granite, so bold, so simple in design, so colossal in its proportions that I stood puzzled.   I have seen nothing like it, before or since.
This was the New Market, by Archibald Simpson in 1842.   The magnificence of the entrance is designed to show the strength and quality of granite: the architect realised there was no point in carving this unyielding material into delicate detail.  Let the stone speak for itself and then emphasise its scale and texture by a few strong mouldings and broad pilasters projecting only an inch or so from the face of the building.
The inside of this covered market is worthy of its outside – colossal, simple, constructional.   I seemed to be stepping into one of those many-vista'd engravings by Piranesi.   It was a great oblong hall with curved ends and all around a row of plain circular-headed arches rising to the glass and timber roof.   Half-way down the wall-height ran a gallery of shops.   Shafts of sunlight slanted through the arches on to the wooden shops and stalls of the central space and the surrounding gallery.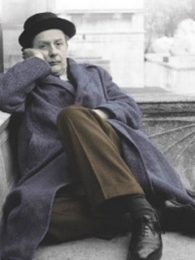 Archibald Simpson: here was an architect of genius, a Soane, a Hawksmoor, someone head and shoulders above the men of his time.   Simpson's work depends on proportion for its ornament, e.g., his two-storey houses in Bon-Accord Square & Crescent and Marine Terrace. But his greatest work is the brick tower and spire of the Triple Kirks of 1844, opposite the Art Gallery.   The fact that it is in red brick makes it stand out, but not glaringly, amongst the grey granite of the rest of the city.   How can I explain why this tall plain spire is so marvellous?  I think it is because of the way it grows out of the high, thin-buttressed tower below it, because of the pinnacles and tall gables at its base and because its very plainness is so carefully considered.
Wedged behind the huge Town House, in an expensive and attractive mid-Victorian baronial style, I saw a cluster of silver-white pinnacles. As I turned down a lane towards them, the frontage broadened out.   Bigger than any cathedral, tower on tower, forests of pinnacles, a group of palatial buildings rivalled only by the Houses of Parliament at Westminster – the famous Marischal College. This gigantic building rises on top of a simple Gothic one designed by Simpson in 1840.   But its spires and towers and pinnacles are the work of A. Marshall Mackenzie, completed in Kemnay granite in 1906.
Finally, I think of the spire of the Presbyterian kirk at Queen's Cross – the Free Church of 1881 by J.B. Pirie. I never saw such a thing. I cannot describe its style or changing shapes as it descends in lengthening stages of silver-grey granite from the pale blue sky to the solid prosperity of its leafy suburban setting. I only know that when I tried to draw this late Victorian steeple, I gave it up at the seventh attempt!
Archibald Simpson's New Market of 1842 was destroyed by fire in 1882 and was rebuilt in 1892 with a wrought-iron roof and no clerestory; this is what Betjeman describes.   The arcaded interior of the bow-ended Market Hall was 320 feet long, with shops in the arcades at first floor level overlooking the vast interior space.  The granite frontage on to Market St. was particularly impressive, in a style resembling that of early Egyptian temples. Simpson's New Market was demolished in 1971 and was replaced by the present seriously inferior building.  Why? Some buildings have a kind of negative energy, which has a magnetic attraction for rubbish and tat, and the present 1971 Market is all too evidently one of them.
Contributed by Alex Mitchell.