With thanks to Charlie Abel.
Local band Iron Broo are returning to the Culter Club this Saturday for a night of festive fun and dancing.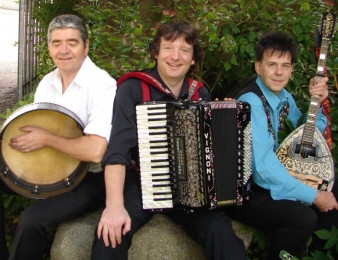 Their Christmas Ceilidh night has become a popular annual feature in their hectic gig schedule and is a rare opportunity to catch the band in action at a public event. Most of the band's gigs are private functions, weddings and corporate events; only a small number are open to the public and are often sold out. So don't miss your chance to hear them.
Tickets have been selling well for the Christmas Ceilidh but there are still some available.
The Iron Broo ceilidh band have exported their particular style of Aberdonian ceilidh music all round the globe. In recent years they have been to Ireland, Netherlands, Latvia, Norway, Spain and even darkest Englandshire. They have also appeared no less than seven times at T in the Park.
"We've sailed the seven seas, fought a hundred battles, shed a thousand tears and lifted the spirits of millions …"  said the bouzouki man Fred – tongue firmly in cheek.
Their only commercially available CD which was recorded Live at the Moray Ceilidh Club in Elgin is available through out the world on iTunes and is advertised as a best seller by Amazon.
The Culter Club is a private club and has one of the largest dance halls in the Aberdeen area. It also hosts regular dances throughout the year for members and their friends.  It is always a risk having a Ceilidh out of the centre of the town but as the Christmas Ceilidh has become a regular event at Culter, there is a real sense of community spirit and the audience span the ages.  Many locals brave the snow to make it to the ceilidh every year; and the band have also offered to assist in towing out anyone who happens to get caught in the snow in the car park after the gig!
So forget the forecast, 'Snow' good bidin' at hame, 'Skate' on doon and keep warm in style!
There will be the fantastic Iron Broo M&S Christmas Hamper raffle and a special guest Ballroom DJ during the break giving some instruction to some ballroom classics. Iron Broo will also call all the ceilidh dances so even if you have never been to a ceilidh before they promise to have you 'jiggin' awa furiously in nae time!'
There will be a bar available for various refreshments.
Christmas Ceilidh
Saturday 18th December 2010
The Culter Club, Cairn Road, Peterculter. 01224 733578
Doors will be open from 7.30pm and dancing will start around 8pm.
Tickets £10 adults – £4 under 16 – Free to under 6.
Seating reservations available with advance bookings (call Charlie 07802 861390). Tickets also available on the door.
Ticket information is available on their website. (link to:http://www.ironbroo.co.uk/CeilidhGigsNews.html )