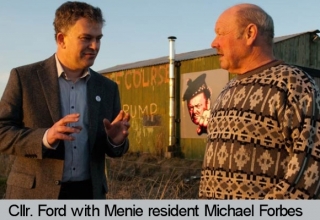 By

Bennachie Blether.
Residents at Menie who have spent years under threat of Compulsory Purchase Orders (CPOs) for their homes have breathed a sigh of relief with news of a statement from Donald Trump that his organisation will not ask Aberdeenshire Council to use their powers to purchase the land.
However, since the news broke last week, significant evidence in the form of a letter to planning chiefs at the council shows that Trump International Golf Links Scotland (TIGLS) did indeed ask for CPOs to be administered.
Menie resident David Milne issued a press release which also contained the letter in question. He said:
"There is an element of relief to be gained from the recent statement from Donald Trump regarding his decision not to use Compulsory Purchase Orders in relation to his housing development here at Menie. However, the statement has been treated with scepticism by myself and many others simply because in his statement he claims never to have actually requested CPOs in the first place, this is untrue.
"The letters show quite clearly that a formal request for CPOs to be used was made on March 4, 2009 and was the result of some considerable prior discussion. Therefore until such time a formal letter withdrawing the request is made public, this application can be reinstated at any time."
Planning permission for the £750m championship golf course, 450 room hotel, 950 holiday apartments and 500 residential homes was granted in May 2009.
In a further twist to the ongoing saga, local councillor Debra Storr has written to Aberdeenshire Council to point out that as there is no prospect of Trump acquiring the properties of the Menie families, the Masterplan, which includes these properties, is no longer valid.
According to Councillor Storr:
"The Masterplan now needs to be redone to reflect the reality that the Trump Organisation is not going to get control of the land owned by the Menie families. The Trump Organisation has made it clear that it intends to work round these properties and Aberdeenshire Council needs to see the detail of that.
"I have therefore asked the council whether they have told the Trump Organisation that a revised masterplan is required and when we may expect to see the revised plans.
the council is as guilty as Mr Trump of causing the affected residents unnecessary worry and stress over an extended period
"The Menie families are concerned that they will continue to suffer harassment by the Trump Organisation and therefore it is to everyone's benefit if a revised Masterplan is submitted to show how the families will be able to peacefully enjoy their properties within the resort development."
Ms Storr added:
"We have already seen the building of 'temporary' bunds at Hermit Point and Leyton Cottage. Therefore I do worry that Aberdeenshire's cosy relationship with the developer will mean that the legitimate interests of the families will not be protected."
Councillor Storr has written to both Iain Gabriel, director of Infrastructure Services, and Christine Gore, director of Corporate Services at Aberdeenshire Council asking for confirmation that the local authority has advised the Trump Organisation regarding the masterplan situation and when the revised masterplan can be expected.
An Aberdeenshire Council spokesman said:
"We are currently considering whether the approved masterplan for this development requires to be revisited."
Commenting on the issue, Trump International executive vice president Sarah Malone gave the view:
"Debra Storr appears to be confused and is yet again attempting to create problems where there are none."
However, fellow councillor Martin Ford backed Ms Storr's call for new plans:
"The bid for compulsory purchase was just one of the unreasonable demands Mr Trump has made in connection with his proposed resort development. We will never know whether Aberdeenshire Council or the Scottish Government would have done Mr Trump's bidding this time too."
"One consequence of Mr Trump abandoning his demands for his neighbours homes is that the approved masterplan for the development is no longer implementable. It includes the land the residents' homes are built on.
"This raised the question of whether the planning condition requiring a masterplan can now reasonably be said to have been fulfilled.
"In his statement, Mr Trump claims that he has 'no interest in compulsory purchase' and 'never applied for it'. That is downright untrue.
"Mr Trump's lawyers wrote to Aberdeenshire Council formally requesting the council to exercise its power of compulsory purchase to acquire eight plots of land on behalf of TIGLS. The eight properties were listed and included were the homes of four families.
"Aberdeenshire Council could and should have made it clear long ago that compulsory purchase was not an option it would support. To that extent, the council is as guilty as Mr Trump of causing the affected residents unnecessary worry and stress over an extended period.
"The council's shameful failure to stand up to Mr Trump's bullying has caused lasting damage to its reputation."
Councillor Ford also paid tribute to the Tripping Up Trump campaign, adding:
"I want to pay tribute to the well-organised and effective campaign run in support of the Menie residents."
"The thousands of people who actively helped the Tripping Up Trump campaign were defending important principles, and last month's statement from Mr Trump is effectively an admission that the campaign has worked. Thank you to everyone who took part."