League business returned to Pittodrie today, with a visit to the city of Glasgow's oldest established professional football club. By Red Fin Hall.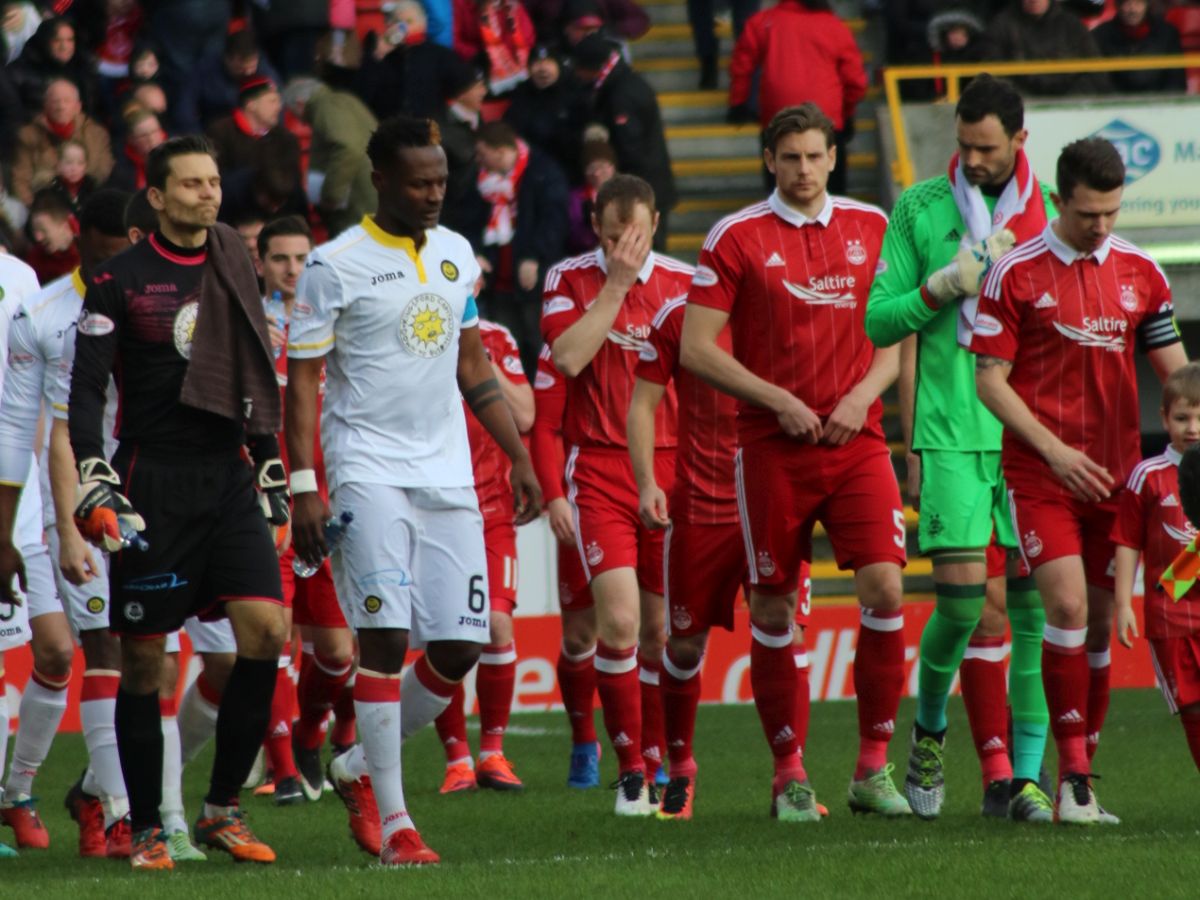 After yet another defeat last Wednesday to Celtic, the need to get back to winning ways was crucial.
McInnes decided to start with the same team that he went with in the previous six games, despite a section of fans calling for Ash Taylor to be replaced.
Fans are fickle.
But it was good to see Jonny Hayes still at the club. He will have to wait until summer at least before he can buy his sought after iPhone 7s.
Referee, Greg Aitken, got the game underway at precisely the allocated time on another cold and sunny day. The Dons won their first free kick in seven minutes, but it was too far out for Niall McGinn to do anything with.
Partick Thistle number 19, Ryan Edwards, was the first opposition player to try and make a breakthrough, but to no avail. Five minutes later the visitors were awarded their first free kick. It was taken from within the centre circle, but it was well intercepted by Kenny McLean. Good strong play by him.
Just after, Daniel Devine played a poor passback to Tomas Cerny in the Thistle goal, giving the keeper only enough time to hoof it out of play for an Aberdeen throw in. The culmination of the set piece was a 12th minute shot by McLean from the edge of the box which was bundled safely away by their goalie.
The Dons meant business, and after receiving the pass from Graeme Shinnie, McGinn tried an shot from around 30 yards out. It was a pretty poor, but it took a deflection off Devine and nearly caught Cerny out.
The first corner of the game went to Partick in the 17th minute. Two minutes after that award, they were give a free kick which was taken by the lively Edwards. It caused Joe Lewis no problem.
Aberdeen that had a good chance to open the scoring when a very good ball in from Jonny Hayes was aimed towards Adam Rooney, but his attempt at an overhead kicked only ended up with the forward swiping at fresh air. Fortunately, the ball arrived at the feet of Andrew Considine, who was pushing up from defence. He had a reasonable chance, but his effort towards the goal from within the area was not good enough.
Alan Archibald, obviously, had a plan to deal with Aberdeen, which mainly consisted of playing nine across the back any time the Reds pushed forward. It was working, as the home team were huffing and puffing their way through the game at this juncture. Don't get me wrong, there was some tidy enough play, but when Ash Taylor put a low diagonal pass towards Rooney, in the 23rd minute, it was just out of reach.
The Aberdeen defence was caught out when Stephen Lawless and Kris Doolan were on their own up front, bearing down on Lewis. Running back from his more forward position, McGinn made a timely tackle just as they were lining up the shot.
Partick were no mugs and kept trying.
That seemed to wake the Dons up a bit, and Ryan Jack had a shot on target from 25 yards out. It was headed clear by Liam Lindsay, who was wearing a protective face mask, for a corner.
This was taken by McGinn, from the left, reaching Taylor who executed a superb header which just went inches past the post.
Just before the half hour mark, Hayes, up to his usual high standard, showed some exemplary play by beating three players and firing a low cross in to be met by McLean, whose shot was just wide.
Partick were no mugs and kept trying. They broke upfield again, and won another corner. But as with all the set pieces from both sides today, Edwards' effort was poor.
36 minutes in, Taylor showed the good side of his play, when he executed a smashing interception as Partick captain, Abdul Osman, had only Lewis to beat. This was a better period of play from the visitors. Number 13, Adam Barton, tried a low ball in from the right, but it was easily held by Lewis.
The Dons were awarded a free kick just inside the opposition half, too far out to try a shot. Shay Logan fired the ball into the goal area, causing problems amongst the Partick defence and culminating in an on target shot from Shinnie.
With half time approaching, there seemed to be a temporary period where Rooney lacked commitment, as his control of a Hayes pass left a lot to be desired. Things weren't helped when he got his head to a ball into the area from McGinn, and the referee awarded an 'alternative foul'.
Just before the whistle blew, Shinnie was clearly held, but the referee was extremely slow to react.
Half time: 0-0.
No changes to the line ups as Thistle started brightly with a good ball in from the left by number 14, Chrissie Elliot, to Edwards. Thankfully his shot went wide. The Aberdeen defence were fair caught napping there.
The game was stopped soon after when Jack went down and needed treatment for a head knock. The referee though saw nothing wrong with the challenge that meant the captain had to leave the field for a few minutes.
McGinn then had one of his trademark runs into the box, but the move petered out when the final ball fro Shinnie was below par.
Partick made the first sub when Kris Doolan was replaced by the robust looking, Ade Azeez.
A brave decision when it was still goal-less.
Andrew Considine was booked in 55 minutes for a foul on Osman. The resultant free kick was headed over. It looked at this stage like maybe Wednesday's defeat to Celtic was having an affect on the players.
Partick made the first substitution when Kris Doolan was replaced by the robust looking, Ade Azeez.
Something needed to be changed for the Dons, and Derek McInnes made the controversial decision to take off two defenders, Logan and Mark Reynolds, and replace them with Jayden Stockley and recent loan signing from Celtic, Ryan Christie. This meant they changed to playing with a three man defence with Jack dropping back into the centre of the three; McGinn and Hayes were utilised as wing backs. A brave decision when it was still goal-less.
However, the double substitution appeared to be a great move, as pretty soon after taking to the field, Christie tried to chip the keeper. Unfortunately it went straight to Cerny.
In the 70th minute, Hayes on fire, hit a ferocious shot into the box, which Cerny could only turn round for a Corner.
From the corner, McGinn fired an inswinger into the box and, unmarked, Stockley beautifully headed the pall into the net for the deserved opener.
1-0
Partick made a second change when David Amoo was taken off and Chris Erskine came on.
Cerny had to be sharp, when a McGinn cross was heading for Stockley as he was trying get his second goal. Partick were struggling to contain Aberdeen now, with Rooney, Stockley and Christie proving to be a handful up front. Christie tried again, albeit unsuccessfully, to lob the keeper after receiving a pass from Stockley.
In the 79th minute, Considine and Jack were uncharacteristically caught out when Azeez got a pretty good shot in. He was disappointed to see it go six inches past the post. A lucky escape for the Dons.
The final substitutions were forthcoming when Partick's Kevin Nisbet came on for Edwards, and Rooney was replaced by defender Anthony O'Connor with less than ten minutes to play. Reverting to a four man defence, Shinnie went to left back and Jack went back into midfield.
With only four minutes left, Aberdeen went looking for another goal to kill the game, and a cute back heeler from Hayes found Shinnie, but nothing came of it.
Partick weren't dead and buried yet, but their final chance came when Azeez had a crack. But his ball went high, wide, and not very handsome. The fourth official then indicated there would be four minutes of stoppage time to play.
It was two minutes into it when, as the Dons, finishing the game on a high, kept the pressure up. It paid off when solo striker, Stockley, flicked the ball unselfishly to Christie, who finished off comfortably for his debut goal in only his second appearance.
Full time: 2-0.
A very tactically astute football match by both managers, but McInnes assuredly won that particular battle. Next home game is on 15 Feb, when the rescheduled match v Motherwell takes place. Hope the floodlights stay on!
Comments enabled – see comments box below. Note, all comments will be moderated.