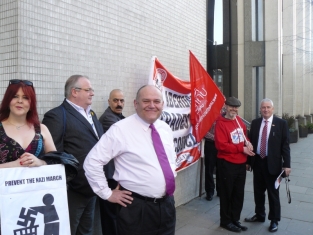 With thanks to  
Kevin Hutchens.
Aberdeen TUC successfully mounted a co-ordinated campaign against the plans of the National Front (the NF) to march in Aberdeen on Hitler's birthday, Friday 20th April.
The NF of course claimed it had nothing to do with the birthday of the Fascist Dictator and everything to do with the founding date of the SNP.
Surprisingly then, some would say, both the reports from Grampian Police and the Human Rights Impact Assessment carried out by the City Council argued that there might possibly be a link between the date and Hitler's birthday: though both, in the interests of democracy, recognised the need to consider other options .
The Trade Union movement played a vital and crucial role in co-ordinating opposition via written representations, and also expressed its opposition via two media and press events. Not surprisingly, the NF did not help themselves when they accused the media of being "Zionist" because of the way they reported the proposed event .
On the day of the Aberdeen City Council Licensing Committee, 27th March 2012, a small but determined and committed group of activists from ATUC waited outside the Council Chambers. Much was made of this by the NF, but what they failed to realise and mention is that the activists which were present, though small in number, represented the interests of thousands of Trade Unionists from across the North East.
At the end of the day, Aberdeen City Council Licensing Committee refused ("Prohibited" in Council parlance) the application to march, on public order and public safety grounds. What had however been noticeable in the debate was the unwillingness of the NF to move on crucial issues including the planned time of the march, the starting point of the march and the route. Clearly the committee made the right decision on behalf of the City of Aberdeen.
Whatever the decision, it still remains an important role to expose the National Front for the way many of their supporters promote racism, Islamophobia and Holocaust denial.
"No Pasaran" is the call that comes to mind !
Kevin Hutchens
ATUC Delegate for Unite Local Government,  Aberdeenshire Branch.