Further to Part I of these two articles, when a stone wall in Wellington Brae started to crumble, Aberdeen City Council decided to arrange the repair work. The city went to SUSTRANS representing 'we have a problem' and it secured £200,000. By Suzanne Kelly.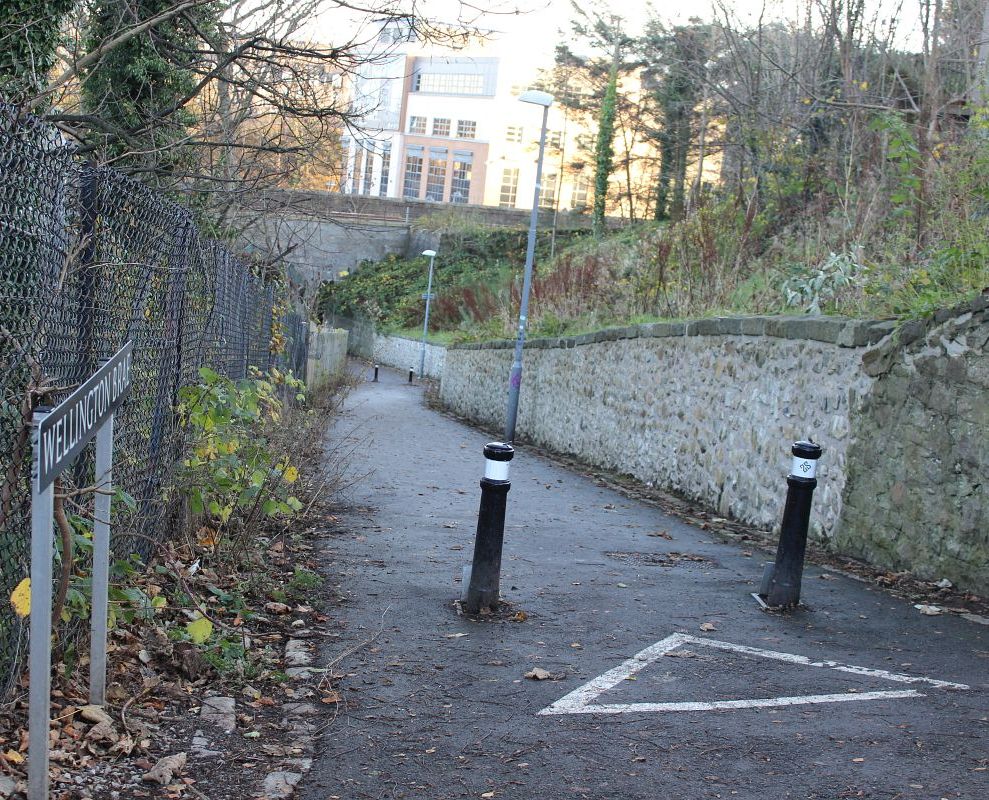 In Part I of this series a timeline showed different stories as to who owned the land in question. Lawyer, and then councillor and finance committee convener Willie Young said at different times he didn't know who the landowner was, or that his dad was the landowner.
The press reported that Young and his wife were the owners according to Registry documents.
In this part of the story, Aberdeen Voice comments on emails recently released by ACC as well as those previously leaked and published.
We also acknowledge the huge amount of work done on this issue by others including the Stop the Desecration of Marischal College Facebook page, and we include their recent synopsis of this bizarre tale.
The emails:
Below are images of some of the emails and commentary, both officially released and leaked, on 'Wallgate'. Aberdeen Voice will be happy to receive further material and is continuing its Freedom of Information efforts.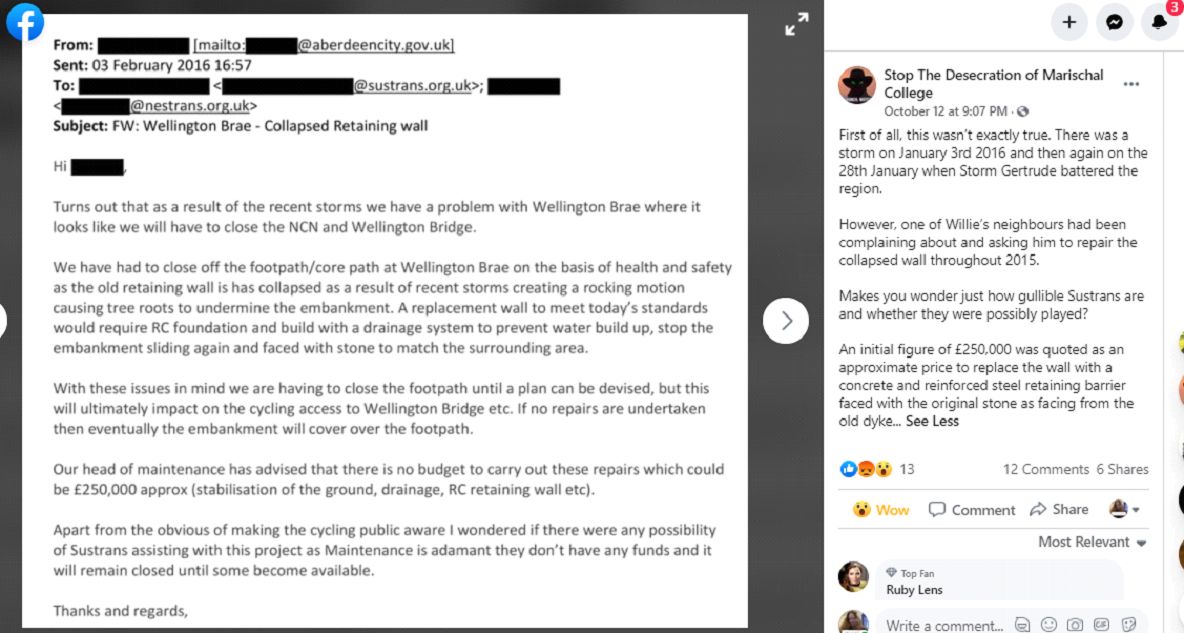 I) 'WE have a problem' – on 3 February 2016 someone at ACC wrote to SUSTRANS to say 'we have a problem' and 'our head of maintenance has advised there is no budget to carry out these repairs which could be £250,000…'
The recipient at SUSTRANS would have concluded that as the council says it has a problem, it has no budget, it is the party seeking repair funds, etc, that the responsibility for fixing the wall was the council's.
The council keeps a spreadsheet showing every single property it owns; Aberdeen Voice has a 2012 copy and can confirm no entries exist on it for 2012 concerning Wellington Brae.
Was even this quick, simple search conducted before an email was sent to SUSTRANS from Aberdeen saying 'we have a problem?' Did anyone use the council tax rolls and contact the people living at the property to ask them about ownership?
It would be good to know how the author of this email to SUSTRANS decided to word their appeal- its tone is that the problem is Aberdeen's.
There was no uncertainty over ownership expressed, just the assumption Aberdeen needed to find the money rather than a private landowner. It is also worth noting that the report brought to councillors to accept the money that was solicited from SUSTRANS in February was not presented to them until 24 May 2017 – fifteen months after the money was requested.
Will the email author's line manager go back and check whether or not similar representations have been made to seek funds from external sources to repair properties that the city did not own?
How was the decision made to conduct the survey, to commission the in-house 12-page detailed Bill of Quantities report made in May of 2016 (which conveniently matches precisely the estimate for repairs presented to SUSTRANS in February), and who approved this budget to pay for a survey of benefit to private landowners?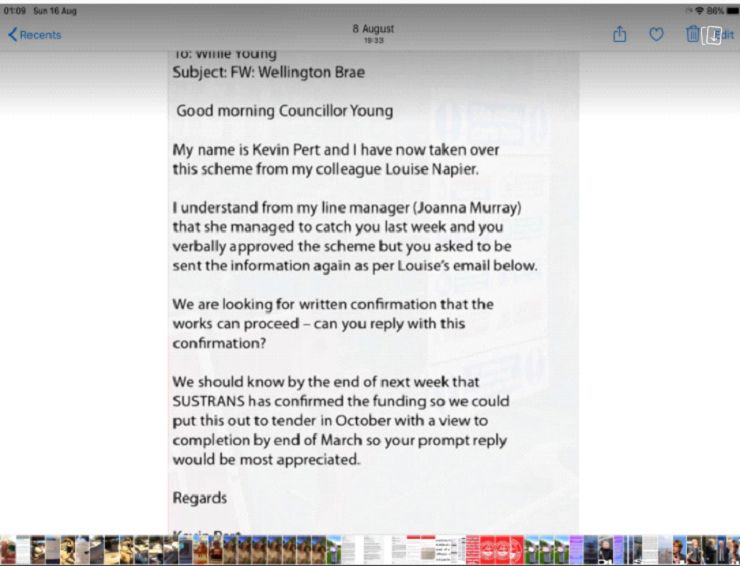 II) Leaked email – Young is well aware of, and is briefed on, the approach ACC made to SUSTRANS. At least three different ACC personnel have, according to this email, been in touch with Young.
The writer says Young gave the verbal go-ahead for the project in his council role. Young is being asked for written confirmation.
We are still not at all certain why, with his legal background, Young apparently did not caution those on the project to cease any work until it was determined who was responsible for paying for the work at the moment he was approached for his permission.
Young asked for information to be re-sent to him in a paragraph: as the scheme involves SUSTRANS paying for the stonewall work, Young will have been in receipt of correspondence/data/reports/financials concerning SUSTRANS funding in the form of documents sent by email on a matter that concerns his family's property.
Even if you disbelieve the authenticity of this email, Young later confirms officers approached him about the scheme – wouldn't he have asked for some detail and background then, not least to find out why it was decided he was the landowner.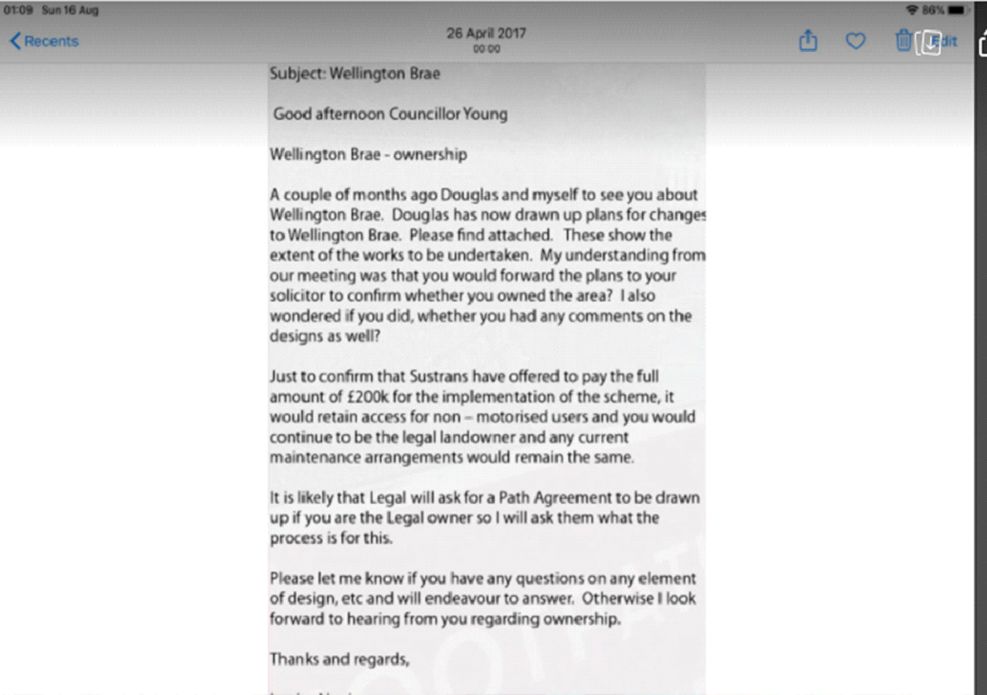 III) leaked email – According to this Young, who is addressed as Councillor, has the plans and is checking with his solicitor as to whether or not he owns the land.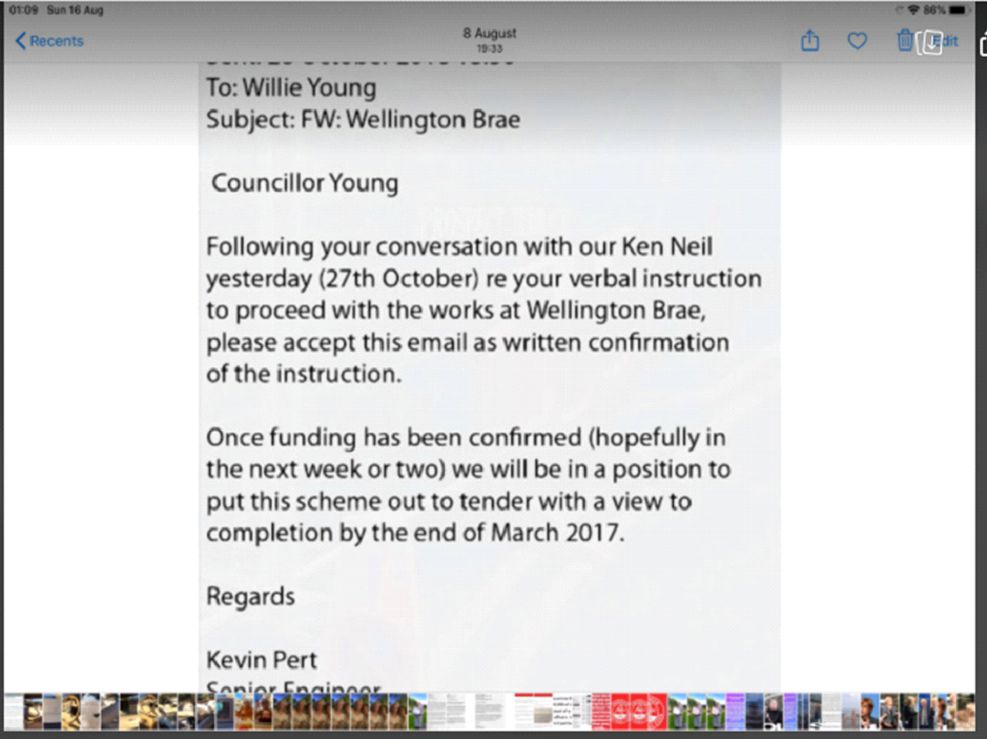 IV) Leaked email – indicates Councillor Young issued a verbal instruction to proceed with the works at Wellington Brae 28 October 2016.
Many public and private entities have ethics charters and anything that could be a conflict of interest or potentially fraudulent or reputation-damaging must be raised, and if a decision to proceed is taken, this must be formalised and approved.
We note that Willie Young contacted ACC's Monitoring Officer for advice – more on that appears later in this piece.
The question here is did no staff member or officer working on this project who were asking Young for approval as a private landowner think to raise any ethics/conflict of interest concerns?
Did no one question whether it was appropriate that ACC staff and resources were deployed to help private landowner Young (or his family) to obtain the SUSTRANS grant? Would this help be given to other private landowners who weren't on the council?
We asked SUSTRANS to comment on the city's ARS report which said:
"Sustrans funding would have been made available irrespective of who owned the affected land…"
We have have had no response as yet; this piece will be updated when they respond.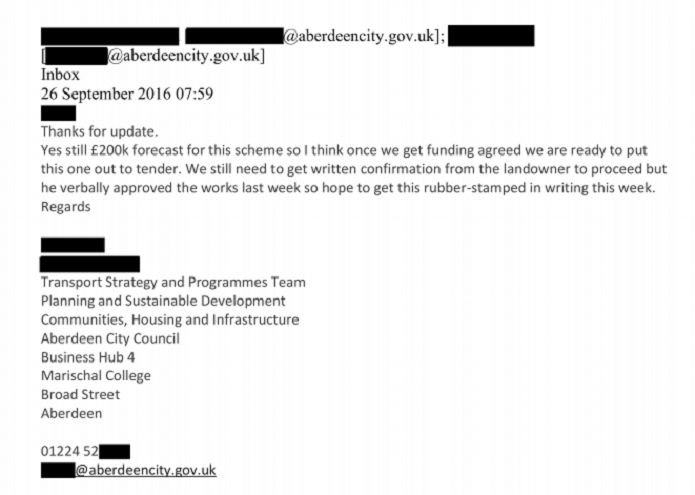 V) ACC recently-released email – The landowner has verbally given permission.
From mid-September 2016 it appears the city acted as if it were aware who owned the land – quite possibly they knew earlier looking at the leaked emails. Who is going to do the 'rubber-stamping' at ACC to approve this?
In a private organisation, seeking external sources of funding, issuing tenders and evaluating bids are meant to follow strict protocol, and any expenditure over a certain threshold is meant to be carefully scrutinized for internal control as well as external legal requirements.
Representatives of legal, finance and executive teams would all be expected to read detailed reports then either object or sign off before any such moves were made. This would extend from the first email sent to SUSTRANS through sealing the deal.
It is also noteworthy that the company initially appointed after the tender for the wall work went out of business and did not have much if any relevant experience. Perhaps Audit Scotland needs to visit Aberdeen's procedures – again.
One further thought: a verbal agreement, in legal circles, is said to be 'worth the paper it's written on.'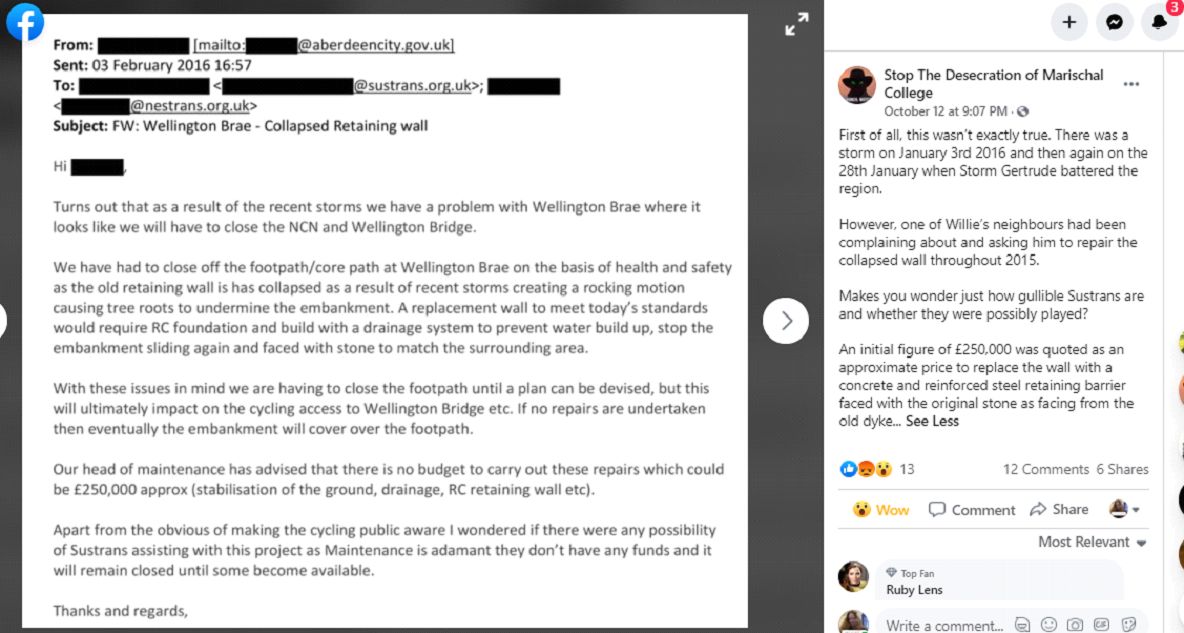 VI) ACC recently-released emails from the latest FOI – How could the Head of Maintenance be 'adamant' there weren't any funds? Couldn't they have applied to Finance for either guidance on what to do or for more funds?
The path could have been closed until the new fiscal year opened – not ideal, but April was not that far off, either: during which time the mystery of who was responsible for the repair could have been determined.
Finance could have authorised emergency finance or an advance on the next quarter's budget; You can think you have no funds for your department for important projects – but how can you be certain – or even 'adamant' you have no possibility of getting any finance without asking Finance to confirm?
In the private sector, such an approach would certainly lead to a member of the finance team asking the relevant questions – such as who owned the land.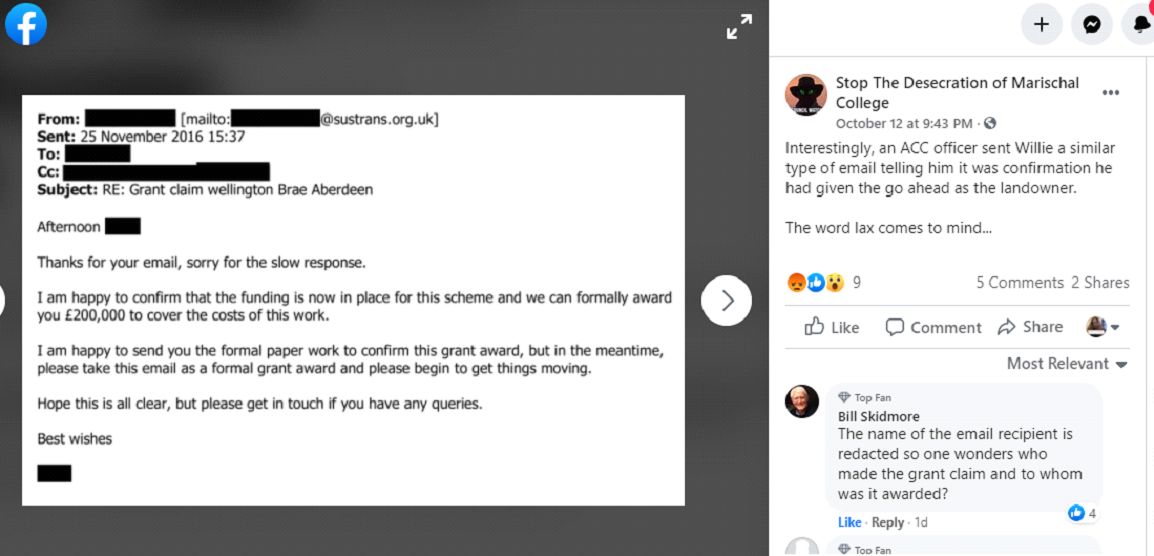 VII) ACC recently-released email shows SUSTRANS awarding £200,000 on 25 November. Formal paperwork is coming – this will presumably require the landowner(s)' signature(s). Who signed/approved for the landowner?
Young says:
Asked to comment to Aberdeen Voice on 14 October, Willie Young wrote (which was not received on the day, but re-sent when requested on 22 November):
"You ask if it was an ethical use of my position at ACC. As the freedom of information report and the Council enquiry report shows officers of the Council did not act within agreed protocols and this led to a situation where a report that should have come to committee did not appear.
"As for my position I was convener of the Finance committee and any report would have gone to the Communities, Housing and Infrastructure Committee not my committee so in answer to your question my ethics was never questioned by the Council nor was a matter ever passed to the Ethical Standards Commission, the monitoring officer for ACC is on record as saying that I did not have a conflict of interest.
"You ask when I disclosed to SUSTRANS that my family owned the wall, the answer to that is I never disclosed that my family owned the wall to SUSTRANS indeed this was not a matter for a Councillor it is a matter for the Council Officer.
"As the FOI shows the officer moved forward with discussions with SUSTRANS without involving Councillors. The Councils own report and the FOI clearly shows that the Council requested that this work was undertaken without speaking to the owner of the land and without being in a position to know who owned the land.
"Disappointingly this matter was not even discussed by Officers with the convener of Communities Housing and Infrastructure. It was not for me to determine who owned the land it was for the Council to determine who owned the land and contact the land owner requesting permission.
"The report which went to council confirms the council failed both those tests."
"In respect of your final question regard complaints I can categorically say without fear or favour that not one single person complained to me about the wall before or after Storm Gertrude."
The City's Report – should they have closed this case? Details hidden from public.
The Audit Risk and Scrutiny Committee reported on 26 September 2017 decided Young was 'placed in a vulnerable position'; the Chief Executive apologised for this. This internal exercise resulted in a decision which reads in part:
6.18 "Sustrans funding would have been made available irrespective of who owned the affected land…"
4.67 "It was appropriate for Councillor Young to seek advice from the Monitoring Officer in order to address any perception that he was conflicted in his interests."
4.68 "The Monitoring Officer has stated that based on the information available to him at the time, Councillor Young did not require to declare a conflict of interest because he had not been asked to make a decision as a Councillor on the works or the grant, but rather to provide his consent as a landowner."
and paragraph 7.9 "Councillor Young's actions did not contravene the ICT Acceptable Use Policy as the emails did not concern any confidential information, were not protectively marked, and had been addressed to Councillor Young."
Questions arise:
6.18 quotes a claim that 'SUSTRANS would have made the grant whoever owned the land': Aberdeen Voice awaits SUSTRANS' comment. Was a repair notice served on the land owner, if so when? Would a land owner approaching SUSTRANS have had to commission and pay for a detailed survey such as the one ACC had deployed resources to?
4.67, 4.68 – At what point did Young approach the Monitoring Officer – when did Young decide the perception of conflict existed and why did it exist for him? What did Young tell the Monitoring Officer that led to the conclusion there was no conflict of interest to address?
Did the Monitoring Officer proactively look at all the angles of this situation or just what Young presented to them? Why does the MO feel they have to say their conclusion was based on the information available to him at the time – has more information come to light, and if so, did it change this position?
7.9 – How is it 'acceptable use' of ACC computers, office and equipment to conduct business as a private landowner? These lines between councillor and landowner should never have been blurred. It is risible to think that using the address 'Councillor' automatically absolves Young.
Section 2 of the Audit Risk & Scrutiny report is withheld from the public for 'data protection reasons.'
On the case: The 'Stop the Desecration of Marischal College' Facebook page.
AV notes the Facebook page Stop the Desecration of Marischal College has been instrumental in researching the Wellington Brae saga. In the past it has shown that claims Mr Young made concerning the Marischal Square development were unfounded.
Young once claimed that if the unpopular project went ahead, the city would be penalised by developer MUSE to the tune of £100 million. Summoned to appear before the Standards Commission, he was cleared of lying on grounds the information given to him by officers was inaccurate.
Déjà vu. (Young apparently did not find the concept of a £100 million penalty to be extreme, and did not question the information he passed on to the public).
The 'Stop the Desecration of Marischal College' posted this summary on 22 November:
"Willie stated on Twitter today that no one from the council contacted the Wellington Brae landowner until August 2017. He added that it was shocking.
"What's shocking Willie is between March 2106 and April 2017 you were aware the council had checked the land registry and believed (as per the records they obtained) that you were the landowner.
"What's shocking is you were asked numerous times by various officers to confirm that you were the landowner and for whatever reason decided not to even though – as you said last week on this page – you were a lawyer by trade and skilled in commercial negotiations.
"What's hard to believe, particularly after August 2016 when you were told Sustrans had agreed to fund £200,000 of repairs and after you were shown and asked to approve the landscaping of the land above the wall, that you didn't mention this to your father over Sunday lunch.
"Knowing the wall's maintenance was the landowner's responsibility one might have thought a saving of £200,000 might be worth mentioning.
"What's more the August 2017 contact date Willie assured is right, is in fact wrong. In April 2017 he confirmed to the BBC that his father owned the land in question.
"What is most interesting though is when asked if anyone was sacked Willie said 'no, but they should have been.'
"There is little doubt the council's governance could and should have been better but Willie has no one to blame but himself for not realising £200,000 of public funding to fix and landscape a wall and land his family owned would come back and bite him.
"To now publicly say officers should have been fired is not only a cheap shot but serves to minimise his own culpability in this whole sorry affair…"
"You can't help but feel if this had been anyone else's wall the outcome would have been rather different."