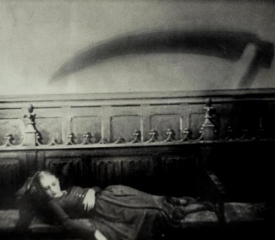 With thanks to
 Kylie Roux.
Following on from a 30 date UK tour in the winter of 2010, Steven Severin returns to give UK audiences a rare opportunity to hear his new score for VAMPYR.
This is the third in Severin's ongoing film accompaniment series – Music For Silents.
It's is an alternative take on the cinematic vampire, creating an intense, nightmarish atmosphere that haunts the mind long after the lights go up.
Bassist and founder member of Siouxsie & The Banshees, Steven Severin, all too often erroneously called Steve is fulfilling a long held creative ambition:
"It's something I've always wanted to do from way back. From the early days of the Banshees in the late Seventies. It wasn't until 1989 that I got my first chance and scored the short Visions Of Ecstasy – the only film EVER to be banned on the grounds of blasphemy! Quite a start, really.
"Things kicked off in earnest in 2002 when I scored my first feature, London Voodoo. After that I knew writing for screen would be my primary musical outlet."  
– http://www.yorkpress.co.uk/leisure/film/Steven_Severin
GIG IN THE GALLERY // Steven Severin – VAMPYR
Saturday 14 January 2012 | Peacock Visual Arts | 7.30pm
Tickets available from One Up, 17 Belmont Street £11.10 and on the door.
Call 01224 639539 for more information.
Click here for more info and other events at Peacock Visual Arts