New Arc's Keith Marley talks to the Aberdeen Voice about New Arc's activities and ways the public can get involved.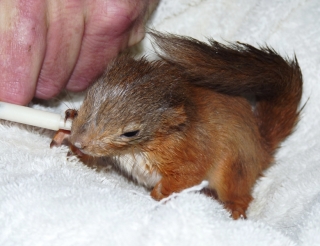 While some of Aberdeen's great and good are spending their time and our money getting their portraits painted and throwing parties to celebrate the great occasion, the entire spectrum of people and animal charities are suffering cuts, and it will get worse.
There is no time like now to get involved with a charity of your choice, and The North East Wildlife & Animal Rescue Centre, better known as The New Arc would like your help
.
The Northeast of Scotland has an abundance of wildlife and domesticated animals – but very few resources to cope with abused, injured and/or abandoned animals.  Willows in New Pitsligo is one, and the New Arc in Ellon is another.
Keith Marley from New Arc attended the Tullos Hill picnic in June arranged by Fred Wilkinson of Aberdeen Voice.  He entertained many of us with tales of rescued animals of all kinds.  He had once been called to a council flat – only to find it overrun with dogs, rabbits, cats, a parrot and the animal to be taken into care:  a very large pig.  He had to smuggle it out in a blanket to try and avoid embarrassment for its former owners; it was squealing, and kids on the crowded street asked what it was, and he said it was a sick dog.
Unfortunately not many of his stories are amusing.  People who are feeling the economic pinch are abandoning animals – some most cruelly.  A recent news story was that of a cat left in a locked box on the side of the road.  It would have surely been killed or starved to death in its small cage if not for a very eagle-eyed and caring passer-by.   The people who did this are still being sought by the Scottish SPCA.  Just as a reminder – animal cruelty and abandonment are completely illegal (as well as unacceptable to any thinking person)
Animal abandonments are increasing; the cost of driving out to rescue animals has risen with the cost of fuel, and the cost of feeding the hungry mouths at New Arc has risen as well.  Animal charities are in a lose/lose situation at the moment.
Keith would love volunteers to contact The New Arc; he would also love donations.  And ideally, he
would like people to get involved with fundraising:-
"We are asking for volunteers to form a fund raising group – Friends of The New Arc. FONA Ideally
we would like 2 groups, one based in Aberdeen and one covering the rural areas.
"The responsibilities of the fund raising groups will be to raise awareness of the work we do here
and generate fundraising ideas and assist in the coordination, management and implementation of those ideas into reality.
"If you feel this is something you could assist with either by sitting on the committee or by
volunteering your time to assist in carrying out the activities then please contact us by phone on 0796 2253867 or by e-mail at thenewarc1@aol.com"
The New Arc will not destroy healthy animals; it seeks to rehome animals where possible or return to the wild as appropriate.  They are, unfortunately unable to take dogs, and at the moment cannot take any more cats.  They have a good number of animals which need homes, so if you can offer a suitable home to one, please do get in touch.
There are many animals which need to stay at the shelter for the rest of their lives – these animals desperately need sponsors.  New Arc also features a lost/found pet section on their website.  The website also offers useful tips as to how to assess and react to an animal in the wild.
There is no government funding – New Arc runs on volunteers and donations:  all monies donated go directly on maintaining the sanctuary and caring for the animals.  Here is a video of New Arc in action:-
Most young wild animals will have a parent or parents somewhere nearby; it is almost always best to leave a young wild animal alone – if you touch it, the odds are the parents will abandon it.  What might seem like an injured or abandoned wild animal to you or me may just be a fledgling.
If you do encounter an injured animal, there is also good guidance on what to do.  The New Arc seem to take calls 'round the clock; I once needed Keith's help and despite having a hospital appointment on the same day, he showed up to assess the problem I reported as soon as he could.
Please do visit the website at:  http://www.thenewarc.org/  and if you can help the New Arc, then please get in touch.