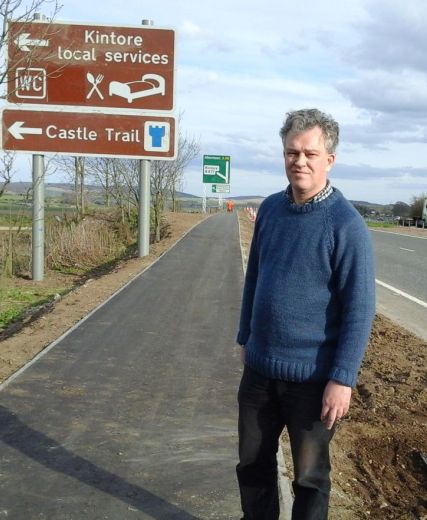 With thanks to Martin Ford.
East Garioch councillor Martin Ford is asking Aberdeenshire Council to choose a route and build a cycle path between Kintore and Blackburn – as part of delivering a cycle route all the way from Inverurie to Aberdeen.
Cllr Ford has written to Aberdeenshire's head of transportation, Ewan Wallace, pointing out that other parts of a cycle path between Inverurie (Port Elphinstone) and Aberdeen are either built, planned or work is at least underway to identify a route. (See letter)
"Kintore to Blackburn is the 'missing link' in the plans for delivering a continuous cycle route between Port Elphinstone and Aberdeen," said Cllr Ford.
"Cycling on the A96 is really horrible, and very few people are going to choose to do that. An alternative is needed for those who would like to cycle, or walk, for example between Kintore and Blackburn."
A cycle path exists between Port Elphinstone and the Thainstone roundabout and one has just been built between Kintore and Kintore Business Park.
Aberdeenshire Council is planning to build a cycle path on the east side of the A96 to join the cycle path from Port Elphinstone at the Thainstone roundabout with Kintore Business Park. Aberdeen City Council has just been awarded £30,000 by Sustrans towards the cost of route identification and preliminary design work for a cycle link between Blackburn and Aberdeen.
At its budget meeting in February, Aberdeenshire Council allocated an additional £250,000 to 'Active Travel' in its revenue budget for 2016/17. (1)
Cllr Ford said:
"Active Travel is a priority for Aberdeenshire Council which can deliver health benefits, help reduce traffic congestion and cut greenhouse gas emissions from road transport."
A report at the most recent meeting of Aberdeenshire's Infrastructure Services Committee showed an allocation of £210,000 for active travel projects 'yet to be identified'. (2)
Cllr Martin Ford said:
"I'm pleased Aberdeenshire Council has allocated additional funding for active travel and pleased work is planned on delivering other parts of a cycle route between Inverurie and Aberdeen. So I believe it's time for Aberdeenshire Council to identify a route for a cycle path between Kintore and Blackburn and progress that.
"There is certainly a need for a suitable cycling route all the way between Inverurie, Kintore, Blackburn and Aberdeen."
Notes:
1. The additional money for active travel is a condition of the 'confidence and supply' agreement between the Democratic Independent and Green Group councillors and Aberdeenshire's coalition administration.
2. Infrastructure Services Committee meeting 12 May 2016, Item 8 'Programme for Active Travel and Road Safety', page 11. The report is here.
Comments enabled – see comments box below. Note, all comments will be moderated.
[Aberdeen Voice accepts and welcomes contributions from all sides/angles pertaining to any issue. Views and opinions expressed in any article are entirely those of the writer/contributor, and inclusion in our publication does not constitute support or endorsement of these by Aberdeen Voice as an organisation or any of its team members.]