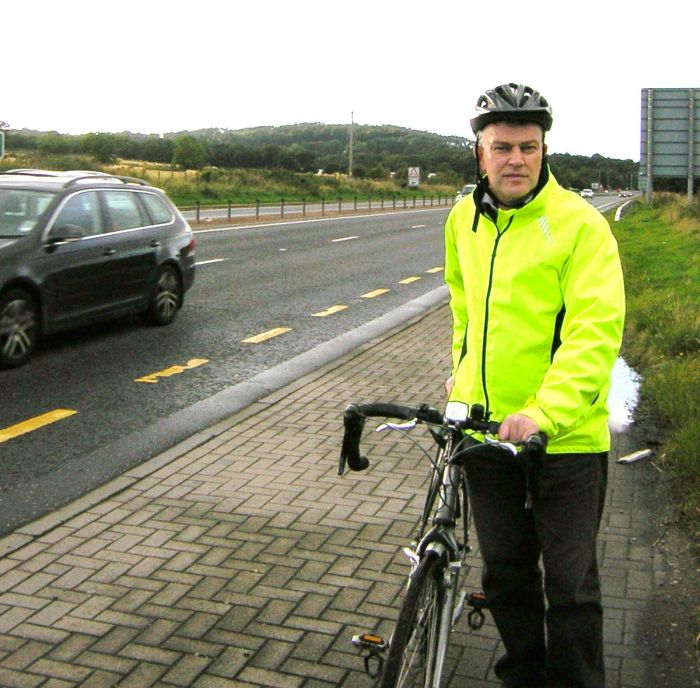 With thanks to Martin Ford.
East Garioch Green councillor Martin Ford has welcomed the securing of funding for a new cycle path to connect Kintore with Port Elphinstone and Inverurie.
Aberdeenshire Council has been awarded £150,000 (or fifty per cent) towards the estimated £300,000 cost of the cycle path as part of a Sustrans Community Links Funding grant.
The Sustrans funding is split £75,000 in financial year 2014/15 and £75,000 in 2015/16.
Cllr Ford said:
"I have had several requests from residents for a continuous cycle path between Kintore and Port Elphinstone, and have been pressing for one to be built for some time. I'm delighted the funding needed has now been secured."
Money allocated to cycling and active travel within the approved Aberdeenshire Council budget can be used as the match funding to cover the balance of the cost of the cycle path. Council officers do not need further committee approval to use funds allocated for cycling to pay for cycling infrastructure.
The Council may be able to use some funding from developer contributions towards its share of the cost and could also approach Transport Scotland who have responsibility for the A96 as a trunk road.
Following representations from Cllr Ford, a feasibility study was undertaken in 2012 into the possibility of a cycle path between Kintore and Port Elphinstone entirely on the east side of the A96 over the full length of the route.
There is currently a cycle path on the east side of the A96 between Port Elphinstone and the Thainstone roundabout. Between Thainstone and Kintore though there Is nothing for cyclists on the east side of the A96, and just a poor and incomplete path adjacent to the A96 on the west side of the road.
Anyone wanting to cycle between Kintore and Port Elphinstone/Inverurie therefore has to cross the A96 dual carriageway near Thainstone or cycle part of the way on the trunk road itself.
The funding from Sustrans, matched by Aberdeenshire Council, will allow a cycle path to be constructed adjacent to the A96 between the Thainstone roundabout and Kintore on the east side of the road.
Cllr Martin Ford commented:
"A good cycle path between Kintore and Port Elphinstone will be a great help to anyone who cycles – or who would like to cycle – between Kintore and the Inverurie area, whether for recreation, to go shopping or to commute to work."
Cllr Ford uses a bicycle as his regular transport to get to Council meetings. He added:
"I know from personal experience how unpleasant and intimidating cycling on the A96 can be, and I avoid the road whenever possible. The need to cross or use the A96 must be a significant deterrent to anyone who would like to use a bike to travel between Kintore and Inverurie. I am pleased this obstacle is now to be removed, making cycling a much more attractive choice."
The Scottish Green Party strongly supports improved facilities for cycling as part of a sustainable transport policy.
More info:
http://sustranscommunitylinks.files.wordpress.com/2014/01/community-links-projects
http://www.aberdeenshire.gov.uk/news/release.asp?newsID=3542
Comments enabled – see comments box below. Note, all comments will be moderated.