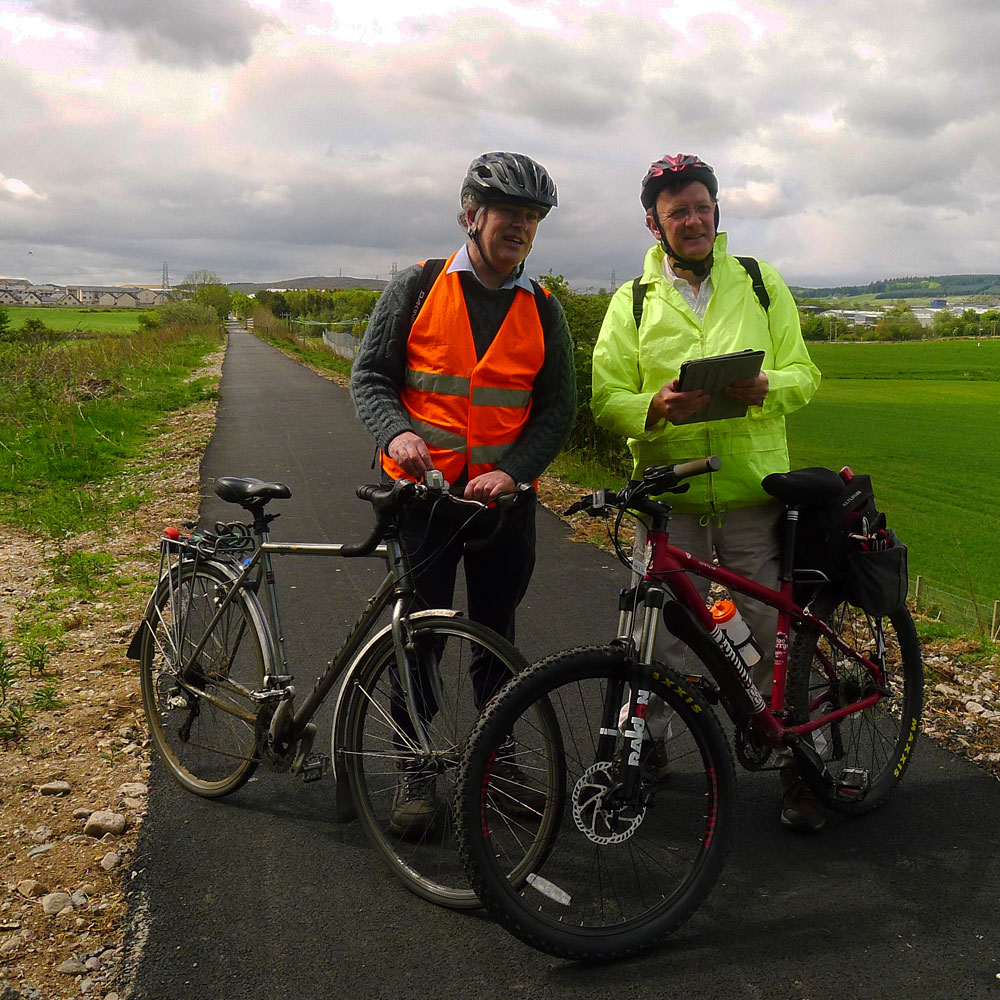 With thanks to Martin Ford.
Aberdeenshire councillors Paul Johnston and Martin Ford have cycled the route of the closed rail line between Dyce and Ellon using the cycle/walk way now on the track-bed.
The two councillors are campaigning to have the rail line re-opened and wanted to see for themselves what work might be required to reinstate the railway.
Said Democratic Independent councillor Paul Johnston:
"I was a member of Grampian Regional Council's Infrastructure Committee when I supported that council buying the route some 35 years ago. Even then, the hope was the line could one day be re-opened.
"Nothing we found today cycling along the route would be a major obstacle to re-opening the line.
"I am more optimistic than ever before that re-opening is now a real possibility.
"We believe the City Region Deal offers the best prospect for taking rail re-opening to Ellon onwards from being an aspiration to making it a reality."
Green councillor Martin Ford said:
"It's time to move forward on re-opening the rail line to Ellon. Better public transport is essential to cut road congestion and reduce carbon emissions, in line with commitments to tackle climate change. Reinstating the railway would also offer significant economic development opportunities."
A number of former rail lines in different parts of Scotland have been been rebuilt and re-opened in recent years. The longest new route, the almost thirty miles of rebuilt railway from Edinburgh to Tweedbank in the Borders, is due to open on 6 September.
The former railway from Dyce to Ellon is about 14 miles long and, apart from one very small section, the whole of the track-bed is owned by Aberdeen City Council or Aberdeenshire Council. If the railway was to re-open, the current Formartine & Buchan walk/cycle way would have to be relocated to an adjacent position.
Said Cllr Ford:
"Re-opening the line from Dyce to Ellon presents fewer difficulties than other recent rail re-openings. The land has not been sold off piecemeal. There are no tunnels, and no problem of mining subsidence. A number of bridges are missing or would have to be replaced, but that would be true of virtually any closed railway it was decided to re-open.
"There appears to be enough land along almost the whole route to allow both a reinstated railway and a cycle/walk way to coexist without the need to buy additional ground."
Cllr Paul Johnston said:
"Of course, a great deal of technical work will be required for a transport project on this scale. The planning process too will take time. Aberdeenshire Council, though, has already expressed its support in principle for exploring re-opening. The City Region Deal offers a great opportunity to bring that hope to fruition."
Comments enabled – see comments box below. Note, all comments will be moderated.
[Aberdeen Voice accepts and welcomes contributions from all sides/angles pertaining to any issue. Views and opinions expressed in any article are entirely those of the writer/contributor, and inclusion in our publication does not constitute support or endorsement of these by Aberdeen Voice as an organisation or any of its team members.]