Aberdeen were a goal and man down but fought admirably to seal victory, recounts Voice reporter Andrew Watson.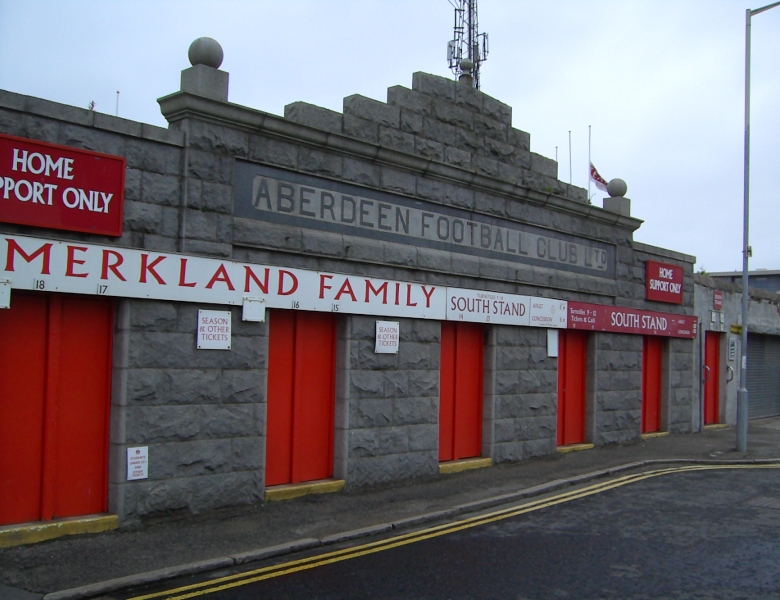 The build up to the game was tense and palpable.
One song they pumped out through the tannoy system seemed particularly apt:
"When two tribes go to war/
A point is all you can score
When two tribes go to war/
A point is all you can score"
– Frankie Goes To Hollywood – Two Tribes
Given the eventual outcome of the game the words seem a tad ironic. Hope for a draw at best? No chance!
Just before kick-off there was a minute's applause for late Aberdeen winger Graham Leggat, who was integral to the side that won the league championship for the first time ever in the 1954-55 season.
Both sets of players wore black armbands as a mark of respect. Though a celebration of his life, it was somewhat sombre and touching that a lone red balloon bobbed along the pitch during this.
In retrospect isn't it further irony that a man that helped his club to a domestic milestone is followed by a team that, after this game, has made its best start since the league winning exploits of the 1984-85 season?
You wouldn't have thought that such a feat was even possible when the game got going.
They started dreadfully and almost conceded an early goal. Andrew Considine caused confusion in the opening minutes and nearly gifted Celtic with a poor pass back.
Things proceeded in this manner for a fair chunk of the first half. Miskicks of the ball, and sometimes missing the ball completely made for frustrating viewing.  Kenny McLean comes to mind.
If it wasn't for their endeavour, despite some terrible play, they'd have been dead and buried even before half time was called.
However, it was 35 minutes into the game that brought the first major flashpoint. Considine brought down Leigh Griffiths in the box.
0-1 Celtic (Griffiths) 35 minutes into the game, converting their penalty.
Come the second half the dynamics of game changed slightly. Graeme Shinnie was fouled as the ball was about to roll out of play.
Eleven minutes into the second half, and Adam Rooney responded with the second penalty of the game.
1-1!
The fightback then seemed off the cards for Aberdeen, when Jonny Hayes was sent off after 72 minutes. He'd been a constant menace and nuisance to the Hoops, and gave much attacking impetus to the home side.
It's gathered that this was for a sliding challenge he made, in that though one foot was grounded on the turf, the other was raised and therefore dangerous.
However, if both feet were at ground level would that not have been a two footed tackle?
Anyway, Derek McInnes reshuffled his pack eight minutes later, with new boy Josh Parker replacing Rooney.
The Dons somehow recovered after 86 minutes when defender Paul Quinn sent the Red Army absolutely bananas. Niall McGinn delivered that important ball into the box, and all Quinn had to do was merely guide it over the line.  That he did.
2-1 Aberdeen!
Shaleum Logan, having still been a target for Celtic fans after the Tonev debacle, egged on his support in the South Stand; with his frustration turning to jubilation. They lapped it up, loving his passion as he ran down the touchline in celebration.
A minute later McGinn was taken off, in favour of Willo Flood.
Griffiths could've dashed the hopes of the Dandies. He'd been a scourge, but not this time.
A more astute and ruthless finish was needed to exploit defensive errors late in the game, though to be fair this was struck quite near the byline and at a tricky angle. It was mopped up well before crossing goal.
With three minutes added on, the Pittodrie faithful whistled and collectively sounded akin to an air raid siren or not too dissimilar from our emergency services racing down Union Street.
It's a strange result, really, because they'd maybe not clinch victory playing as they did in the first half against some of the league's other sides. Hearts, perhaps.  Their never say die attitude will stand them in good stead, though.
Final score:  2-1.