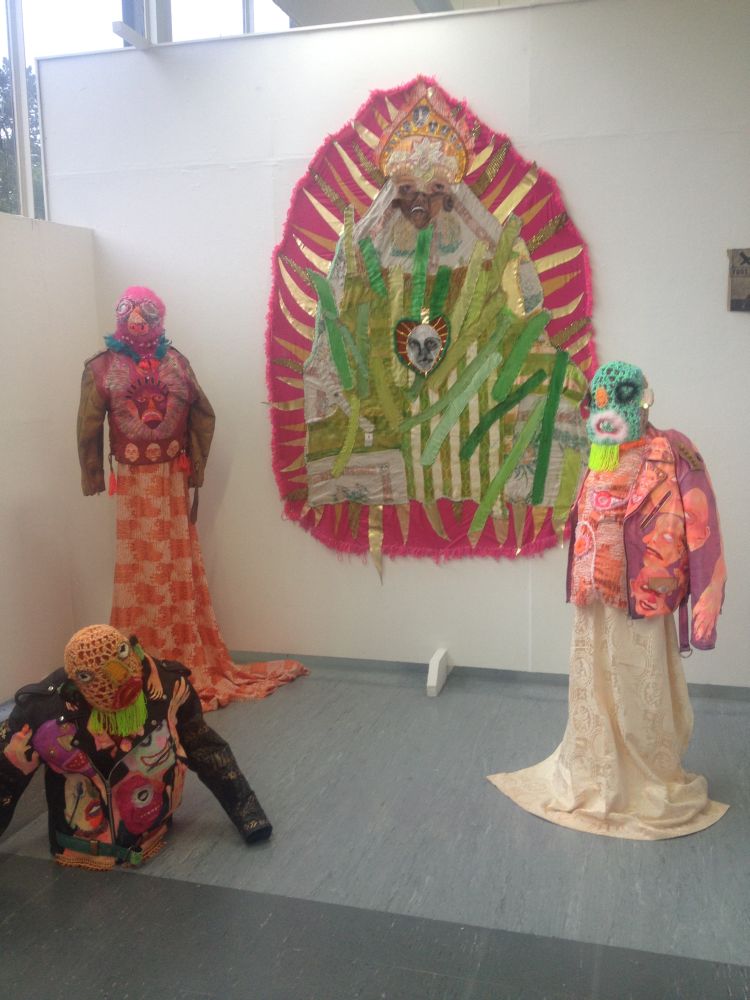 For a third year, Suzanne Kelly reviews the student end-of-year exhibition at Gray's School of Art; Kelly has a BA (hons) painting from NYIT and a MFA (hons) painting from Edinburgh College of Art.
A good end-of-course degree show in the arts exists to showcase high calibre work and place the students in as good a light as possible, launching them into the art and design worlds.
If the students have been encouraged to think and discover for themselves as well as learning their respective crafts, then the resulting degree show will be a wide-ranging conglomerate of styles, approaches and values.
In cases where students are encouraged to mimic a tutor's values and styles, to play it safe, and/or to pursue a career in the arts as merely a means to commercial success, the resulting degree show will be about as exciting as a trip to a housewares department of a conservative department store.
Unhappily, with today's economic situation, all too many UK graduates are going into the arts with money as an end goal and any aesthetic, social, creative, adventurous outcomes are secondary.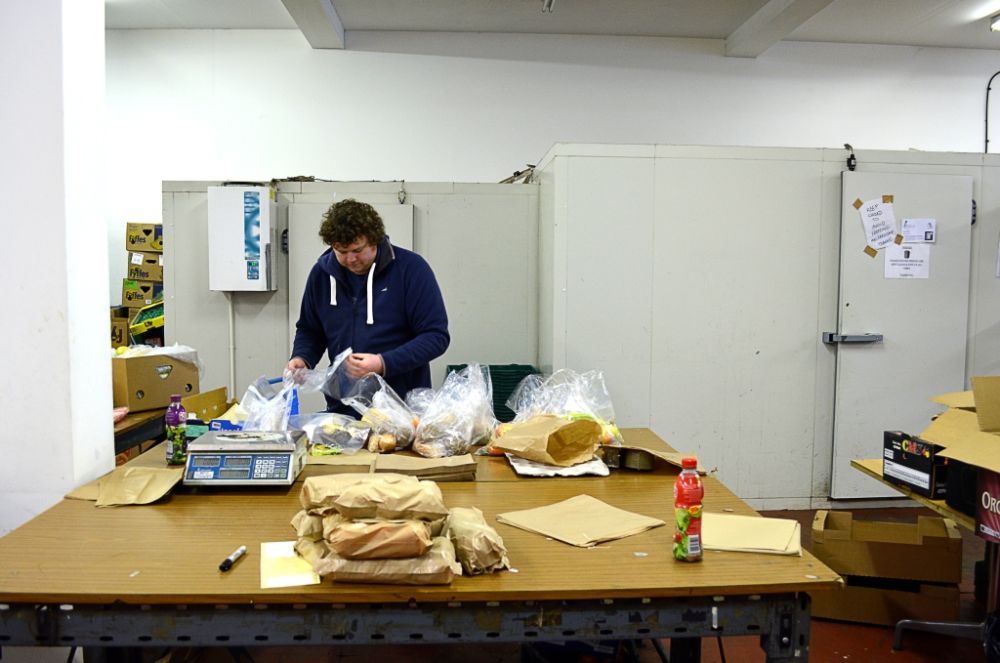 Happily, this year's graduating students and their work are cause for optimism in the fine arts and design sectors.
Students in design have chosen to tackle social issues; they have embraced technology; they are creating work that challenges, soothes, engages, and even charms.
Alex Aitchison has examined the timely issue of food banks in Aberdeen, one of Scotland's most prosperous cities (for some).
He explained:
"4 Poynernook Road is a project aimed at removing the illusion that has been created around poverty in Scotland. With programmes such as Benefit Street creating a new 'poverty porn' entertainment where people tune in to see "the poor", the actual effects of poverty are horribly distorted.
"The series of images taken over a period of 4 months this year show the actual life of the volunteers and workers at a Food bank, which livelihood is helping these people. I want this work to start a conversation about the way we view poverty. In a city such as Aberdeen that exists in a wealthy oil bubble, we still have a massive divide between the rich and poor.
"By talking to each other about this and making ourselves more aware of the situation, we can begin to work on creating a better society."
The resulting photographs bring home the reality of the situation it should be viewed by anyone who would ignore this issue or those who would penalise the poor and arrest those who beg. It definitely should be viewed by those who would avoid paying their fair share of personal or corporate tax so they can see the result of their clever evasions. As such, work like this is essential.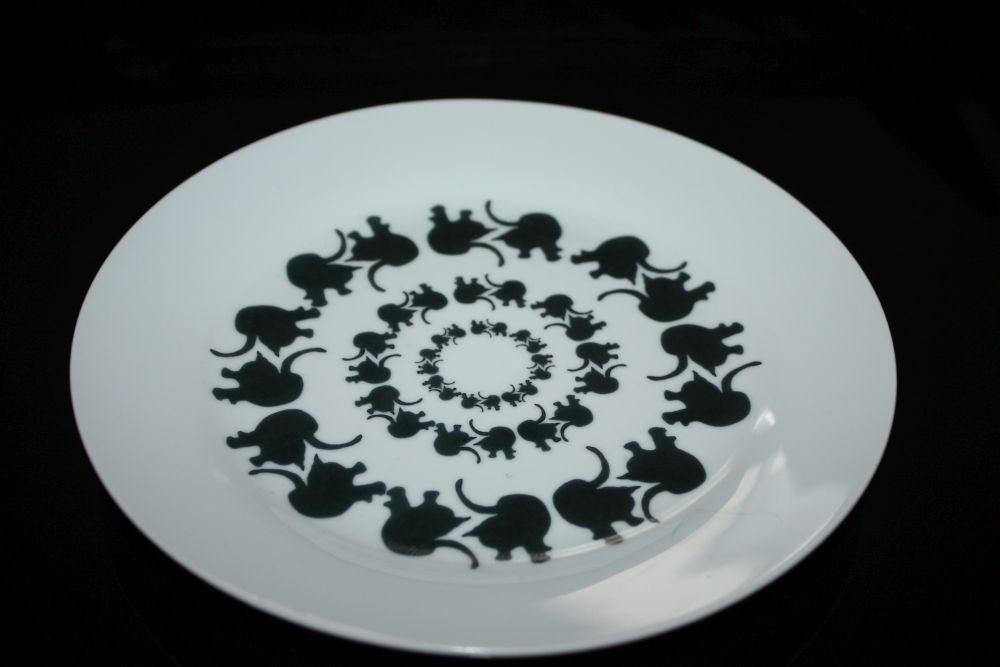 One student created a utilitarian APP for students who need to find accommodation in Aberdeen, an increasingly expensive task.
These and other examples showcased the purpose of design to fill social needs and to bring attention to social problems.
Another design student worked with a manufacturer to enable people to choose their own laminate surface to use on kitchen tables and laminated cabinets.
In an increasingly impersonal, mass-produced IKEA-esque world of home decoration and furnishing, this initiative returns individuality and the power of creation and design to those who want to take an active part in how their personal environment looks.
When an idea such as this is presented to the public, it is easy to think how simple it is, and how easy it must have been to come up with this design concept; to those who understand the process of good design, the work involved will be clear. Good ideas such as this seem simple and natural to the end user; that is one of the criteria for good design.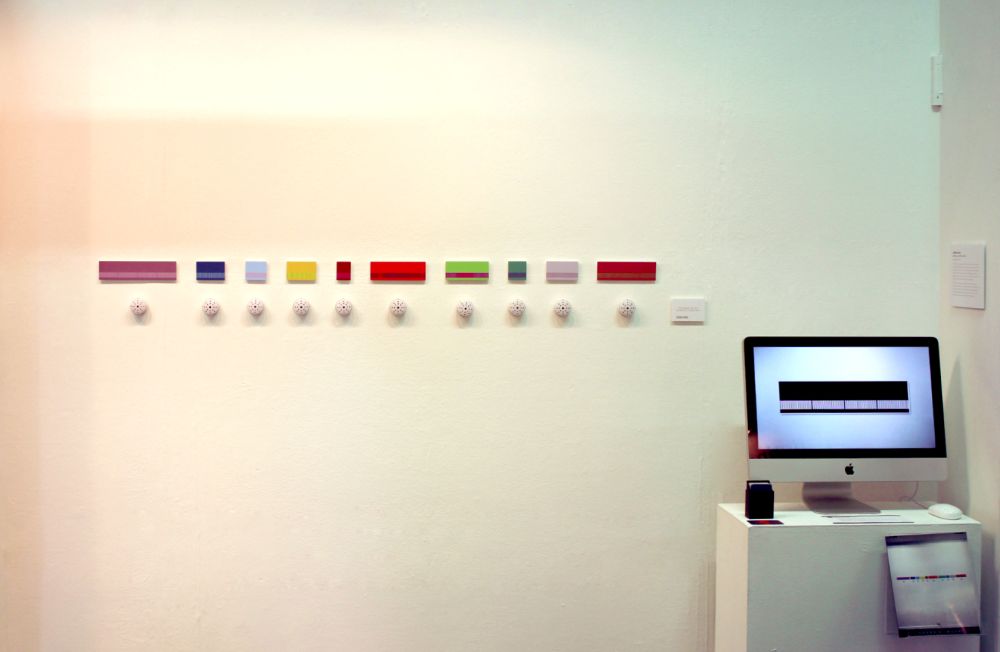 There is of course nothing wrong with designers working to create something people will wish to buy. Winnie Shek designed black and white china and cutlery featuring different cat motifs. This work is at once whimsical, smile-inducing, gentle, fun, and as such offers relief from the problems and issues we all face.
The different endearing designs would not be out of place to the aesthetics of Art Deco, 1930s Western, and even ancient Egypt.
Winnie explained:
"Over the years we have built a strong presence for cats online due to sharing images, videos and blogs about them, etc.  I wanted to provide images that cat fans would enjoy so my repeat pattern images of cats are a reflection of our culture and societies fascination and interest with them. 
"I knew that there was a market there already that provided things for cat lovers but I wanted to try and create something a bit more special."
The plate I bought for £8 takes the cat motif, and repeats it radiating from the centre, which creates an interesting geometric pattern which is pleasing and interesting above the cat motif itself.
One of the award-winning artists displayed work that is neither social commentary nor practical applied design. Lewis CJ Allen made an exploration of sound, probably best described in his words:
"I see myself primarily as a graphic designer however throughout the course of my honours year I found my work developing down the route of digital illustration and sound art.
"Sound, a leading theme in my work, has always inspired me and this year I aimed to incorporate it in my design work, creating images that inspire a sense of viewership and listenership. … As the climax of the year approached I combined my findings into a final project that considered the fundamental elements of digital sound and digital image – the Digital DNA.
"By juxtaposing the two subjects to create an aural and visual comparison from code, I directly assert the ideas of identify and beauty in contemporary culture as we are faced with hyper-realistic images that are a hybridisation of fashion, sexualisation and photoshop."
It is always interesting to visit the painting section of the Gray's degree show.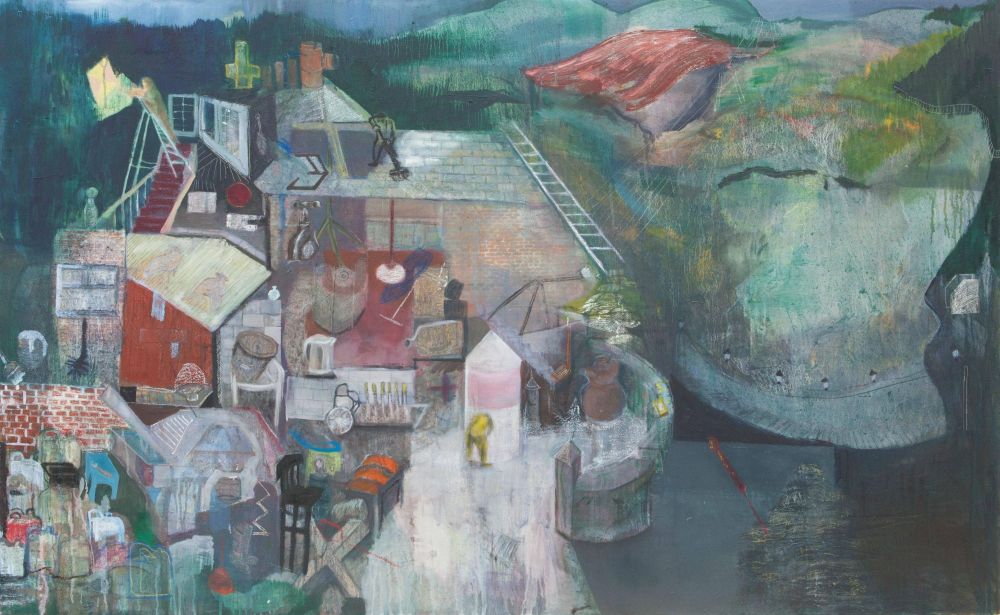 As ever, the entire complex was packed with students, proud friends and relatives, visiting business dignitaries and academics. The BP hospitality tent's occupants had many positive things to say about the works they'd seen; unsurprisingly each had their own favourites.
The wide range of approaches, techniques and messages in the paintings was impressive and a credit to the students and their mentors.
Work by Catherine Smith on the theme of home, memory place and experience translated into highly-evocative, beautifully composed and executed large paintings with an impressive sense of colour and draftsmanship.  In her statement Smith said:
"Just as my house has been built and repaired, my paintings have been constructed and altered in a similar way. The paintings have been 'cultured' from a dense collection of memories of my home.
"I have layered these memories in the paintings to convey the traces left on the place. I have painted paths which weave through faded memories which direct you to ones that are bolder."
The approach to painting taken by Sarah Jamieson was quite a different one. Her soft colours and gentle work is as compelling, but for different reasons. Jamieson wrote:
"My work this session has focused on the idea of place through mapmaking and the language that maps deploy. In my practice I have been exploring the idea of an ever-changing place using organic patterns, subtle colour changes and geometric shapes to represent the terrain.
"I represent the environment of a place through the objects and forms that are found there and what is created represents something about the physical experience of the world."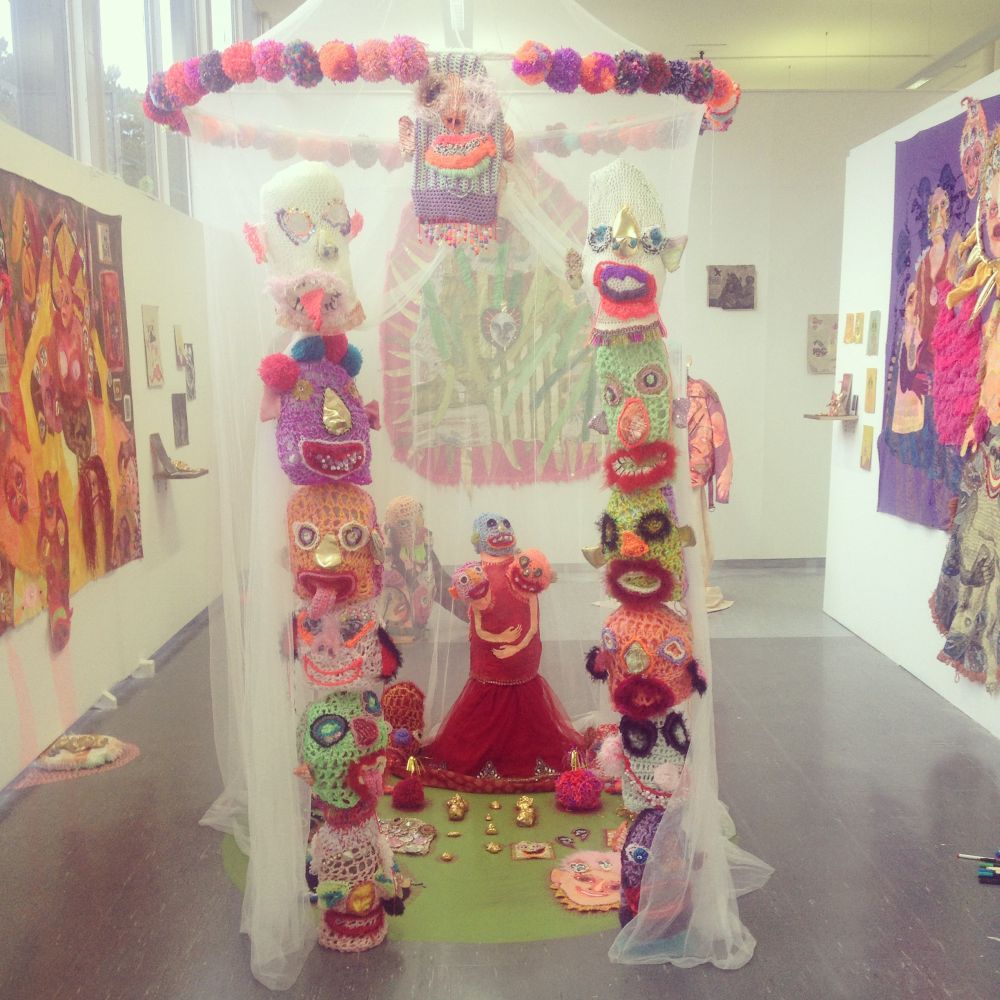 Caitlin Hynes presented 2- and 3-d work which seemed to combine elements of George Calder (whimsical pieces), Niki de Sainte Phalle (playful, colourful 3d figures), and Rousseau (evocative, primitive dreamscapes) and world religious iconography from around the globe.
Her work intrigues, enchants, pleases and impresses.
"I have been inspired by the concept of 'pilgrimage'- a journey which leads us. It leads us to a physical and/or spiritual place, where singular identity can join with others into a group identity, a group of believers. There is comfort and peace in belief and belonging.
"It is important for me to collect and create objects and artefacts, records and traces of my journey, where I have been and where I am going. I value those things that are significant and meaningful, however small or ephemeral.
"I am interested in theatre and costumes. My work is raw and playful and reflects an individual journey, as it happens, in the 'now' of this life, and in the belief that when we come together as individuals,  we can create a positive and life giving energy that is greater than ourselves."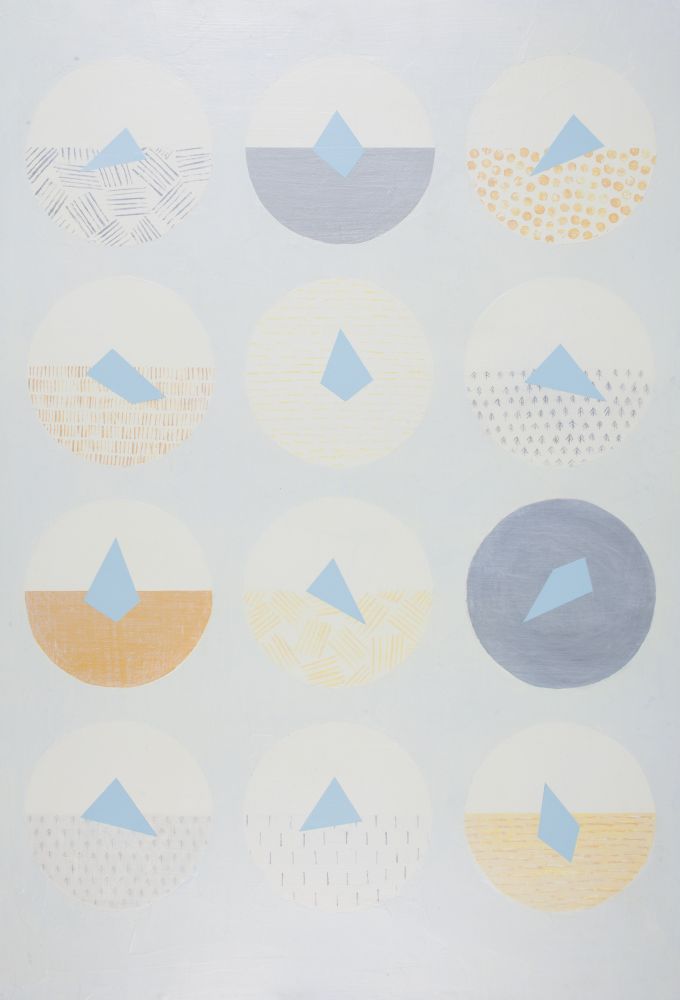 The opening night was too short; and like this brief review, taking in all the work, mentioning those artists who merit mention, and giving the work the time it deserves was not possible.
But even after the degree show ends, the artists and designers will without doubt continue their work and we shall hear more from them – soon it is hoped.
There is a piece I still remember from the previous degree show – 'Even Elephants Sometimes Forget' – a work by Susannah Leake  for children, designed to explain senile dementia issues to them.
This was a gentle, poignant, sensitive and useful example of the art of design.
In a year's time, some of the work seen tonight will likewise still be remembered.
Comments enabled – see comments box below. Note, all comments will be moderated.