By Suzanne Kelly.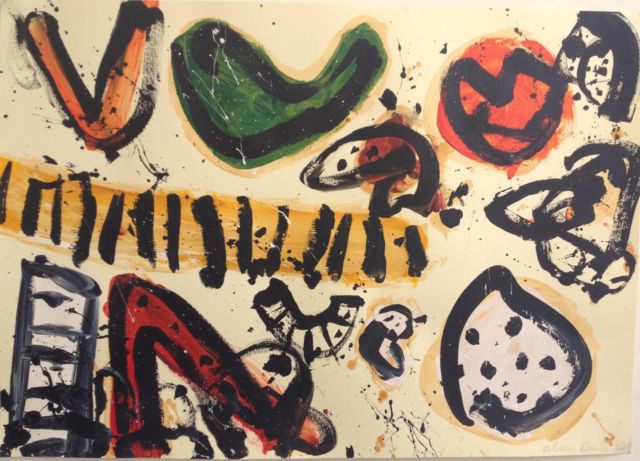 At age 93 Alan Davie passed away peacefully on 5 April 2014.
His unique talents bridged art, music poetry and jewellery making (among other gifts); improvisation and intuition always guiding his hand.
He leaves behind a body of work which is exuberant, mystical, engaging, and compelling.
He commanded genuine affection in his friends and associates, and admiration from peers including Pollock, Rothko and Hockney.
One of Scotland's greatest artists, Davie's work and life merit the phrase 'vibrant and dynamic' overworked as that phrase may be. For decades he veritably defied the ageing process by creating images filled with joy, magic and passion.
He lived to see Tate Britain announce a show of its own collection of Davie paintings, plus items, especially jewellery, lent by the artist. This will run from mid April through September this year. The Gimpel Fils gallery in London proudly showcased his work for an amazing 64 years.
Davie's interests in fine art and musical improvisation informed his artworks, created with the enthusiasm of a colour-loving child and a daring genius. He was an early abstract expressionist, and his work has inspired many artists since.
While many around him shied away from colour, Davie was synonymous with what was bright, beautiful, bold and powerful.
He was born in 1920 in Grangemouth; he studied painting at Edinburgh College of Art for two years, and later taught at London's Central School of Arts and Crafts. He found artistic inspiration from the artwork of many cultures around the world; symbolism, intuition and improvisation mixed with his unrestrained love of colour and paint to create unforgettable work.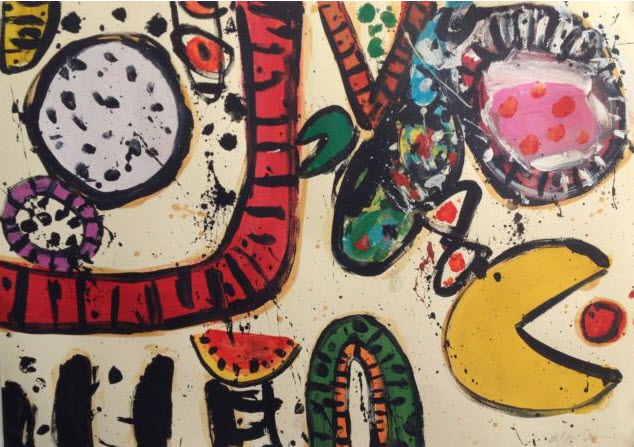 Gimpel Fils Gallery will have a show of his work at the end of this month. Aberdeen Voice spoke with Rene Gimpel, the great-grandson of the founder, Ernest Gimpel.
Ernest Gimpel opened his first gallery in Paris in 1883.
The gallery there ran until 1940 and after the war, reopened in 1946 in London.
Six years ago  they-established a branch of the gallery in Paris.
Rene Gimpel had this to say of his friend Alan Davie:-
"Reflecting on his death made me realise I knew him when I was a child when my parents were working with him; I knew him longer than I knew some of my family members. With Peter Gimpel's (Rene Gimpel's uncle) death, Alan became in a sense the leading figure for us. We would visit him in his beautiful studio and home in Hertfordshire; he was the silent leader for us – not that he was aware of the position. We were guided by when his next show was, his next project, next interview; and we assisted. There will be a real void. 
"He talked about Bach which he played every day. Piano, clarinet, cello – there were always lots of instruments lying around and lots of scores. It was different getting way from the city and one's desk and getting out there. The highlight was the visits to the studio. Works on paper would be on the floor as well as the wall and decades' thick oil paint covered the walls and easel. Until recently he painted every day because that's what he did. 
"If you have a vocation you go on doing it. He would wait for our comments; he could work on 15 paintings at any one time, and he worked quickly, but at a certain stage the painting would stop. Often a work would be put away for a while and then taken out, sometimes years later, to be worked on further, or it could be completed in a few days. 
"He painted layer upon layer; he just painted on top of works – there will be masterpieces found by restorers and researchers underneath his paintings in the future. The thing about Alan when his wife Billie was alive, he would keep good records of his work; he would sometimes just hand work over to people, and he donated work to benefit auctions."
Davie was no stranger to Aberdeen; he visited Peacock Visual Art and made a print with them.
Mark Hudson was the last interviewer to speak to Davie; he wrote:-
"His exuberant improvisatory canvases had a ruthlessness, as he painted out passages of paint other artists would have killed to have created, in pursuit of a visceral anti-perfection, a sense of mystery and ritual that made the efforts of his British peers look positively effete in comparison." http://www.telegraph.co.uk/culture/art/art-features/10706381/The-artist-that-time-forgot.html
Hudson's piece was called 'The Artist that Time Forgot'. As is so often the case with the genuine genius who is ahead of their time, it is after they pass (and time passes) that their greatness becomes more fully appreciated. Davie's work may not have received the acclaim it deeply deserved throughout much of his life, but there is no doubt that he and his work will be cherished by those who love art, now and far into the future.
We've lost someone very special in Alan Davie; but we still have his epic works and the example he set.
Samples of Alan Davie's paintings such as Birth of Venus can be found on these links:
http://www.tate.org.uk/whats-on/tate-britain/display/bp-spotlight-alan-davie
http://www.gimpelfils.com/pages/exhibitions/exhibition.php?exhid=43&subsec=1
http://www.bbc.co.uk/arts/yourpaintings/artists/alan-davie-9645
Comments enabled – see comments box below. Note, all comments will be moderated.