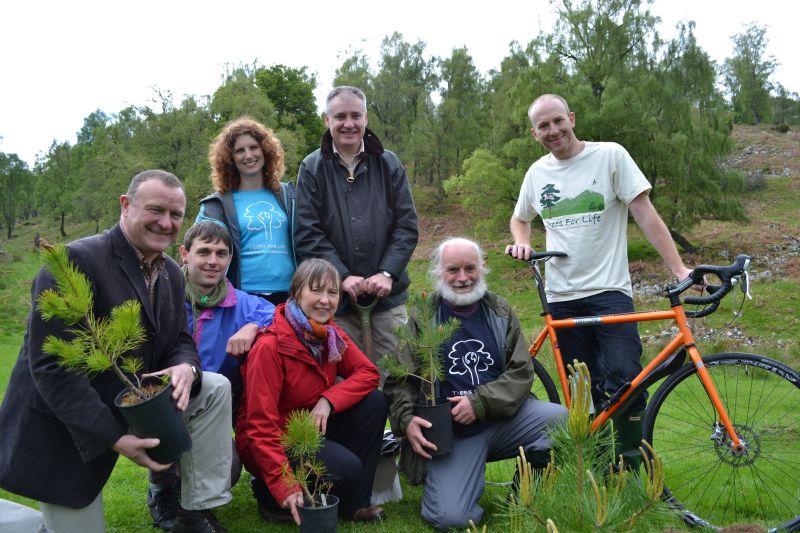 With thanks to Richard Bunting.
A quarter century of pioneering conservation action was marked by Trees for Life on Sunday 25 May 2014.
A celebration open day was held at the award-winning charity's Dundreggan Conservation Estate in Glenmoriston, Inverness-shire.
Dozens of supporters and local people gathered at the acclaimed biodiversity hotspot near Loch Ness for a day of activities, and to celebrate Trees for Life's first 25 years of restoring the ancient but endangered Caledonian Forest in the Scottish Highlands.
Moray MSP Richard Lochhead, the Scottish Government's Cabinet Secretary for Rural Affairs and the Environment, planted the final tree of Trees for Life's 'Celebrate' project, through which volunteers have planted 6,500 trees, one for each athlete at the Commonwealth Games.
Special guest BBC presenter, writer and Trees for Life Patron Vanessa Collingridge planted the charity's 25th anniversary tree. Drew Hendry, Leader of Highland Council, planted a tree to commemorate the dedication of the charity's thousands of volunteers.
Cyclist Tim Judge arrived from London by bike, after cycling 600 miles in six days. The gruelling journey was part of Tim's challenge of cycling 5,000 miles on his bike Issy to raise £1 per mile for Trees for Life.
Richard Lochhead, Cabinet Secretary for Rural Affairs and the Environment, said:
"These magnificent Caledonian woodlands, which to many people are synonymous with Scotland, are one of our most highly prized natural assets, and conserving and expanding these beautiful woodlands is vitally important for the integrity of our landscape and the vitality of our biodiversity. 
"Trees for Life has played an important part in that conservation effort and 25 years of restoration is certainly something to celebrate, especially in this Year of Homecoming that focuses on Natural Scotland. 
"I would also like to think that planting a tree for every Commonwealth Games athlete will encourage some of them – and the many thousands of visitors who will be joining us – to take the time to experience Scotland's woodlands for themselves."
Drew Hendry, Leader of Highland Council, said:
"I was delighted to plant one of the commemorative trees at Dundreggan Conservation Estate. Trees For Life's work at this flagship project on natural regeneration and biodiversity aligns very well with the Highland Biodiversity Action Plan, and with Highland Council's long-term commitment of achieving a carbon neutral Inverness in a low carbon Highlands by 2025 – our Carbon CLEVER Highlands initiative."
Trees for Life's Executive Director Alan Watson Featherstone said:
"During the past 25 years, thousands of volunteers and many generous donors have helped us to breathe new life into Scotland's equivalent of a rainforest. More than a million trees have been planted or regenerated, more than 10,000 acres of new forest created, and hundreds of lives transformed through the benefits of time spent carrying out positive conservation action in green places.
"I want to thank everyone who has contributed to this remarkable achievement, and everyone who will help us in the future as we expand and extend our innovative work to restore the world-class wildlife and landscapes of the Highlands."
The celebration day included guided walks to explore ancient woodlands and spot wildlife, opportunities to meet and feed wild boar and learn about their role in restoring the forest, and children's activities including animal tracking, pond dipping and games.
A new Trees for Life exhibition 'From Caledonia to the Commonwealth', a stunning photographic exploration of ancient forests across the Commonwealth, was officially launched by Vanessa Collingridge. The exhibition is part of the charity's 'Celebrate' project, funded with support from the National Lottery funded Celebrate programme.
Dundreggan is Trees for Life's flagship project. The 10,000-acre estate has been described as a Highlands "lost world", with more than 3,000 species identified so far – including 10 species never recorded in the UK before.
With the Caledonian Forest being one of the UK's most endangered habitats and with many of its rare species in danger of extinction, Trees for Life aims to establish one million more trees by planting and natural regeneration, by 2018. People can help by becoming a member, carrying out conservation action, sponsoring trees for special occasions or sponsoring an acre of native forest. See www.treesforlife.org.uk.
Tim Judge can be supported in his cycle challenge at www.justgiving.com/GingerBittersOnABike. Tim's progress can be followed at www.strava.com/athletes/gingerbittersonabike.
Comments enabled – see comments box below. Note, all comments will be moderated.