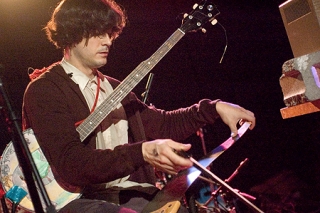 By
John Skelton.
Julian Koster of seminal 90's indie outfit Neutral Milk Hotel, recently reformed and announced as the first headline act for the 2014 Primavera Festival, graces Aberdeen in the guise of The Music Tapes, performing at The Tunnels on Tuesday June 25, doors 19:30.
Joined on brass by label mate and member of The Olivia Tremor Control Robbie Cucchiaro, you just know this has to be a unique sound.
Julian merges tales of circus tents and talking televisions with the eerie wail of his singing saw, heard punctuating many of the tracks on magnum opus In The Aeroplane Over The Sea, and the more traditional banjo. Featured in the band are various self-made instruments, including a giant metronome and a mechanical organ tower.
With Julian's roots in power pop outfit Chocolate USA and of course his time in Neutral Milk Hotel, The Music Tapes have a strong sense of melody. This is reflected on the deep cut 'Takeshi and Elijah' from the latest album. Listen to it here http://www.youtube.com/watch?v=wpFJce5jJ7M
The live show is a spectacle and a wonder; audience participation is encouraged and Julian's captivating short stories are equally vital elements of the sound and style of The Music Tapes' performances as the songs themselves.
This is a rare chance to see a truly unique talent.
David Harris of Spectrum Culture  says:
"But the night of singing songs, gigantic metronomes and magic had to end, and Koster left us with the best trick of all. For a few hours, he made us believe that we could return to those warm summer nights, the grass soft under our feet, a time where the evenings spread out forever and only the light of fireflies guided us towards our uncertain futures."
http://www.mergerecords.com/artists/music
The supports are also a treat.
First up we have Daemons AKA David Officer. His successful Kickstarter campaign to launch an EP/record label attracted considerable attention, including a request to play in front of the King of Norway!
David manipulates field recordings to create immersive ambient soundscapes, such as this http://daemons.bandcamp.com/
Autumn Hang are the synthy techno-pop reincarnation of John Peel favourites Bomb Circle. Their unique blend of lo-fi midi blips and early Aphex Twin has also recently garnered them enthusiastic praise from monthly esoterica bible Wire. https://soundcloud.com/autumn-hang
Last, but absolutely not least, we have the dark folk stylings of Washington Irving, on the rise after a successful tour supporting national heroes Frightened Rabbit earlier in the year http://washingtonirving.bandcamp.com/
Advance tickets can be had for the wallet-friendly price of £7.50 from http://www.wegottickets.com/event/221472 or £9 from the door on the night.
You might want to get in quick, as it's certain to be a busy one!