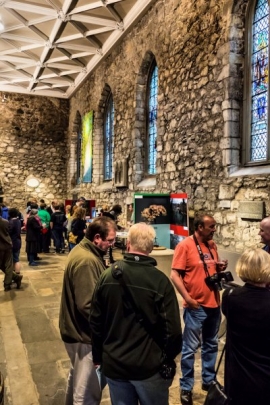 By
Suzanne Kelly.
The life of the River Don corridor has been unveiled in a photography exhibition launched at St Machar Cathedral on Saturday 1 June.
It is the largest visual celebration of the area in recent times, the result of a group of Aberdeen photography enthusiasts who embarked on an exciting and dynamic community-led project to capture the past, present and future of the area.
Award-winning artist Alicia Bruce supported the group in selecting, editing and presenting the touring exhibition and the publication Surfing the Don.
Following the launch it will tour city venues, the Scottish Parliament and Europe.
Alicia said,
"I'm delighted to be working with talented photography enthusiasts a few footsteps from where I grew up. The River Don gets overshadowed by its sibling the Dee. It's time the 'Donny' got a share of the spotlight. 
"This project caught my imagination as I lost many hours looking at photographs on the SURF Aberdeen Facebook group seeing the places I went on childhood adventures. I can't wait to see everyone's faces light up as they see their work printed large scale for the first time. There is so much talent within our group and I'm certain some of these photographers will go on to bigger things."
Aberdeen-born Alicia collaborated with a project team comprising local people from all walks of life, including postman Andy Coventry, Archaeologist Abeeer Eladany, her six year daughter old Nadine Ralston and photography graduate Blazej Marczak.
The images presented were taken on everything from professional cameras to camera phones. Project activities have involved regular collaborator meetings across the city, photo workshops, exhibition visits and online discussions.
Alicia added,
"It's an iconic project for the River Don and we wanted to ensure we had a variety of iconic venues to showcase the work. St Machar Cathedral is the ideal venue to launch the exhibition. Its proximity to the river means visitors will view the images and, we hope, feel inspired to walk along the river."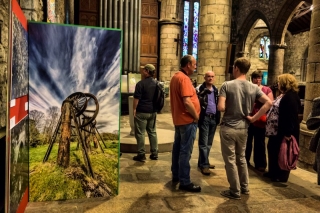 The exhibition is a community-initiated product of the
Sustainable Urban Fringes (SURF) Aberdeen Project
.
SURF Aberdeen is part of the Interreg IVB North Sea Region Programme, and is jointly funded by Aberdeen City Council and the European Regional Development Fund.
SURF brought people, organisations and ideas together to initiate a renewed focus to the River Don corridor.
Many of the community members met via the project's Facebook page, where they had been posting their photographs and celebrating their enthusiasm for the river and surrounding areas.
Sinclair Laing, SURF Aberdeen project manager, said,
"The River Don corridor cuts a beautiful swathe of blue and green through north Aberdeen. This urban fringe plays an important role by providing urban breathing space for Aberdeen's people and wildlife. It also hosts important cultural and built heritage and helps to support opportunities for sport, recreation, employment and education
"This community-led exhibition project will help raise the profile of this valuable, yet often overlooked, part of Aberdeen. This is a stunning exhibition and I offer my congratulations and thanks to Alicia and the rest of the exhibition participants for their initiative, hard work and creativity."
 Photographer Vicky Mitchell said,
"The exhibition means the chance to show off the beauty of the river and its importance to those who live in communities nearby. It also is giving me the opportunity to show my work to the people of Aberdeen. The project has been a great experience and full of lots of highlights such as working with some great people, securing some fantastic venues and spending even more time on the Don."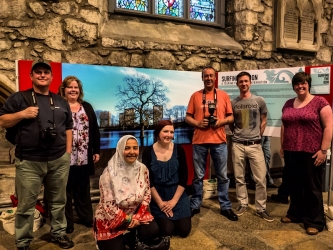 Regular project contributors have been:
Abeer Eladany, Alicia Bruce, Andy Coventry, Blazej Marczak, David Davidson, Darren Wright, Gregor McAbery, Katherine MacLean, Kirsty McAbery, Lynne Digby, Nadine Ralston, Sinclair Laing and Vicky Mitchell.
With additional exhibition contributors: Anita Welsh, Carrie-ann Holland, Craig Douglas, David Brazendale, Glenn Cooper, George Crighton, Ian Cairns, John Rutherford, Ken Dobbie, Mike Stephen, Nicola Youngson, Ruth Bone, Countryside Ranger Service, Susan Thoms, Stephen Bly and Hugh Mullady.
Tour dates
2 June – 6 July                       St Machar Cathedral – The iconic launch venue in the River Don Corridor.
7 July – 4 Aug                        Seventeen, Belmont Street – Supporting Aberdeen's bid as UK City of Culture.
13 – 28 July                              Sir Duncan Rice Library, University of Aberdeen – Drawing parallels with Victorian wet-plate images by George Washington Wilson.
21 – 29 September                Natural History Centre, University of Aberdeen – A touch and feel exhibition incorporating taxidermied examples of local wildlife.
September 2013                    Regensburg, Germany – A cultural exchange made possible by Aberdeen Twinning.
 Other venues to be confirmed include The Scottish Parliament and venues along the River Don corridor itself
Alicia Bruce is an award-winning Scottish photographer and educator. She studied photography at Aberdeen College and Edinburgh Napier University. Her work is a collaborative process with the communities she photographs, addressing social and political themes and issues. Alicia's photographs are held in various private and public collections, including National Galleries of Scotland.
Her education work is rooted in participatory practice. She regularly teaches in communities, schools and further education settings teaching courses for Street Level Photoworks, City of Glasgow College, Stevenson College, eca, The Fruitmarket Gallery and The National Galleries of Scotland. She is Freelance Specialist Interest Rep on Engage Council.
Alicia is an experienced and established arts educator, lecturer, and community worker. Her recent Valleys Project about an ex-mining town in Wales is currently being exhibited at Diffusion, Cardiff International Photography Festival alongside the work of David Bailey, Philip Jones Griffiths and Jeremy Deller. Alicia's photographs were recently celebrated by The Scottish Parliament in a Parliamentary Motion.
Comments enabled – see comments box below. Note, all comments will be moderated.