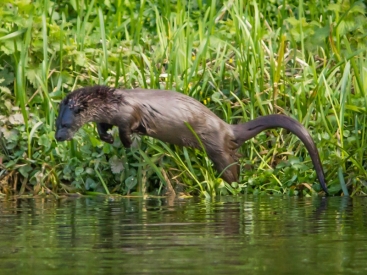 With thanks to
Peter Thomson
The River Don is celebrated in a new book from the Woodside Writers Group. With support from the SURF (Sustainable Urban Fringes) Aberdeen project, The Don: from Source to Sea is now available.
An anthology of poems and prose in English and Doric, Aberdeen Voice brings you the first in a short series of extracts.
Gates Shut
Gates shut, canna go in
Nae job
It floated doon i Donny
Sic a shock
Employed the day, nae the morn
Fit wye?
Dinna ken mate, letter on the way, explain it aa
Union ill sort it oot
Nae made redundant, jist unemployed.
Sorry chaps, mill's gid bust
Bit niver mind, the best o luck.
Beater hoose empty
nae manly chat, joke or jibes
cups o coffee or fags or moanin aboot the wife
spenin a yer sillar.
Idle musty levers, dusty buttons
Empty hollow reels, nae birling or
whirling wi reams o paper.
Pied ma dues, now beggin bowl in haun,
state benefits
Apply for jobs ye say?
Hid een the ither day, nae the attitude sorry mate
nae yer fault
bit sad an doon in i dumps
Thirty five years makin paper
seems unfair, nae just
niver mind, I'll get on wi life…
as fit I must.
May Ritchie
The Don: from Source to Sea is available from WH Smith and Books 'n' Beans for £5.00, and also from Mark Lovie at the Woodside Fountain Centre: tel: 01224 524926, email: mark@fersands.org
Twenty per cent of any profits from the book will go towards a Don educational project; the rest will help to fund future Woodside Writers Group projects.
The idea of a book came up when the Woodside Writers Group realised the river appeared in much of their writing, and further material was gathered from as far afield as Alford.
The Don corridor has a great history and the SURF Aberdeen project aims to bring communities, organisations and ideas together to initiate a renewed focus and collaborative management to this area at a time of significant change.
Comments enabled – see comments box below. Note, all comments will be moderated.