One of Scottish cycling's most prestigious races is joining forces with one of the newest as the Scottish National Road Race Championships heads for Cyclefest 2013 at the Grampian Transport Museum at Alford, on Sunday 19th May. With thanks to Chris Anderson.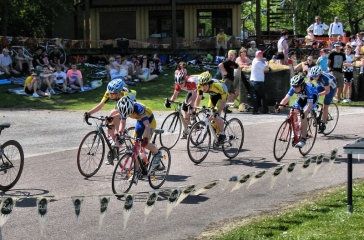 The Cyclefest event is now in its third year.
2013 marks the fifth time that local cycling club Ythan CC have promoted youth cycle races at the popular Donside tourist attraction, following the Grampian Grand Prix events in 2009 and 2010 and successful Cyclefests over the past two years.
Following a new partnership between the Ellon club and Aberdeen racing outfit Granite City Racing Team, Scotland's top men and women road riders will be taking on the challenging roads around Donside whilst over 60 youths from across Scotland battle it out on the closed circuit at the museum.
Sponsored by global energy services company Senergy, Cyclefest celebrates everything about cycling at a time when the sport is booming in the UK thanks to superstars like Sir Chris Hoy, Sir Bradley Wiggins and Victoria Pendleton.
This year's event marks another transition as the present stars of Scottish Cycling, who next year will be trying to secure places at the Commonwealth Games, will join with future of the sport in Scotland as 60 youths aged from 6 to 16 travel from as far as Edinburgh, Stirling and Tain to race on the famous track.
Cyclefest Youth Race Organiser Malcolm Grant of Ythan CC and Granite City RTs Phil Allan have been working closely with Grampian Transport Museum to ensure that the events ensure a memorable day for cycling fans with special attractions at the museum and the bonus of a closed road finish in Alford for the men's and women's Championship Road Races.
The event theme, the joining of the present and future of Scottish Cycling, will be given a grandstand introduction at 11am when the youth riders, and a specially formed youth pipe band from across the Alford area, lead the Women's Championship field around the track before they head towards the roads to the north of Donside to decide the national title.
This will be followed by the first set of youth races featuring riders as young as six before the men's field enjoy a similar ceremonial send off before also taking on the same circuit on a course that takes in Montgarrie, Auchleven, Insch, Kennethmont, Rhynie and Mossat.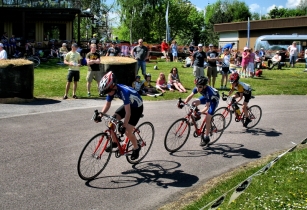 The women's and men's road races are expected to finish on Montgarrie Road Alford at approximately 2.15pm and 3pm respectively.
The closed road finish promises to provide a fitting finale to what should be a thrilling event, encompassing several ascents of Brindie Hill near Keig and the historic and feared climb of Suie Hill before the winding and fast descent back towards Alford in what will undoubtedly prove to be a true test for all of the riders.
Championship organiser Phil Allan commented:
"Most of Scotland's top riders have entered including Commonwealth Track medallist James McCallum (Rapha Condor) and strong local favourite Craig Wallace who has returned from racing in Belgium to try to win in his first year as senior. It will be a tough race and the winner will be a worthy national champion."
The women's event – which has 37 riders taking part – will feature many of the riders who have Glasgow 2014 in their sights with the Breast Cancer Care Team well represented.  Paralympic pilot Fiona Duncan (Ythan CC) will be hoping that a recent racing trip to Belgium puts her in a strong position to challenge the favourites such as Jane Barr and Aberdeen's Julie Erskine.
Cyclefest within the grounds of the Transport Museum will also be the place to watch fast and exciting racing as the youths ride two stages within their age categories to decide who will claim not only the Gold, Silver and Bronze medals but also the prestigious Cyclefest gold Winners jerseys, which have been generously donated by Aberdeenshire Sports Council.
Race organiser Malcolm Grant, said:
"The track at Alford lends itself perfectly to youth racing and is ideal for spectators to watch the next generation of Scotland's cyclists enjoy competing and developing as athletes."
"We are very grateful to Senergy for supporting Cyclefest and who work very closely with the Transport Museum to deliver a quality event in Aberdeenshire.  On behalf of Ythan Cycling Club I would like to thank Aberdeenshire Sports Council for their continued commitment to supporting, developing and improving sport across Aberdeenshire. 
"We are also grateful to the young pipers and drummers from Donside who will create the fanfare as the Championships get under way and to the volunteer team from the local cycling clubs that make these events possible."
Glasgow 2014 Commonwealth Games mascot Clyde will be at the Transport Museum from 12 noon and will make several appearances including at the Youth and Senior Medal presentations, which will provide visitors of all ages with an early chance to see one of the central figures on next years sporting celebrations in Glasgow.
Entry to Cyclefest is via the main museum gate with the following prices being in place.
Adult £4 | Concession £3 | Child £2 | Family £10 (2 adults & up to 2 children) | gtm+ members- Free
Reduced museum entry fee for cyclefest visitors.
Adult £6 | Concession £4.50 | Additional Child £2 | gtm+ members- Free
Cyclefest can also be followed on twitter at https://twitter.com/CyclefestMMXIII or via the Transport Museum website at http://www.gtm.org.uk/