Suzanne Kelly reports on a recent conversation with artist Alicia Bruce  in a two-part article. The first looks at her background and her work regarding the Menie Estate.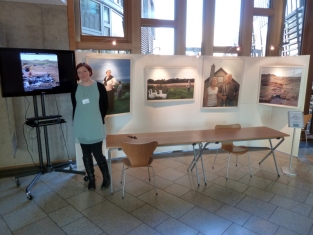 Alicia Bruce was the first photographer to show the world the human cost of the Trump development at the Menie Estate, countering the anti-resident propaganda which dominates the local press to this day.
Aberdeen Voice was keen to find out more about her and her photography, and we finally catch up with her as she closes a show at Holyrood and works on a local project.
When and how did you decide to embark on a career in photography?  Where did you study?  Who and what inspired you?
I was 19 and studying Social Sciences.  My friend had a key to a darkroom – it was that moment when the first print came up in the darkroom and that was that.  It kind of changed my life and direction – I was completely obsessed and decided that was what I was going to do.
I turned up at Aberdeen College with a portfolio and said 'let me in!' I did an HND there followed by a degree in Photograph and Film in Edinburgh.
You are known for your work with the residents at the Menie Estate?  How did you get interested in this subject? 
I started the project in 2010 I had a exhibition slot a Peacock Visual Arts the following January.  The project began out of curiosity and also questioning what I was reading in the media and, the local press in general about Mike Forbes, 'Trump Opponent'.  I thought 'Is this guy really that angry – how can he sustain this?'
I'd visited the site with the project in mind once before, but went around the edges, the beach.   I then went to visit Mike's croft.  He could have slammed the door in my face. – I told him  I had an exhibition coming up and I'd like to feature a portrait of him.  Mike thought this was brilliant; he was so welcoming and a real comedian.
He couldn't have been nicer or more different from how he was portrayed in the press at that time.
David McCue was having his 'Triumphant' exhibition in Mike's barn that same day and the atmosphere was electric.   That day I also met Susan Munro, John Munro, Sheila Forbes, David Milne, Molly Forbes, Anthony Baxter (who had just started filming his documentary) and Martin Ford to name a few.
We all hit it off and they were keen to tell me what was happening.  Susan and John were excited about my project idea as they loved my 'Flood in the Highlands: after Sir Edwin Landseer' photograph.  They had just seen some Landseer's at the Glen Affric Lodge.
The community spirit and welcoming atmosphere that day was a million miles away from the media perceptions of the area.  I made time to meet all the residents individually later that week.  Their hospitality, generous spirit and enthusiasm for the project continued.
Initially Menie was going to be part of a wider exhibition theme focusing on social political issues in Aberdeen.  But Menie – you get caught up in everything that's happening, and I couldn't' believe this story wasn't being told.  I felt a responsibility to use my exhibition as a way of telling the story from the residents perception and showing what was about to be lost.
That clip of Anthony and Richard's arrest is a vital document of social history
I couldn't believe how quickly things were changing in 2010.  Some people would say 'it is just a golf course'  It was difficult for people to comprehend what was really going on.
With Anthony Baxter there filming, there was the comfort of knowing he was documenting an overview of the situation which removed the pressure which I had felt to tell the whole story. It was great to work in parallel with him.  The shock hit all of us the day he was arrested – we were afraid that the footage would be lost.
That clip of Anthony and Richard's arrest is a vital document of social history; it's unquestionable.  I'm glad he was brave enough to record it.
My  exhibition, which opened in January 2011, and features in You've Been Trumped, contained portraits made in collaboration with the residents accompanied by their statements.  I also exhibited 19 landscape photographs depicting the wilderness landscape before it was 'Trumped'.
When the exhibition opened it was first time ever  the residents  had positive press locally, nationally and internationally.  At the time that was a huge achievement.  The residents homes were then under threat of CPO.  Trump released at statement during the exhibition claiming he would no longer pursue CPO's, the residents have yet to see that in writing.
My portraits with Mike, Sheila and Molly Forbes were acquired by the National Galleries of Scotland in February 2011: this was huge as it meant the residents of Menie, who had until then been misrepresented, had secured their place as National treasures but had also been empowered to represent themselves in the process.
You had a run-in with security covered in Duckrabbit blog – it sounds horrible.  Do you want to talk about it?
I have frequently been followed by security, stopped by the police in Menie – it shifts your perception of your place in the world.
We knew it wasn't right – but it still became the norm, something we continually questioned but dealt with.  I know how to diffuse things; I know that as individuals they are just people doing a job so I will just have a chat to them.  I would always explain that I was doing nature photography.
I know my rights and would never delete an image or show them my photographs.  Anthony Baxter got the brunt of their anger.  Because I was a young female, and being chatty, they probably thought I was not interested in the politics in the same way Anthony was.  It helped having a doric accent too.  But my life wasn't easy.
The scariest incident which I think you are referring to was the most unexpected.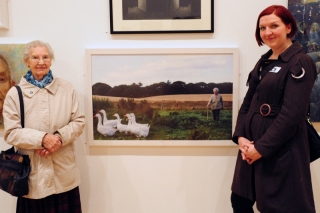 I was in Susan Munro's garden and well off Trump property.  I had a packet of biscuits in one hand and turned round to take a shot.
The next thing a knew an angry security guard was screaming and threatening to smash my camera – he declared that back up was coming.  He blocked our route out with his van and, due to the bunds of earth planted by the developers round Susan's, there would have been no witnesses if he attacked me.
Luckily I escaped unhurt as did my Hasselblad.  I called the police and the man was given a full, adult warning.  He should have been charged with attempted assault.
In August 2010 when I photographed David Milne for his portrait; he had an angry expression – that's because there were workers on quad bikes going up and down the dunes.  After we left Hermit Point later that evening, the guys on quad bikes followed our car; they went into a field and then pulled right in front of the car on a country road with their lights off. We narrowly escaped a serious crash.
That same summer I'd been spotting and photographing little red flags which kept popping up on the landscape.   Mike was worried they would hurt the horse – he called the police and said he'd found all these things on the property – and he was charged with theft of £13 of red flags.
That same day the story 'Trump opponent charged with theft'  was on the front page of the Evening Express.  I saw a copy at the Castlegate newsagent and I was furious.
I wasn't speaking publicly at that time about what was happening – if I was too vocal at that stage, I wouldn't have had access to complete the project.  It was surreal.  Now that my work is in the public domain and the story is out there, it's easier to talk about.
We discussed theories about how that story got into the press so quickly.
There has been definite sway with the local news which seems to lack compassion for the local residents.  I certainly didn't see any articles about local people harassed by developers.  The language is derogatory about the residents  calling them 'protestors' and  'Trump opponents'.
One of my achievements was getting a positive story in the Press & Journal the day the Peacock exhibition opened.
What do you think of recent developments at Menie?
The wind farm – I think they're (Trump) could be looking for an excuse to exit.   It doesn't look like the golf course is  going to bring the economic benefits that the Trump would have hoped.
Anthony put it eloquently – Trump says he wants real journalists; but he really wants sycophants.  I can't help but think he's got a bee in his bonnet about wind farms but it gives him a way to back out of the hotel and the housing development – which is where the money would come from.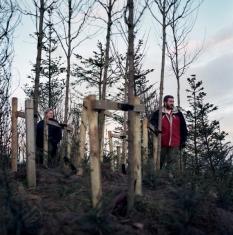 It's bitter sweet seeing nature fighting back as the golf course collapses into the sea.  I have concerns about the long term effects of stabilising those sand dunes where meant to be protected. "our equivalent of the Amazon Rain Forrest' Jim Hansom.
A forest was planted in front of David and Moira Milne's house in January this year too.. The intimidation is endless.
The last time I visited, a large marquee was being constructed near the clubhouse.  David Milne poured us all a glass of champagne and toasted the windfarms.
Tell me about your recent show of the Menie photographs at Holyrood
The Scottish Government were the target audience for this exhibition held during Scottish Environment Week 2013.  I wanted the decision makers to come face to face with Mike and Sheila as they entered the chamber.  If Alex Salmond could not find the time to go to his constituents' doorsteps, then I had to bring them to his.
In the run up to the exhibition there was an ongoing dialogue with the parliament's exhibitions team and a formal application process.  I had to find an MSP sponsor months before the show could go ahead, I repeatedly invited  Alex Salmond (as the MSP for Menie) to be my sponsor but never received a definite yes.
At the final hour Patrick Harvie, Green MSP and Malcolm Chisholm, my local MSP, jointly supported the exhibition.  I am thankful to them for their support.
I chose the entrance to the Member's Lobby as my exhibition space.   MSPs including Alex Salmond have to walk past that area to get to the chamber. Right at the entrance to the chamber I displayed a 30×30 inch print of the golf course collapsing into the sea with the caption:
"The Fourth Tee.
Trump International Golf Links Scotland
Nature fights back.
January 2013″
I thought it was important to get as many people to see that as possible– it was undeniable that that was happening and that the economic benefits of the course were questionable.
I asked Salmond why he had not been to visit Mike and Sheila
Getting the work into parliament was a long process. I had to be security checked and my work scanned which is standard practice.  The security forms ask questions like 'Are you a terrorist?'  There were questions about your parents as well.
Alex Salmond coming to find me; it was a welcome surprise.  He described Mike and Molly as  "Great characters … great characters.  Mike stands up for Scotland."  I pointed out that they are not characters; they are real people.
It was clear that the exhibition really got under Alex Salmond's skin.  I asked Salmond why he had not been to visit Mike and Sheila.
At first he claimed he had been to see them but after I pointed at the image of their house a few times asking again "have you been here, have you been in this house?" he eventually answered "I've spoken to them but  I've not been to the croft… no."  He then said  "it's making lots of money."  I responded,  "it's falling apart.  Look!"
MSPs were talking to me all week about the photographs and the current situation in Menie.  It was an honour to represent and humanise the situation with Scotland's decision makers. I was told by one MSP that some would be dreading having it there.  I made it clear that the outcome for the exhibition was to draw attention to the need for a public inquiry into the handling of the Trump Development.
David Milne released a petition the week before the show opened.
As well as the large scale printed portraits accompanied by statements and the landscape, I displayed a multimedia work on a 24″ screen.  The multimedia contained 20 captioned photographs of the environmental damage caused by the development with detailed captions.
MSPs would stand for long periods of time reading these.  The soundtrack was 'Cover Your Eyes' a song written by Karine Polwart about the Trump Development.
The exhibition had a high impact, got people talking, hopefully shifted policies and was celebrated in a parliamentary motion stating:
"That the Parliament congratulates the award-winning Aberdeenshire photographer, Alicia Bruce, on her ongoing photography project about Menie, an area of outstanding natural beauty on the Aberdeenshire coast; understands that her photographs from this series have gained international acclaim and have been published in The Times, The Scotsman and several arts magazines, and that two of the portraits have been acquired by the National Galleries of Scotland, and welcomes that Alicia's photographs, many of which restage compositions from celebrated paintings, have helped to tell the story of the residents of Menie, whose homes came under threat due to what it considers the bullish golf course development of Donald Trump, and to portray a side of that story that otherwise might have gone unheard."
Motion S4M-05749: Patrick Harvie, Glasgow, Scottish Green Party, Date Lodged: 27/02/2013
Menie Community Photography Project
More from Alicia and her other projects in the next instalment.
All images copyright Alicia Bruce
Comments enabled – see comments box below. Note, all comments will be moderated.