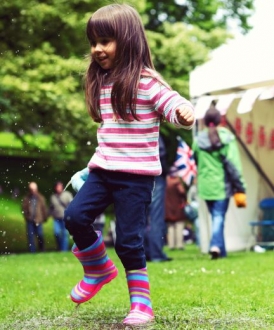 Steve Bothwell tells Aberdeen Voice about an exciting initiative about to be realised.
All the while  campaign group Common Good Aberdeen  were lobbying  hard in the fight to save and enhance Union Terrace Gardens, they were organising and running events in the city centre park such as the Christmas party and children's art competition and Jubilee Tea Party.
They have continued to liaise with Aberdeen City Council  officials and councillors, progressing  a number of initiatives which will soon bear fruit.
Common Good Aberdeen are over the moon having achieved their goal of raising £15,000, in less than a week, to install play equipment in Union Terrace Gardens.  
Fund Raiser Steve Bothwell said:-
"'I am truly heartened by the generosity of people who have dug deep to assist in this wonderful cause.  There is lots of information that inform us of the importance of health, well being, happiness and interaction for children.
"Common Good Aberdeen listened intently to people who inform us of their wish list and what they consider to be beneficial to them and what they would like to see in Union Terrace Gardens.
"There are 4 main things: A café, disability access, toilets and play park facilities.  Common Good Aberdeen has already set the ball rolling on all four  initiatives.  We have already secured planning permission for the Co Operative Café and await the tendering process. Once the Café is open, we have over 60 people registered to volunteer with all proceeds going directly into a garden fund for improvements.
"The play park will appeal to so many families and therefore increase the footfall in the gardens, thus providing more customers for the Café.  When the fund increases, we will then hopefully instigate a 'Disability eco path' that will allow wheelchair users unassisted access into the gardens.
"When all of these initiatives are started, Common Good Aberdeen will then concentrate on purchasing a high quality automated toilet to ensure the public have an essential facility and use the gardens more.
"Providing there is enough money in the fund to deliver the above initiatives Common Good Aberdeen will begin planning events for the public to enjoy for free.
"We believe these initiatives are truly embracing for all the public and we are looking forward to their fruition."
Further information, donations:  commongoodaberdeen@groups.facebook.com
 Comments enabled – see comments box below. Note, all comments will be moderated.