With thanks to Iain Richardson.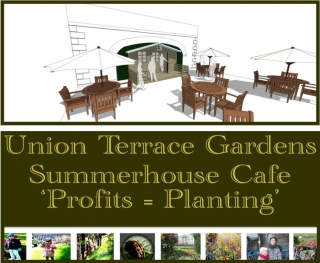 Campaign group Common Good Aberdeen are moving forward with plans for a Community Cafe in Aberdeen's Union Terrace Gardens.
The Cafe will be staffed entirely by volunteers and all profits will go towards enhancing the Gardens. Many people are passionate about saving Union Terrace Gardens and this is an opportunity for them to make a direct and meaningful contribution.
With summer approaching, a cafe in the Gardens withoutdoor seating will act as a focus for people to visit, enjoy and perhaps re-discover this fantastic space.
The modest, temporary structure will have similarly modest set-up and running costs. Profits will go back into the Gardens and we hope to pay for improvements which could include safe and clean toilets, improved disabled access, activity area(s) for children, tree and flower planting.
A planning application for a temporary cafe has now been submitted. We're looking for volunteers to give their time and effort to run the Cafe and to make it a success.