What could have been more simple and straightforward (let alone transparent and democratic) than asking the people of Aberdeen to vote on the future of Union Terrace Gardens?  Suzanne Kelly delivers her verdict.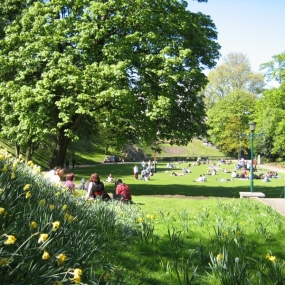 I gladly threw myself into the work of being at the head of an official campaign organisation (my group 'Democracy Watch' was one of the official campaign groups with a statement in the referendum voting pack), and I naively assumed that a simple vote with straightforward rules was imminent.
Had I known then what I know now, I would instead have joined Labour and opposed the referendum.  Here are some reasons why, and a bit of background.
After the referendum count, supporters of the City Garden Project celebrated their 'victory' with glee behind the scenes, then a few days later publically offered the proverbial olive branch to their opponents who wanted not only to retain, but improve Union Terrace Gardens.
'We must work together to restore harmony, to improve the city's garden and ensure economic prosperity' is a fair summary of their position then.  This clumsy attempt to paper over the cracks caused by Sir Ian's determination to have his 'gift' of £50 million used to fulfil his personal desires was not working on anyone.
In online social network sites, the messages from the pro CGP camp ranged from 'ha ha you lost' to 'if you don't accept the referendum results, then it's a case of sour grapes.'
With all due respect to Crawford Langley, the elections officer appointed to run this sorry affair, the phrase 'making it up as you go along' sums this referendum up for me.  As an official group we were told there would be strict spending limits and a strict 300-word maximum statement.  And that's about all any of the groups were told.
Had I known from the outset, set down in black and white, any of the positions the elections officer would later adopt and what control he would or would not have over any 'unofficial 'groups– then I would have saved myself the bother of wasting my time.
The playing field was never level.  The result – considering the vast sums which the Vote for the City Gardens Project group must have spent – was extremely close.  And the established press did all the cheerleading for the CGP it possibly could have.
Here are my ten reasons why the gardens referendum is invalid:
1. Spending
It was galling enough to learn that an unofficial group – Vote for the City Gardens Project –  could spend freely.  (It was even more galling to learn they could make any claim they wanted with impunity – as will be shown later).  But when it was discovered that ACSEF had been spending taxpayer money – at least £73,000 – for over a year to promote building in the garden, I realised that my group would never match the PR muscle of VFTCGP or ACSEF.
The £73,000 is referred to in an earlier article which can be found at: https://aberdeenvoice.com/2012/02/the-great-city-gardens-project-gravy-train/ .
ACSEF recommended various bits of "stakeholder engagement, events management, and communication…" all geared towards building over Union Terrace Gardens.  And you and I footed the bills, which came to Aberdeen City Council via the Chamber of Commerce – with virtually none of the actual service providers (photographers, PR agencies, event coordinators) used being named in the invoices, with the exception of the Press & Journal, which earned several thousand pounds in advertising revenue.
Parties were held, photos taken, celebrity endorsements made – all before the referendum.
As to the Vote for the City Garden Project group, their spending must have been epic.  There was the lurid full-colour glossy A3 flyer, sent not only to households in the city, but in the (non-voting) shire as well.  There were radio adverts – not that we will ever find out how much was spent or who placed the ads.
We do know now that ACSEF was implicated in some of the newspaper advertising; this came about via complaints to Advertising Standards Authority about the content of the ads.  But more on that later.
The other official groups were never going to afford radio, full page newspaper ads and tens of thousands of glossy brochures (let alone the pseudo newspaper, the multi-paged 'The Granite Web').
2. Irregularities?
In a past Aberdeen election, Crawford Langley went to the police with suspicions over dubious postal votes.  However, in the referendum some 74 votes were used twice.  Mr Langley explained to me that some of these people wrote on their paper votes that they had also voted electronically (though I don't know how many).
I am unable to share his confidence that everyone who voted electronically and had a postal vote in their name was not a potential victim of vote theft.  Mr Langley says that these little scrawled notes 'negates any vote fraud'.  I however have reservations about whether or not the person writing such a note was indeed the intended voter and the same person as voted on line.  Since we had people who favoured the CGP 'joking' online about stealing votes, why not simply allow scrutiny of the votes (but this is a big issue as we will see later).
FACT:  In the 2005 election Crawford Langley called in the police after six people contacted the elections unit to say they did not receive their postal vote forms.
A source who wishes to remain anonymous for a variety of reasons (not least that they wish to keep their job) raised concerns to me (in my capacity as a (fledgling) investigative journalist) of potential care-home vote issues.  They believed that votes in one home were not circulated to the residents.
Crawford Langley has dismissed this possibility because the person with the concerns went to me and is remaining anonymous (as is their right).  The decision was taken not to investigate any potential residential home issues.  This decision does not sit well with me, my source, and other contacts of mine who have experience of residential homes, and I would have preferred to have the possibility investigated; only then could it have been dismissed.
3. They are all in this together
The overlap between members of ACSEF, the BIG Partnership PR agency's work for the City Garden Project as well as its support for the VFTCGP entity, combined with the (then) City Council's support of the project proceeding makes for some unholy alliances.
We have Gerry Brough working 'as a volunteer' on several of the city-led City Garden Project entities.  We have the City Council funding ACSEF.  We have ACSEF sending letters in support of the project going ahead.
For a fuller idea of who is involved with what (at least up to our elections last week), see a spread sheet which can be found at http://oldsusannahsjournal.yolasite.com/ (scroll down to the 'UTG companies and supporters' documents.)  Note this page also has a list of the invoices referred to earlier from the Chamber of Commerce to the City for PR / events advancing the idea of building in the gardens.
4. Promise them anything
The free-spending VfTCGP's claims were unconstrained by any standards.  The Electoral Commission have written to me confirming that they have no power over materials used in local referendum situations – had I known that fact alone, I would have opposed the referendum.
Likewise the Advertising Standards Authority had no teeth.  What claims did I object to?  The use of the tenuous projections offered by PriceWaterhouse Cooper (who earned a nice bit of change for their work):  6,500 new permanent jobs to be created and hundreds of millions of pounds to flow into our economy.
PWC are unwilling to comment as to how their projections were used in the PR material; if they stood behind these figures, surely they would have been happy to endorse them (even if this means the granite web will create more jobs than the London 2012 Olympics by several thousand jobs).  But PWC will not comment other than to say the work they did on the CGP was 'for a private client'.
I don't know who the private client is, but the taxpayer certainly funded at least some of the work.
5. Our press – perhaps slightly biased?
Not only were the contents of most of the Press & Journal articles I read slanted, but even the page layouts and placements of graphics were geared to supporting the project.  For instance, I complained to the Press Complaints Commission about a front page story which continued on Page 3 – Page 3 carried a box labelled 'facts and figures' which repeated most of the PWC claims – which I consider to be fairly far from fact.
A testimonial – i.e. a photo of a girl appeared at the top right of this page, and the quote was along the lines of 'I was against the project at first, but now that I see how many jobs will be created, I am for it'.  As a former advertising agency employee, such heavy-handed tactics are well known to me.  But the Press Complaints Commission decided that if someone read the entire article (as unlikely as that might be), they would eventually read that the 'facts and figures' presented in the box were projections.
Other examples can be found here and there of press bias.  One could be forgiven for wondering if the local press were keen to please some of their biggest advertisers over the CGP, whether consciously or not.
6.  OOPS!  Misprints and gremlins
The voting packs contained booklets – 165,000 booklets were printed and distributed – containing the 300 word statements from the official campaign groups, both for and against the granite web.  Sadly, and wholly mysteriously, the Green Party content was truncated and stopped in mid flow.
How a massive print run of an extremely short booklet went to print without being proofread for such errors is inexplicable to me.  I believe the Green Party did get an apology.  Still what would the voters have thought?  That the Greens didn't have a fully-thought-out scheme was one possibility.
I was likewise not amused to learn that online my statement at one point ran seamlessly into the rantings of one of the more vocal proponents.  I was alerted to this by people getting in touch to ask if I had somehow changed my opinion on the garden.  This error was apparently rectified.  How many people saw it, I do not know.  Mr Langley again took the position with me that since I was the only person who got in touch with him, I was the only person who noticed.  I would not have known about it at all if supporters had not brought it to my attention.
He also felt that it would have been seen only by people voting online who would already have a printed copy of the statements in their hands.  Hmm.  My position is that most people who choose to communicate electronically would be reading the electronic documentation not the booklet – and if they relied on the booklet, then they only got half of the Green position anyway.
My overall feeling is that errors were made which were rather large and which could have been avoided by a bit of diligence.  In my experience if errors occur in one part of a project, you can bet they exist elsewhere.
The next two reasons are particularly worrying…..
7. Going Postal
I deliberately asked supporters of my position to vote via the post so they could keep a record of their slip (I suggested people photocopy their vote and keep the copy for their records).  For some reason, there are -somewhere in the City offices – votes which arrived too late to be counted, even though they were there on the day.
My source says 'tons' of them arrived 'too late'.  When I last heard these votes were still in store somewhere.  Mr Langley advises that it was the voters' responsibility to ensure that the votes arrived on time, and some 300 arrived too late.
Sadly, there are always issues with the post when it comes to the city council.  It claims to have sent me letters I never got.  It likewise has apparently never received items I posted.  For instance I hand-delivered 63 postcards opposing the Tullos Hill deer cull:  Ms Watts wrote after the fact she received a total of 35 such cards, even though other people handed cards in and others still posted cards.
At the time I am writing this article, May 9, I still have not received passes sent to me to attend last Thursday's vote count.  Something is wrong somewhere.
Did the referendum votes arrive at the building the night before?  How many times per day does post get delivered to the City?  Who brings post to the recipients?  The more people in this chain, the more essential to ensure the referendum votes were proactively sought and collected.  Whether or not this happened I do not know.  I am sure that the election officers posted my passes for last Thursday's count in good time for them to arrive, and it was their responsibility to get passes to me. However, just as for referendum voters, something went wrong somewhere.
8.  Top Secret – the Marked Register
No one but Crawford can examine the Marked Register of votes.  Crawford is absolutely certain this would be 'illegal' for the referendum, although this scrutiny is standard practice for elections.
We campaigners only found out after the fact that we would not have the chance to look for unusual voting patterns, clusters, or evidence of fraud (see above).  If there was no transparency and this was somewhere communicated to me early in the process I failed to see it.
If I had known in advance that I'd have no check over how the count went, I would have again opposed the referendum.  It looks as if I will never be able to determine if there were any unusual clusters of votes at residential homes, or elsewhere.
Langley's position is that it is illegal for him to give access in terms of the Representation of the People (Scotland) Regulations 2001.  Other experienced politicians and campaigners with legal qualifications take a different position.
9.  Dirty Tricks?
The Press & Journal front page article concerning Tom Smith implied that people opposed to the City Garden Project had harassed him and his family and acted illegally – specifically by hacking into his email.  At the time of writing I am unaware of any prosecution arising out of this allegation.
I will be doing a FOI request to the police (now that I am done with the election and have enough time to do so).  Mr Smith is involved in many pro CGP entities, and has much to gain by the project proceeding.  His complaint to police over harassment, email hacking and so on – came close to the voting time, and gathered a great deal of sympathy.   To me the press article mixed legal and illegal activities to paint a portrait of a devious, law-breaking pro-retain camp.
10.  Spoilt Rotten?
I know that a large number of votes were deemed by the election officer to be 'spoilt' – this was because people wrote on their ballot papers.  According to people present at the count, many of these seem to be from 'retain' voters, who wrote comments on their slips.
In an election the instructions clearly say not to make any other mark on your ballot.  The referendum instructions DID NOT have this instruction.  Apparently voters and campaigners were supposed to instinctively know that the referendum was different from an election in many important ways – but not this way.
Then again, if they have not been destroyed, somewhere in the hands of a private entity (as I understand it) are the results of the public vote on the 6 shortlisted designs.  It is a well-known fact that many people who went to the design show wrote on the voting slips to show that they wanted the gardens left alone.
We wanted the figures and information from this shortlist vote released to the public – the public paid for it after all.  However, these private individuals refuse to release the results.  These same people now seem to be the same ones arguing that to ignore the referendum would be 'undemocratic'.
Democracy?  I don't think so
On May 9, 2012 ACSEF issued a statement in the wake of Labour's election success to the effect that ignoring the referendum would be 'undemocratic'.  In this case of the pot calling a press conference to call the kettle black, ACSEF coyly ignores its unelected status, its PR tactics and its blatant lobbying – done at taxpayer expense.
There is no doubt in my mind that ACSEF members have pulled out all the stops to further the City Gardens Project scheme. The question is – will Labour do the right thing and pull the plug on this self-serving quango?  One can only hope there is a referendum on ACSEF's future – now that would be democratic.
So – at the end of the day I personally find the referendum exercise invalidated.  The other side has ignored public opinion over the garden before.  Thankfully, the election has now returned a council which just may save our garden, our trees (which clean our air), and our money in its millions.  Here's hoping so.