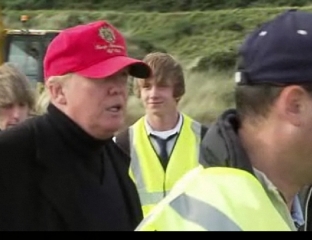 With thanks to Martin Glegg and Helen Thomas.
You've Been Trumped – a new documentary investigating the social, economic and environmental impacts of the Donald Trump golf course development near Aberdeen, Scotland has gone viral – with an innovative crowd sourcing drive to finish the film in time for its world premiere at the beginning of May 2011.
The feature length film, which includes music from Jonsi, the lead singer of Sigur Ros, has been selected to premiere at 'arguably the best showcase in the world for documentary', according to its production team.
The filmmakers were arrested and put in prison cells by Grampian Police whilst making the film. The Director, Anthony Baxter was also handcuffed in what the National Union of Journalists described as 'a blatant example of police interference aimed at stopping bona fide journalists from doing their job'.
Now, to complete the documentary for cinema release, the producers are embracing crowd sourcing, which has been pioneered by some of world's top filmmakers such as Kevin Macdonald, the director of hit films such as Touching the Void and The Last King of Scotland. The film is aiming to raise £12,000 in 50 days through the website Indiegogo.
In its first day of crowd sourcing, You've Been Trumped raised almost £2,000 with donations coming in from around the world. The filmmakers are offering 'Perks' to contribute to the film, such as signed DVDs by jonsi, and a guided walk along the coast to the village where Local Hero was filmed. The story of the residents on the Menie Estate where Donald Trump is building a £750 million golf resort, has been likened to the classic 1983 film starring Burt Lancaster.
The exact location of the premiere of You've Been Trumped is top secret until a news launch on 23 March 2011.