Local authorities in Scotland must allow the public to look at their unaudited accounts, and Aberdeen City Council is no exception to this rule. In August 2012 this annual statutory period of time was granted for interested people to examine the city council's financial year documents from 2011.
Paying Through The Nose: Part 1 looked at invoices Aberdeen City Council paid to Stewart Milne-related companies, the Wood Family Trust and the BiG Partnership. In the second and final part, Suzanne Kelly examines finances for the 2011 financial year relating to ACSEF, the Tree for Every Citizen scheme, foreign trips by city officials and more.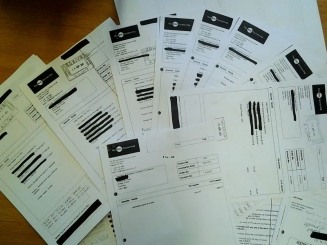 Tree for Every Citizen: A scheme and a half
In this allegedly environmentally-sound tree-planting scheme, the slogan A Tree for Every Citizen came first, and the science, economics and location for said saplings was a secondary concern. Tullos Hill was once a meadow filled with birds, plants, small mammals and deer.
Thanks to the interventions of a minority, the hill is now largely a scarred, haphazard wasteland.
Pete Leonard (Housing) and Aileen Malone (Lib Dem former convener, Housing & Environment Committee) promised councillor and citizen alike that their pet scheme was totally cost neutral. Who could object to a beautification project designed to combat Aberdeen's large carbon footprint? Who could object to a scheme that wasn't going to cost anyone anything?
More to the point – who actually believed a polluted, windswept hill which had thus far failed to sustain many trees was going to become a lumber-producing, cost-neutral success story?
The figures below were prepared by the city in answer to my query on the scheme's 2011 finances: 
| | |
| --- | --- |
| Expenditure | £ |
| Deer Management | 6,748.54 |
| Tree Planting including clearing | 33,128.00 |
| Fencing | 13,812.97 |
|  Total Expenditure | 53,689.51 |
| Income | |
| Grant Income | (13,891.10) |
| Net Expenditure 2011/12 | 39,798.41 |
This net expenditure was then broken down as follows:
| | | | |
| --- | --- | --- | --- |
| Date | Amount (note – these seem to be the net figures without VAT) | Description (note – text was not complete on spread sheet I was given) |   Supplier |
| 15/6/11 | (13,891.10) | Grant – tree for every citizen | |
| 9/11/11 | 7,125.00 | Unknown – tree for every citizen |   Bryan Massie |
| 19/3/12 | 3,840.00 | Unknown – tree for every citizen |   Highland estate services |
| 20/3/12 | 7,500.00 | Unknown – deer fencing for tre [sic] |   Bryan Massie |
| 23/3/12 | 16,150.00 | Unknown – project management C |   C J Piper & Co |
| 23/3/12 | 6,221.31 | Aberdeen City Council | |
| 28/3/12 | 6,273.00 | unknown – application of kerb |   Bryan Massie |
| 31/3/12 | (260.00) | Date of supply 28th march 2012 |   Forestry Commission |
| 31/3/12 | 6,312.97 | Unknown – Tullos hill – tree for |   Bryan Massie |
| 05/4/12 | 527.23 | Aberdeen city council | |
| TOTAL | 39,798.41 | | |
It seems just a little amiss that the word 'unknown' should appear so many times on a summary of expenditure. It also seems amiss that the breakdown includes only one of the two C J Piper invoices I was supplied. The Hazlehead costs seem to be left out of this equation – and yet cutting these trees at Hazlehead down was, according to sources, one of the ways in which the Tree for Every Citizen scheme was paid for.
Is the meagre £527.23 from Aberdeen City Council to the TFEC scheme related to the Hazlehead tree felling which earned Piper £1,422? If it is unrelated, then which city budget did this sum come from and what does it represent?
Like so many things under our previous council and under Leonard and Chief Executive Watts, these 'cost-neutral' claims were a far cry from reality. The total costs to December 2011 had already been released by the FOI office, and they were damning.
After a great deal of coaxing, Watts conceded that £43,800 had been repaid to the Forestry Commission for the dismal failure of Phase I of the scheme. All who wanted Phase 2 to go ahead blamed the deer for the failure, even though the FC said the soil and weeds were largely to blame. Still, no one would have kept making money had the scheme been scrapped. Least of all Chris Piper.
We Who Pay The Piper
Apparently a sole trader under the name C J Piper & Company, Chris Piper was the principal architect of this sorry scheme. I had asked for sight of Piper invoices ACC paid in the 2011 financial year; this is what was made available:
| | | | |
| --- | --- | --- | --- |
| Invoice No | Date | Description |   Gross Amount |
| ACC/0312/300 | 6 March 2012 | PO A139378 – Implementation of the Tree For Every Citizen scheme, design and plant Ph II, prepare and submit relevant applications, liaison with Forestry Commission and other agencies and ACC officers; preparation of bills of quantity, commissioning of contract works on behalf of ACC, on site supervision, submission to woodland carbon code certification, PR/media strategy (mileage 2,778 miles £1,250), VAT £3,230 |   19,380,00 |
| ACC/1111/298 | 30 November 2011 | Woodland consultancy (No PO number quoted) as per finances & Resources  Committee Report December 2010 – thinning at Hazlehead Golf Course, preparation and submission of Forestry commission felling license, drawing up of standing sale particulars and circulation to the timber market, taking and assessing bids |   £1,422.00 |
Getting sight of the Piper invoices was a long process; the FOI officers protected Piper's identity at all costs for over a year, despite this being a person writing city reports which justified his further fees on this scheme, and receiving taxpayer money.
Piper, a Forres-based tree expert, is invited to come forward and explain his determination the scheme would work, and how he produced a report jointly with the city which recommended the TFEC scheme (calling the many opponents 'a vociferous minority').
How someone with a vested interest in a scheme proceeding can be allowed to author or co-author a report (no one at ACC put their name on the joint submission made to the FC) should be a matter for further investigation.
The soil (or lack thereof), the wind, the weeds and use of herbicides alone should have stopped the scheme. (Note: at present nothing like 89,000 trees have been planted on Tullos despite this being the plan. Originally, some 20 deer were going to be culled in the first year – we now know it was closer to 36: which we paid some £6,000 to eliminate).
No wonder the city and Piper were so keen to keep things quiet.
As a footnote to those who believe the tree scheme will eventually be a successful carbon capture system of some sort, there are a few points to consider. Firstly, tearing out the existing vegetation ruined what carbon capture had been in place, and the earth moving vehicles used assuredly had a carbon footprint.
Surprisingly formidable in terms of carbon footprint is the astonishing figure of 2,778 miles travelled by C J Piper, billed to the taxpayer at £0.45 per mile for a staggering £1,250. This appears on an invoice from May 2011 to 6 March 2012, totalling £19,380 inclusive of VAT. As green carbon capture schemes go, this scheme has a great deal to make up for (providing any of the trees, currently surrounded by weeds) manage to grow.
Odds and Ends
Bryan Massie Woodland Management Ltd did quite nicely out of the scheme as well, spraying herbicides. Anyone can see the chemicals did not exactly save the Phase 1 trees, and Phase 2 growth is already surrounded by high weeds.
Astute council observers will recall the blackmail deal offered by Malone: give us £225,000 for fencing, or we kill the deer. She insisted we had no money for fencing. The public were urged by all interested animal charities not to give into this blackmail and the precedent it would set. Somehow, money for fencing was found anyway – yet the deer were still exterminated.
| | | | |
| --- | --- | --- | --- |
| Invoice No | Date | Description | Gross Amount |
| 483 | 27/10/2011 | Spraying, planting and  tubing various sites | 8550 |
| 520 | 09/03/2012 | Herbicide application (various locations | 7527 |
| (unk) | 09/03/2012 | Deer Fencing at Tullos (first part) | 9000 |
| (unk) | 38/03/2012 | Deer Fencing (second part) | 7575 |
Highland Estate Services were paid £480 per day to clear our gorse; their Invoice No. 547 shows them receiving £4,608 from the city.
Payback's a B*tch
The city had to return £43,800 to the Forestry Commission for the dismal failure of Phase 1, but this seems to have no place in the 2010 or 2011 accounts. This figure was paid rather late; it was demanded of us in November 2010.
The Commission had to chase the city, which eventually paid in March 2011. Yet the sum was not reflected in accounts to December 2011 (received under FOI legislation), nor is this figure reflected in the 2011 scheme.
The council should explain where this figure appears in the books – it is clearly part of the tree scheme. If it were to be combined with the net expenditure recorded in 2011 of £39,798.41, then we have spent £83,598 (minimum) on a scheme opposed by 2,400 people, several community councils, and animal charities including the Scottish SPCA.
This should be a matter for serious investigation by Audit Scotland and Standards in Public Office. It has enriched a few businesses, served as a Liberal Democrat mantra and compromised what was once a rich meadow teeming with wildlife.
What the Forestry Commission wrote:
"031/000390 – Tullos Community Woodland
"This is a failed WGS planting scheme. The scheme failed due to inadequate protection from deer and weeds. On the 4th November 2010 we issued Aberdeen City Council with an invoice for £43,831.90 – the reclaim of monies paid out under the above contract.
"This invoice was to be paid within 30 days. The monies have not been received. This invoice is now accruing interest and has led to a payment ban being put in place over your Business Reference Number".
What Ms Watts eventually admitted: this money was paid in March 2011. She continues to deny the Tree for Every Citizen Phase 1 planting at Tullos and St Fitticks has any connection whatsoever to the Tree for Every Citizen Phase 2 planting at Tullos and St Fitticks. This is a nice bit of semantics, but would it stand up to an auditor's scrutiny?
I can find no record of Pete Leonard going back to the Housing and Audit Committee and advising them the scheme which he promised was cost neutral would be nothing of the kind.
You might be forgiven for thinking an officer of the city should account to the relevant committee (if not the public) when his figures were found to be faulty. Whether the expenditure was £39,798, £83,598 – or considerably higher when taking into account the 2010 costs – this scheme was never going to be cost neutral.
Come Fly Away, Come Fly Away With Me
When a city is cutting services to the elderly and infirm, when a city wants to drop arts and music lessons, and refuses to maintain its pavements and roads, should it really be deploying its higher-ups to foreign countries for seminars? Aberdeen thought so last year:
| | | | | | | |
| --- | --- | --- | --- | --- | --- | --- |
| Traveller | Date | Destination | Flight cost | subsistence | Hotel cost | Reason for trip |
| Gerry Brough | 29/4 – 5/5/11 | Houston | Flights and accommodation arranged through group package | 662.22 – returned 381 US Dollars | | OTC (Annual oil event) |
| Gerry Brough | 5/11-9/11 | Lyon/Grenoble | 277 | 449.23 – returned 110 Euros | 388.79 | Invited to speak at conf/networking |
| Gordon McIntosh | 3/12 – 7/12/11 | Doha | 671 | 529.72 | Paid of City of Doha | World Energy Cities AGM |
| Gordon McIntosh | 6/11-15/11/11 | Australia | 1,518 | 1379.62 | 1,148.99 | Economic Development Activity |
| Gordon McIntosh | 17/1-25(?)/1/12 | Ghana | Paid UK trade & Inv | 794 US Dollars | 242.01 | UK Trade & Investment Project |
| Gordon McIntosh | 21/3-23/3/12 | Nice | 495 | 233.52 | | Launch of Hydrogen Bus Project |
| Gordon McIntosh | 25/3-25(?)/3/12 | Brussels | 205 | 120.53 | 492.25 | North Sea Commission 2020 |
| Valerie Watts | 27/9-30/9/11 | Aarhus, Denmark | 525 (?) | 310.60 | 550.23 | CPMR General Assembly |
| Lord Provost Peter Stephen | 30/4-7/5/11 | Houston | Flights and accommodation arranged through group package | 311.07 returned 40 US Dollars | | OTC |
| Lord Provost Peter Stephen | 34/6-27/6/12 | Nuremberg | 314 | 242.45 | | Regensburg Burgerfest Festival |
| Lord Provost Peter Stephen | 3/12-8/12/11 | Doha | 537 | 529.72 | Paid of City of Doha | World Energy Cities AGM |
One hopes that the flight costs were reasonable; they were in many cases not disclosed. In terms of carbon capture, so important to Leonard and Malone when it came to Tullos Hill, perhaps we could have preserved the hill and lowered our carbon footprint simply by not flying these mandarins around the globe.
Perhaps attending our Oil and Gas event at the AECC would not have been sufficient to advise people Aberdeen has something to do with the oil sector. Perhaps nothing was more essential than the Regensburg Burgerfest Festival, or knocking around Australia for economic development purposes.
However, would it be more prudent and somewhat more in keeping with current austerity measures to do more teleconferences and cut out the air miles? Who knows? One or two events less and our former Lord Provost and his wife might have made some saving on their dress allowance, which of course comes from the public purse.
ACSEF: One Hand Washing the Other
ACSEF is an economic forum where our richest and most influential business people are supposed to give us an advisory forum. The quango, however, transformed itself from 'forum' to 'future', and this unelected body, existing to further business interests uber alles in our city, regularly gives advice to City and Shire governments, which are expected to rubber-stamp ACSEF recommendations.
Under the stewardship of chair Stewart Milne, ACSEF decided the city's special area of conservation at Loirston should have been transformed into a 'community' stadium (and then somehow a private stadium which Milne would decant AFC into, turning AFC's historic grounds into housing for his own profit).
How Mr Milne was able to wear his ACSEF, property developer and AFC Chairman hats without having any conflict of interest is unclear. It is perfectly clear ACSEF wanted a 'spade in ground' project at Loirston, coincidentally favouring its chairman's business interests in the process.
If the taxpayer wasn't paying for this blatantly self-interested lobbying, it might be funny. ACSEF cost the city £126,541 in 2011/12, broken down as follows:
| | |
| --- | --- |
| Item | Actual |
| Staff Costs | 89,321 |
| Premises Costs | 5,484 |
| Administration Costs | 2,924 |
| Transport Costs | 927 |
| Supplies & Services | 119 |
| Commissioning Services | 7,927 |
| Transfer Payments | 19,839 |
| TOTAL | 126,541 |
Chamber of Secrets
The Aberdeen and Grampian Chamber of Commerce submitted their Invoice No. 42810 dated 18 April 2011 to Aberdeen City Council – for 'public relations services (ACSEF)' – this bill has some of the familiar features of the invoices prepared by The BiG Partnership (its members no stranger to various quangos, boards, city groups) to the city for 'AWPR'.
BiG was at the time also getting the city to pay for 'AWPR' public relations services. This Chamber of Commerce invoice is for £1416 to cover 'public relations services (ACSEF)', 'newspaper licenses and cutting service', and (partially redacted) 'photography, energy industry conference, town house'.
In summary, ACSEF's PR services seem to be invoiced via the Chamber without the actual supplier being specified, much like the City Gardens Project invoices were.  BiG also bills the city via central government for 'AWPR work' as shown in Part 1.
The Chamber refused to say which organisations' services it was billing the City for at ACSEF's directions when it came to the City Garden Project. So much for straightforward, transparent procurement and invoicing. (See The Great City Gardens Project Gravy Train article for more on those City Gardens Project invoices from the Chamber to the taxpayer).
As well as serving as clearing house for City Garden Project and ACSEF-related costs, the Chamber charges £300 per year for membership – which the Kirkhill school paid via Aberdeen City Council, with a few hundred more for the city's annual membership.
People might be forgiven for thinking decisions are made in Aberdeen by a network of powerful, self-serving individuals; there certainly is a smidgeon of evidence to support this view.
Observations
It is too late to get any of this 2011 money back. It is not too late to call to account those who may possibly have overstepped their remits, wasted public money, caused environmental damage, and who enjoyed clothing allowances, portraits, parties and foreign junkets while the rest of us were coping with bills and noting a downturn in city services.
It is down to the new administration to look at the past, stop that which should be stopped, and investigate what should be investigated. It is hoped the new council will give us a more robust financial accounting system going forward, one that spends wisely and respects the public, the environment and the public purse.
Comments enabled - see comments box below. Note: all comments will be moderated.